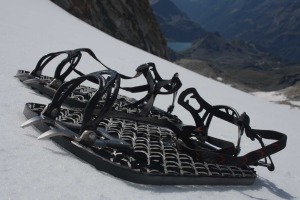 Snowfoot can only be described as an incredible start-up company that has formed a mobility tool that helps everyone cut through the snow a little bit easier. And by a little easier I mean A LOT easier.
Designed for backcountry snowboarders, skiers, hunters, walkers, snowshoers, rescue staff, and anyone who wants to trek in the snow, Snowfoot is taking the world by storm as the first of its kind. Designed with all types of users in mind, the Snowfoot is entirely adjustable for any boot including ski boots, snowboard boots, hiking boots, and big winter snow boots.
Based in Italy, Snowfoot realized the need for a device that allows users to take full steps–either up and down or side to side. Based on the mountainous terrain the Snowfoot allows for full steps instead of the regular glide you get with a typical snowshoe. Robert and Marco, founders of Snowfoot had this to say:
"We made these for people who need the ultimate movement, the ones that need 360 degrees of movement. When we started the prototypes they took on the characteristics which are super useful for almost all of the entire population"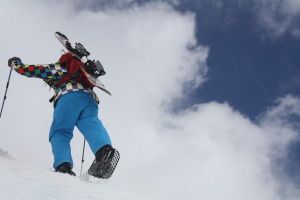 Whether you are trekking through the snow to your favorite pub or up the mountain, Snowfoot is the perfect size to carry in your backpack and weighing less than 1,200 grams per pair; they won't slow you down. Designed for all types of terrain, they can be used in ice, snow, or even rock.
Snowfoot is launching their month-long crowd funding campaign November 15 in which you can pre-order your pair for up to 60 percent off. Available in three colors and being shipped in late December there is no better time to suit-up and support this amazing company.
Visit Snowfoot's website here or visit them on Facebook. Also, check out their Snowfoot's Indiegogo page: http://igg.me/at/snowfoot.