Smugglers' Notch Resort, known as a prime Vermont family destination, has one of the most comprehensive mixes of snowshoe programs available this winter–for families with young kids, and outings for adults or families with older kids who want a bit more in terms of the length of the trek, the topography covered, and the insights shared about the natural world and outdoor skills. Snowshoe enthusiasts can find a different guided outing to do practically each day, as well as explore the trail network on their own.
Programs are scheduled for specific days and times at different prices for adult and children so check the Smugglers' website: http://www.smuggs.com/pages/winter/activities/snowShoe.php.
Special Family Snowshoe Programs that are easy include the Family Snowshoe Cider Walk, which is an educational and fun guided trek on the special kids' trail, followed by hot apple cider at the Nordic Center. The Sugar On Snow Snowshoe Trek is where you will learn a bit about the history and process of Maple Sugaring. Upon your return to the Nordic Center, enjoy a sweet treat of Sugar on Snow, a Vermont tradition.
There are snowshoe hikes to a cozy cabin and treks available to learn about Vermont history, wildlife, and ecology as well as winter survival skills and tips. Learn about the animal tracks, habitat, and local flora while experiencing the scenic winter landscape.
Intermediate snowshoers can ride to the top of the Morse lift to explore backcountry terrain at a high elevation or do a trek to learn about maple sugaring with a sample of pure maple syrup.
Smugglers' also offers private snowshoe guided adventures, where you choose your own adventure daily by appointment. Intermediate snowshoe tours include the Sweets & Snowshoes Trek, which is a guided, enchanted evening snowshoe trek through lantern-lit woods to a rustic pavilion alight with the glow of candles. Once there you will enjoy a warm fire, a selection of local handmade dessert pastries, coffee by Green Mountain Coffee Roasters or hot chocolate served in a keepsake mug. This is a beautiful backcountry experience!
The Top of the Notch Snowshoe Adventure Dinner is one of the most popular programs on Tuesdays, a dramatic and delicious dining experience atop Sterling Mountain (18 & older please). The Sterling lift transports you to The Top of The Notch, a mountain cabin lit only by candles. The renowned Hearth & Candle Restaurant serves a gourmet meal with appetizer, salad, choice of main course and a famous dessert. After dinner, work off those calories with a 40-minute snowshoe down to the Base Lodge. Advance registration at The Guest Service Desk is required. It takes off at off at 4:10 p.m. and the package includes lift access, snowshoes, and dinner for $69.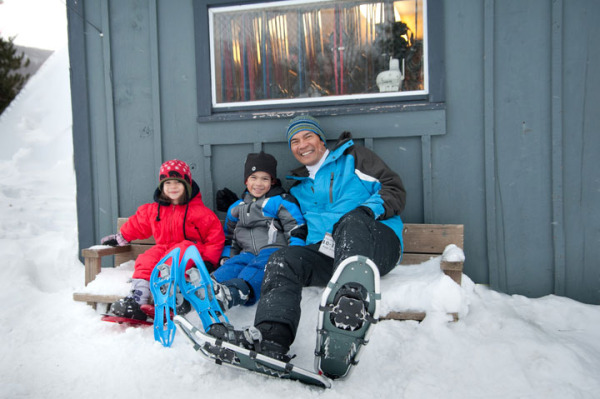 Dinner choices typically include seafood chowder or venison chili for the warming first course, and Vermont chicken breast with cheddar cheese and sliced apples, pork tenderloin, and vegetable lasagna for entrees. Warm apple crisp is the dessert. The cabin is a really congenial setting with candlelight and large tables. The tour around the summit is beautiful, whether you're enjoying it by starlight or with falling snow, and many of Smugglers' return guests enjoy the dinner on each visit.
Smugglers' guides recommend that snowshoers use poles. On a snowshoeing trail or in the backcountry, you never know what features lurk below the snow; you can expect to encounter at least one log to step over, snow potholes, sideslopes, deep snow and ups and downs. Poles provide additional stability in these situations. Plus, the poles provide a measure of upper body exercise, assuring a well-rounded workout.
For more info: http://www.smuggs.com/pages/winter/activities/snowShoe.php.
Snowshoe Magazine also recognized Smuggler's Notch as the top snowshoe destination for families. Read the article.