I discovered an interesting book published in 2007 on sex and camping by Michelle Waitzman titled "Sex in a Tent: a Wild Couple's Guide to Getting Naughty in Nature." The book informs couples how to plan backcountry trips, as well as how to work together to build healthy relationships in a natural setting.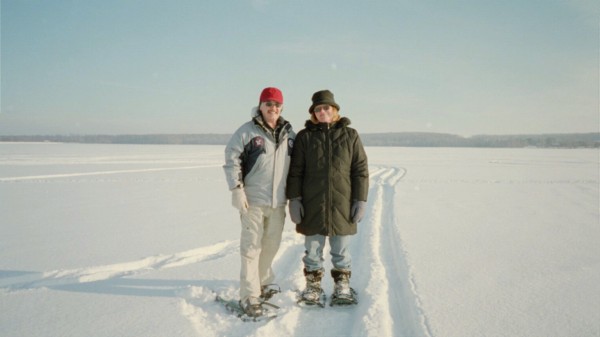 But with chapters like, "Holding hands while backpacking," "How to keep smelling good enough to kiss," "How camping can improve your sex live" and "How to have sex in a tent without destroying it," made this truly interesting reading. I had a difficult time putting it down.
In the November, 2010 issue of Silent Sports, a Midwest magazine published by the Waupaca Publishing Company, my feature snowshoe column that month was titled "Sex and Snowshoeing." I heard through the grapevine that it caught a lot of eyes among its many outdoor adventure readers. But once they got into the story, as you will soon read, they found that this article is not about the joy of sex on snowshoes. Rather it is about gender differences as it relates to the enjoyable sport of snowshoeing.
From surveying a group of snowshoeing college student, I found that there are some differences in snowshoeing activity preferences between the sexes. I will explore some of these differences and similarities. Also in recent years, there have been design changes to snowshoes making them compatible with physiological differences between men and women. I will therefore explore some new snowshoe designs for woman being marketed with gender in mind.
A good part of this article is borrowed from my Silent Sports column. But, revisions and updates are provided, including some new results from my snowshoeing survey as I have increased my survey sample from last year.
Gender differences in the sport
So… what about gender differences in the sport of snowshoeing? I surveyed a sample of 44 students (both male and female) at the University of Wisconsin Stevens Point. These students had completed my 1-credit Wellness-221 Snowshoeing courses. Although non-scientific and small in design, this survey revealed some interesting results relative to gender differences and similarities among snowshoers.
I found there to be more similarities than differences among these students when it came to various snowshoeing activity interests. For example, both women and men nearly equally preferred walking on snowshoes over running on snowshoes; hiking on a backcountry trails over competing in a snowshoe race; snowshoeing on a trail with many routes over hiking on a circular trail with a beginning and ending at the same place; hiking on a moonlit night with few close friends over hiking with a large group of friends; and snowshoeing with one or more people rather than snowshoeing alone.
When I asked participants to identify the reason why they snowshoe, the results were somewhat similar between genders with an appreciation of ambiance and nature taking the lead. My study showed that 43% of the females and 60% of the males preferred snowshoeing for serenity, silence and appreciation of nature; 35% of the females and 27% of the males preferred it for adventure, exploration and fun; 9% of females and 6 ½% of male were for camaraderie, fellowship and sharing experiences; and 13% of females and 6 ½% of males were for reasons of convenience, inexpensive and easy to master.
Although women had a slight lead on adventure as a reason to snowshoe, there were some differences when it came to aggressive snowshoeing. When asked about playing an aggressive game of dodge ball over a less aggressive game of hide-and-seek on snowshoes, a greater percentage of men (75%) preferred the aggressive game compared to women (46%).
Along the line of risk-taking, 81% of the men over 49% of the women agree they liked to take risks when snowshoeing, such as climbing steep elevations, hiking along high ridges and crossing frozen lakes and ponds.
And when asked about participating in an orienteering challenge on snowshoes that involves cognitive thinking (by using a map and compass), as compared to playing a less mindful game of volleyball, women preferred the mental challenges of orienteering slightly more so than the men (68% women compared to 50% men).
This data could imply that men prefer to take more risks and be somewhat more aggressive on snowshoes than woman. And it appears women would rather use their brain than brawn when snowshoeing. Keep in mind that this study is not conclusive evidence and may not necessarily reflect the opinions of a larger population. It is however interesting speculation based on a small sample of Midwest snowshoers and offers some food for thought about gender differences and snowshoeing.
Snowshoeing romance
Interestingly, my survey showed that both women and men agree they enjoy a romantic and enjoyable snowshoe hike with a significant other. Of the men, 87% agreed and 75% of the women agreed they enjoy the time together. Although, this data could imply men are a just slightly more eager to get their mate out on snowshoes for romance purposes than women. That could be debatable.
Yet both genders split 50-50 when preferring snowshoe hiking with a significant other versus snowshoe hiking with a group of four or five friends. I am not sure what to make of this, other than perhaps both sexes are ambivalent when they have to choose between their significant other and friends. Let's hope we are not put in that position when asked to go on a snowshoe hike.
Snowshoeing may or may not help enrich couple's relationships. Early in our marriage many years ago, I decided to introduce my wife Liz to snowshoeing. I asked her to join me in a snowshoe hike at a local nature center. The snow was deep that year, and we rented Iverson traditional Michigan style wood-framed snowshoes for our adventure.
We shoed-up at the facility and headed out across a frozen creek and into an open field. Upon reaching roughly the 100-yard mark and struggling to maneuver in deep snow, Liz looked at me and said in a calm but firm tone, "Is this your idea of having fun?" She turned around and shoed back to the center to dispose of her Iverson's.
Well, I guess that didn't exactly enhance our relationship much at the time. But more recently, Liz and I have enjoyed leisure snowshoe hikes on light-weight aluminum-frame snowshoes along the Big Eau Pleine Flowage where we live in north central Wisconsin.
I know of couples who report that they too enjoy leisure snowshoeing hikes on trails while others delight in backcountry snowshoeing challenges. Snowshoeing seems to enhance their relationships by providing a healthy and enjoyable outdoor activity to share in. For example, one of my students and his spouse snowshoed to and from the small town of Bayfield, Wisconsin to Madaline Island, situated among the infamous Apostle Islands on Lake Superior. The couple hiked over the frozen bay during a brisk winter day. I believe it may have added a touch of adventure and romance to their marriage.
However, I have not heard of any spicy intimate interactions when couples are out snowshoeing on the trails, such as I found in the book I read about sex and camping. After all, it is very chilly out there during snowshoeing season.
Snowshoes designed for women
Okay….enough about gender differences among snowshoers and spicy snowshoeing romance. What about gender differences in the snowshoes themselves? Many snowshoe manufacturing companies have introduced snowshoes for women within recent years. The main differences between women's and men's snowshoes include size, in that they manufacture a smaller snowshoe for ladies…..and in shape by having narrower frames and tapered ends for a stride that is compatible with many women. These differences result in lighter weight snowshoes than those designed for men.
Additionally, differences are sometimes found in bindings that are made to fit smaller footwear worn by women. And since our society tends to have color stereotypes for females, some snowshoes come in pink, yellow, light shades of green, blue, and purple. Color is obviously made a gender difference by some snowshoe manufacturers.
Tubbs, the largest US manufacturer of snowshoes has a line of women's snowshoes that equally compliment the men's line and includes eight different styles of shoes for each gender. Tubbs literature states that their women's frame geometry facilitates a woman's unique biomechanics and stride.
For example, in their Day Hiking series, the women's aluminum frame "Venture" model differs slightly from the same men's model. Both gender's Venture 30 are 9X30 inches, but there is a slight surface size and weight difference between the two…..251 square inches and 4.4 pounds in the men's, compared to 243 square inches and 4.3 pounds in the women's.
Another difference in their snowshoes is in the sizes that are available between the genders for each model. In men's, the Venture series come in 8×25, 9×30 and 10×36 inches. In the women's they come in one size smaller…8×21, as well as 8×25 and 9×30. They do not make a 10×36 for women. Similarly, the same goes for most of their other series where there is a smaller size for women and larger size for men.
As for their bindings, Tubbs has "easy-to-use gender specific bindings." Tubbs says that the women's binding is designed to accommodate a woman's boot shape and size, and eliminates sloppy movement and pain from pressure points. They promote their patented gender-specific ReAct binding for their Venture series.
Atlas is another large U.S. snowshoe manufacturer that has similar differences in sizes of snowshoes for men and women as well as for boys and girls with their youth snowshoes. Atlas titled their women's snowshoes, the "Electra" design based on two-years of biomechanics research.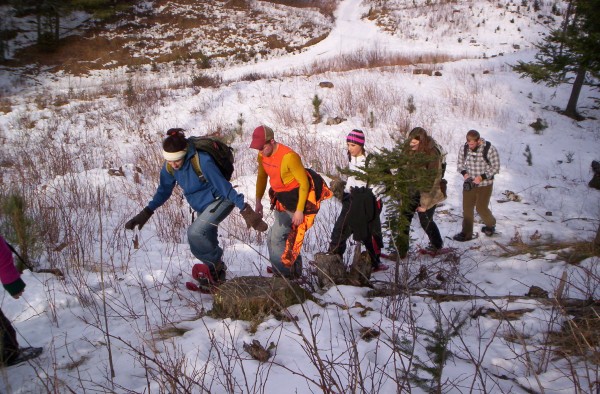 The Electra frames are formed to accommodate women's natural gate and they are designed with a tapered tail and slightly narrow nose. Bindings of the Electra cradle a woman's boot and are designed with "carefully-placed strapping and padding to eliminate pressure points and keep circulation moving in the cold." Atlas also has the Race Women's and Run Women's snowshoe designed for the athletic-minded lady.
Crescent Moon says they designed their women's series of snowshoes to accommodate their natural stride, and they make them with a smaller diameter aluminum tube to reduce weight of the shoe. The Women's Gold and Silver 13 models are 8.5×24.5 inches with an exaggerated teardrop shape for easier walking to accommodate a narrower natural stride. The Gold and Silver 9 models are 9X27 inches. And, their backcountry Women's Gold 15 is 9.5×29 inches and built for women and winter gear up to 200 pounds.
Mountain Safety Research (MSR) has the Women's Lightning Ascent, Lightning Axis and Lightning Flash snowshoes. MSR teamed up with an orthopedic gait specialist to assess stride dynamics that resulted in designing this narrower frame and lighter shoe to fit a woman's stride.
Yukon Charlie's first introduced snowshoe designs for women in 1997 with shoes tapered at the tip and tail to help match the female stride….and they have smaller bindings. Their women's Trail Series models come in three sizes, 8×21, 8×25 and 8×28 inches. Yukon Charlie stated "we listened to our female snowshoe testers who suggested adding more gender specific technical features to our women's line." Consequently they came up with the Icon Alpha and Icon Beta Series for women with a one piece V-tail frame that is gently rockered to provide a greater natural stride for this gender.
Redfeather snowshoes have the Hike Recreational Snowshoes for men and women sized larger for men. In the women's product add, they state "to understand a winter woman, you need to walk a mile- or maybe ten – in her shoes." How true.
Consider all things equal
Based on The Outdoor Foundation's study titled "Outdoor Recreation Participation Top Line Report 2011," snowshoeing activity had an increase of 11.4% from 2009 to 2010. Snowshoeing participation over time showed growth with an estimated 2,400,000 snowshoe participants in 2007 up to 3,823,000 in 2010.
As far as gender participation on snowshoes, the most recent data I found was an Outdoor Industry Foundation report, "Outdoor Recreation Participation Study – Snowshoeing" showing the sport to be close to equal among the sexes in 2005, with women participation at 45% and men at 55%.
Generally men and women (and boys and girls) equally enjoy the increasingly popular sport of snowshoeing. Snowshoe racing is a good example how snowshoeing events are open and welcoming to both genders. The United States Snowshoe Association (USSSA) racing categories are dived into 10 age groups (from 20 to 70+) for both senior men and senior women competitions
At the 2011 USSSA Dion U.S. National Snowshoe Championships held at Cable, Wisconsin last March, both males and females competed. Although the balance was male-dominant in this year's Senior10K race with 116 men and 45 women, the Citizen's 5K race included 28 men and 26 women. The top contenders from all the major racing events at the nationals formed the 2011 U.S. National Snowshoe Team made up of 5 senior women, 3 junior girls, 5 senior men and 3 junior boys….an equal gender ratio.
Americans seem to have a sport that is neither segregated nor dominated by men or women. Although there may exist some difference in preference and style, and snowshoes are more gender-differentiated than in the past. I believe we have come upon a recreation that can be equally enriching and enjoyed by both sexes.