Crescent Moon Women's Gold 13 Trail Snowshoes, $249, crescentmoonsnowshoes.com
Started in 1997 by Jake Thamm and his wife, Tamara Laug, the 10-person team at Crescent Moon Snowshoes in Boulder, Colorado tries to set themselves apart from the rest of the market.
According to Thamm, they're the only snowshoe company that allows for full customization, and were the first manufacturer to design a women's specific model. To explore this niche they hold in the snowshoe market I tried out the process from start to finish (the finish being a snowy mountain trail).
Step one was a phone call with Thamm to figure out the right pair for me.
"What we try to do is ask fundamentals," said Thamm. "What are you doing? Where are you going? Are you backpacking? This helps us direct you to a relevant model."
I hike and snowshoe in the Cascades in Washington State where the snow is generally wet and consolidated, meaning I didn't need a shoe that had a lot of resistance to sinking in fluffy powder.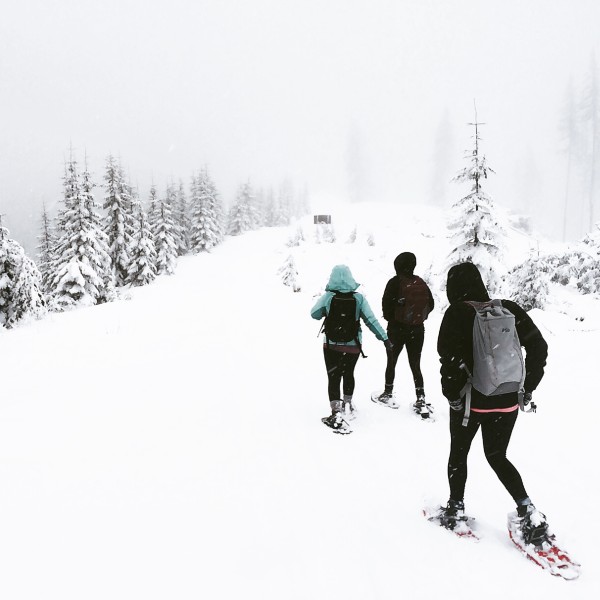 Crescent Moon offers different types of snowshoes for different terrain and different activities under two broad categories: Gold and Silver. Gold has stainless steel crampons while silver has aluminum crampons and a different buckle on the binding. They offer styles for terrain including mountain hiking, backcountry pursuits, trails, expeditions, and even running and racing.
For the women there's five varietals to choose from.
And while there's no perfect pair for all conditions, says Thamm, you "compromise with what you'll be doing most of the time."
And the difference between a women's and men's shoe, Thamm tells me, is the shape of the frame. "Women tend to walk with their feet closer together and in more of a line," he says. "Because of the shape of the women's shoe you don't have to change how you walk, you can just walk naturally." And for anyone who's ever experienced an injury, you know that body mechanics are important.
Thamm took my height, weight, and foot size and determined which snowshoes would be best for me.
He recommended the Gold 13, a smaller shoe with an exaggerated teardrop (the Gold 9 has more float and is a little wider). The Gold styles have stainless steel crampons and toe claws that are better at navigating steeps and ice than the aluminum in the Silver models.
The snowshoes are manufactured in the U.S. and completely customizable online. You can choose the frame size and color, the deck color, the binding style and color, and the type of metal on the claw. I ordered the red frame and deck with Gold bindings and a steel claw, and a few days later they arrived at my door. First impression? They're pretty to look at.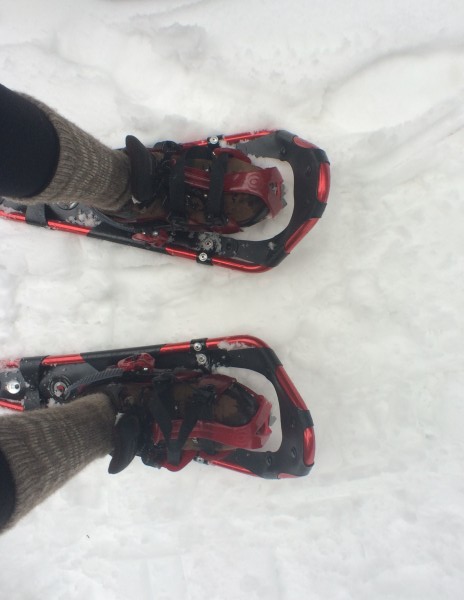 The Gold 13 has a steep nose and a tapered tail that rounds out a narrow teardrop shape. At less than four pounds, they're both lightweight and comfortable. The binding, designed by a woman, is easily adjusted with a ratcheting buckle and over-the-foot cams.
To test them out I headed to Mount Rainier National Park for a steep slog among the snow-covered evergreens. In short: I would often forget I was even wearing snowshoes at all. The bindings of the Gold 13s didn't need to be tightened even when trudging over steep, rolling terrain and sections of deep snow. I found myself walking normally, and even in narrow sections the snowshoes didn't smack into each other as I stepped. I grew up obsessively customizing Nike sneakers online so I was attracted to the opportunity to customize a pair snowshoes that would work well for me, and they did indeed work well. The Gold 13s were of sound construction and they performed well on the trails.
To purchase Crescent Moon Snowshoes, click here.