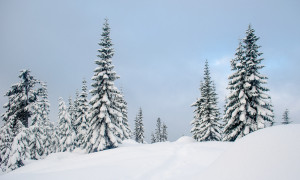 Backpacking in the snow takes a certain kind of crazy. You have to be willing to carry more and suffer more. The reward is being able to venture farther from the trailhead and waking up in a wilderness most people never see where the snow quiets the land and your mind.
Making the night and the morning something to look forward to rather than endure is due in large part to your sleep system. I've been a traditional sleeping bag kind of guy all my life, but recently tried a down quilt from Katabatic Gear.
I've always used a mummy-style sleeping bag. Its tight fit prevents drafts but can be panic-inducing for the claustrophobic. Options aren't great if you get too warm. Then, some of the weight you carry is ineffective insulation that's crushed under you as you sleep. And good luck rolling over.
Katabatic's quilts solve most of these problems thanks to an innovative design and quality materials.
Innovative Design
It's more than a simple down blanket. While it can be opened up and used as a loose covering when it's not too cold, it has a zipper on the foot box to ensure your toes don't get cold by slipping out. The bottom of the box can be drawn closed or left partially open if you get too warm.
The quilt has clips that attach to 2mm cords (included) you tie around your sleeping pad. The clips can slide along the cords so as you move around in the night the quilt adjusts to your position. (You can also lock the clips on the cords if you want to prevent movement.) There are also a couple of straps you can snap on that approximate a traditional sleeping bag, but these still leave a bunch of gaps so if you want a sleeping bag that closes up entirely this isn't a solution for you.
Quality Materials
When I first got the quilt I was amazed at how warm and luxurious it was for the weight. With 850 fill power water-resistant down it was puffy beyond puffy with a loft of almost 3.25 inches. That water-resistant down (and a water-resistant Pertex shell) mean that condensation or leaks in your tent won't dampen your mood.
My first trip with the quilt was to a cold, windy, and snowy destination on Kendall Knob overlooking Snoqualmie Pass. We climbed for two hours through fresh snow and a tangled forest to the viewpoint. By the time I was all set up I was eager to climb into my bed. First impression was excellent. I was snuggled under the down and perfectly happy. However, I discovered my sleeping pad wasn't up to the challenge. I had only an average insulating pad (R-value of about 3) that left me feeling the cold seeping up from the snow. The quilt did great on top, but it was a long night without much warmth below.
Any good gear tester knows that a single test isn't sufficient so I headed to a secluded glen near Steven's Pass a few weeks later with a better pad. This time the pad had down in it (R-value almost 6!) and I was warm all night long. In the morning I was surprised to find the cover of the bag soaked, but its insulating power wasn't affected at all. (Big difference from my usual down bags without a water-resistant shell.)
The big takeaway from these two experiences is that the Flex 15F quilt is a big improvement when compared with a traditional down mummy sleeping bag. However, a higher level of insulation is required so make sure your sleeping pad is up to the challenge.
Katabatic Gear Flex 15F, $410-$475 USD
Made in the USA with certified responsibly-sourced down.
http://katabaticgear.com/shop/flex-15-sleeping-bag/