A company famous for producing top-quality racing snowshoes started more than 20 years ago when necessity truly was the mother of invention. Redfeather Snowshoes, owned by ORC Industries of LaCrosse, Wis., started in the highest city in the United States, with a triathlete's hunger to train during the winter of 1988.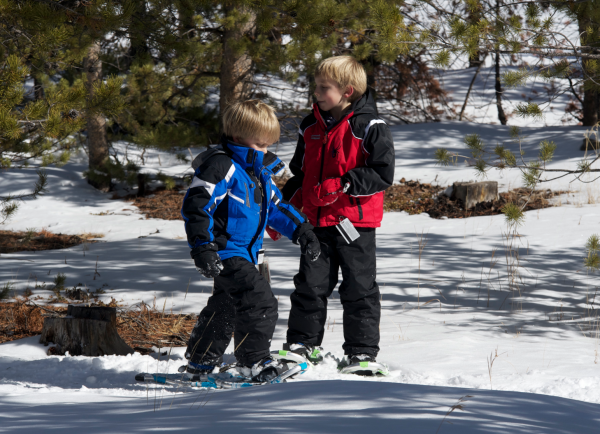 The Start of the V-Tail
Redfeather's signature design – the V-tail – began when a runner wanted to move faster than just getting from point A to point B in the winter, at 10,000 feet in elevation. According to the story, "he was snowbound and wanted to get out and run, so he grabbed a pair of snowshoes and bent them up and invented the Redfeather V-tail and started running around town," said Thomas Schmitt, the company's former marketing coordinator.
This began Redfeather's reputation for excellence in technical running snowshoes. Today, the company makes snowshoes for racers and every other kind of snowshoer possible.
Redfeather still keeps up with the race scene by sponsoring actual snowshoe racers. Sponsorships not only help to advertise snowshoes, but it also helps Redfeather improve on the design of the Vapor, a high-tech snowshoe (which was voted best snowshoe by Backpacker Magazine in 2011).
Engineers can examine how the shoes set up, how they function on turns, and get professional feedback on performance. "We typically talk with [racers] on a weekly basis during the winter season and find out how it's going with [them], what [they're] noticing, how the shoes are working for [them]. [They're] a great resource for us," said Schmitt. "It's what he loves to do and he does a ton of it. He's been great at helping us re-engineer and tweak and perfect what he's wearing."
The First Of Many
But racing isn't the only first for Redfeather, they were also the first to create women's specific and kid's specific snowshoes, as well as the first environmentally-friendly snowshoe.
With the v-tail design, the Pace, a fitness snowshoe built to accommodate a narrow gait, all while providing exceptional maneuverability in deep snow.
For kids, Redfeather has options for toddlers up through teens. The Snowpaw is built for play, while the Y2 has the feel of an adult snowshoe in a smaller size.
The Conquest snowshoe was voted as the "Best Snowshoe Bargain", and was the first environmentally "green" snowshoe. With its injected-molded nylon decking and an easy on and off Summit binding, the conquest is an extremely mobile snowshoe for those recreational outings.
More Than Performance & Style
But these snowshoes aren't just about performance and style. Snowshoe enthusiasts who purchase Redfeather snowshoes can also enjoy the fact that their dollars spent help support an American-made product built by a nonprofit company with a special mission: To employ disabled workers.
"About 75 percent of our workforce is people with disabilities," said Schmitt. "We provide people with the opportunity to experience some financial independence and on-the-job training."
One of the reasons ORC Industries purchased Redfeather was to provide more employment for their workforce. The company previously relied on government contracts and orders from the U.S. Department of Defense to keep workers employed, making many other handmade products, including the "Dixie-cup" hats for the U.S. Navy.
Snowshoes are very labor-intensive to produce, and "these things cannot be built by machine," Schmitt said. In addition to providing job opportunities to disabled workers, ORC Industries also offers work counseling, life-skills training, and wellness education to its employees.
Despite making some serious snowshoes, the folks at Redfeather have a sense of humor and it shines through in their invitation for you to join its Winter People Society. The society's pledge: As a winter person I do hereby happily pledge to uphold the standards of the Society. To pray for snow, no matter what my religious beliefs. Then, to smile in the face of sub-zero windchills, and to hone my skills in hot chocolate production.
Take the pledge, and you're admitted to the Redfeather Winter People Society. "We send them an honest-to-God certificate," Schmitt said. "These are not easy things to do. I mean, try making the perfect cup of hot chocolate. Good luck to you."
For more information about Redfeather, visit http://www.redfeather.com.
This article was first published on Feb 6, 2012, and was updated on Dec 16, 2020, to include new information.