The sun danced 'cross the sky Saturday, January 12, 2008, "skipped the light Fandango," as Procol Harum would sing, as a record group toed the line for the 11th annual Rail Trail Snowshoe Stomp in Olympic Park City, Utah.
James Zwick's long term growth plan for his annual National Qualifier for the United States Snowshoe Association Championship is paying off with growth in numbers, but numbers just start to tell the tale of the drive and enthusiasm he is building for the sport.
Representative of the emails he received after the race was this message:
"It started on time, was well organized, and we had great FUN."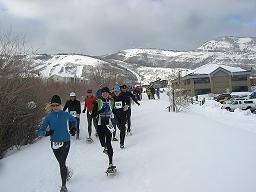 Lots of hot cider, hot coffee, boxes of chocolate chip Clif Bars, Power Bars, and buckets of festive atmosphere filling the senses, keeping racers coming back and bringing their friends with them. As James puts it, "We attract veteran snowshoe racers, new-to-the-sport walkers, children . . . the bottom line is to enjoy the Snowshoe Stomp!"
Exhausted snowshoers, new to the sport, crossing the finish line, out of breath, winning an age-class medal, hailed by a hearty crowd at the awards presentation, exalting, "This is so much fun!" That is a classic James Zwick race through his Sports-Am, LLC event company featuring chip and computer timing and all the organizational needs provided under one roof.
One of the only National Qualifiers to use a distance (5 km) other than the standard 10km distance preferred by the USSSA, James explains, "The five kilometer works well here because snowshoe racing is just catching on. Things take their time to grab hold." Right in the mecca of downhill skiing, he is turning the tide to snowshoeing one snow flake at a time to the tune of a 36" accumulation on the ground.
Racing starts at 10:00 a.m., a twist and a turn outside the back door of long-time host hotel, Prospector Square Lodging at The Rail Trail. "This Park," James explains in true tour guide fashion, "is unique. Its full name is known as the Historic Union Pacific Rail Trail State Park. Rich in cultural history starting back in the 1800's, you run by beautiful snow covered meadows, making it a pleasing experience as you snowshoe through history."
35 year old Eddie Branigan won the gold in the snowshoe division with a 26:15 victory time for a 25 degree day, besting Taylor Dudley's silver medal performance by 45 seconds. Veterans of this race, Peter Wood, Alan Jarrett and J. Creer, took third, fifth, and sixth, only to have their consecutive finish order interrupted by Minnesota visiting snowshoer, Jim Graupner, shoeing his way to fourth with a 27:47 – and a 20 year age handicap, same as Creer.
Getting a taste of 7,000 foot air, he missed catching Peter Wood by a handful of ticks on the digital clock. In fact first through sixth place was separated by less than two minutes! Running on snowshoes may be exhausting and a great physical test, but it is positively exciting racing.
Winning the Women's gold medal, Rachel Cieslewicz, with a seventh overall finish, led second place silver medalist, Lotte Branigan at the finish by a minute and a half. Third place, Toby Nishikana, missed ninth overall, won by Scott Sunderman, by under a minute. Completing all snowshoe finishers in 30 minutes or less was eleventh place Cecilia Walker.
With 15 separate age group classifications, the medals ceremony was a crazy happy affair with plenty of excitement. Snowshoeing awards and prizes were handed out by m.c. James Zwick, dropping his duties as Race Director for the real fun of the Snowshoe Stomp.
As the events to qualify for the 2008 PowerSox USSSA National Championship (March 8th) continue on through the winter, this veteran race –Rail Trail Snowshoe Stomp — has the distinct honor of being the only qualifier held in Utah! And what more beautiful setting than a snowshoe race in Park City, only an hour away from the Championship course at Snowbasin Resort.
Carol Potter, executive director of Mountain Trails Foundation based in Park City, a virtual one person Chamber of Commerce, had me moving to Utah's winter wonderland within two minutes of enjoying a phone conversation with her.
Funny thing . . . I was agreeing!
With the renown Sundance Movie Festival underway just days post Rail Trail Snowshoe Race, and the home of the 2002 Winter Olympics, one gets the idea to load up the snowshoes and stomp on out.
Additional Information
United States Snowshoe Association (www.snowshoeracing.com)
Snowshoe Magazine (www.snowshoemag.com)
Sports-Am, LLC (www.sports-am.com)
UltraSuperior.com (www.ultrasuperior.com)
For race results, visit this link: https://www.snowshoemag.com/raceresults/ParkCity2008.pdf.