If you're a shutterbug, what happens to all those vacation photos? If they're digital, they might still be sitting on your computer. If they are prints developed from film, they may have gone the way of the dark and dusty shoebox. I know, I know. You're going to put the photos in an album, someday, when you have the time. How about bringing new life to your photographs with a custom-made book?
SharedBook Inc. offers personalized and customized books. Four resorts in the United States are participating in this newly offered keepsake to preserve your snowshoeing and vacation memories for personal enjoyment or as thoughtful personalized gifts. Resorts participating are Beaver Creek, Vail, and Steamboat Springs, all in Colorado, and The Canyons in Park City, Utah. These resorts offer groomed snowshoeing trails, rentals, and guided snowshoeing tours.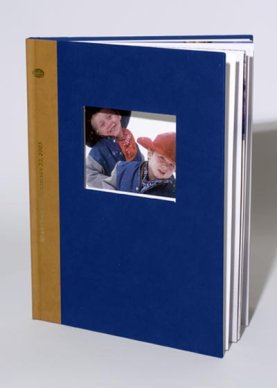 The book can be customized with your own photographs, captions, articles, and journal entries as well as articles, trail maps, mountain facts and stats, and professional photographs supplied by the resort. You are also able to share photos and personal anecdotes in a SharedBook online community. If you visited the resorts with groups of friends or family, you can all meet up in the SharedBook online community to create a book together with each others' photos, stories, and experiences.
The first step in the creation process is the uploading of your photos to the resort's special SharedBook Web site. There you will be guided through the customization process. Aided by a provided template, you are able to add and arrange your photos, your friends' photos, custom captions and articles, and resort-supplied photos, articles, trail maps, and other information of interest. Even the front and back covers can be customized with photos and text.
The book can be as small as 20 pages and maxes out at 200 pages. The standard size is 36 pages. Each additional set of two pages is $1 per page. The book will be printed and delivered to you in about a week's time.
Steamboat Springs is the first participating resort to offer the SharedBook service. The other three resorts will offer the books early in 2006. As this service is in its infancy, the SharedBook creation process supports only PC users. A Macintosh version is in the works.
Books are professionally printed in an 8.5″ x 11″ format with full color glossy pages. Prices are $74.95 (plus shipping and handling) for a hard cover book and $39.95 (plus shipping and handling) for a laminated soft cover book. A 10% discount is offered for a multiple copy purchase.
If you do not have a digital camera, you can scan your photographs and upload them to the Web site. When you develop your film, you can also have your photos scanned and burned onto a CD. You can then upload the photos from the CD.
Mac users who cannot wait for SharedBook to catch up with them, do not despair. You have a wonderful option for creating your own memory book – iPhoto.
Create a new album in iPhoto with your vacation photos and select the "Book" option to arrange the photos and insert captions and text. The book can be ordered through the iPhoto application and within a few weeks a book containing all your photos will be printed by MyPublisher.com and delivered to your home.
All iPhoto books come standard with 20 double-sided acid-free pages with additional double- or single-sided pages added for a small fee per page. The custom book is available in a linen 8.5″ x 11″ hard cover in the color of your choice for $29.99. Small, medium and large soft cover editions are available for $11.99 (3-pack), $9.99, and $19.99, respectively.
Photos can also be uploaded to photograph sites including but not limited to: PhotoWorks.com, Shutterfly.com, and KodakGallery.com (Kodak EasyShare Gallery). These sites offer photo books, note cards, calendars, posters, and more.
Let your photos and memories live in a professionally printed book. Long gone are the days of dusty shoeboxes and uncooperative albums.
SharedBook http://www.sharedbook.com
iPhoto http://www.apple.com/iphoto