A Washington snowshoer goes out for a day trip, but spends 50 hours lost in the woods. Here is his story, along with recommendations on how to avoid a similar ordeal.
Tacoma, Washington snowshoer Yong Chun Kim's 50 hours on Mount Rainier was a little too "up close and personal" for his liking. The 66-year-old South Korean Army veteran was leading a group of 16 snowshoers on a weekly trek to Paradise, the prime winter-use area in Mount Rainier National Park that receives on average 641 inches of snow annually.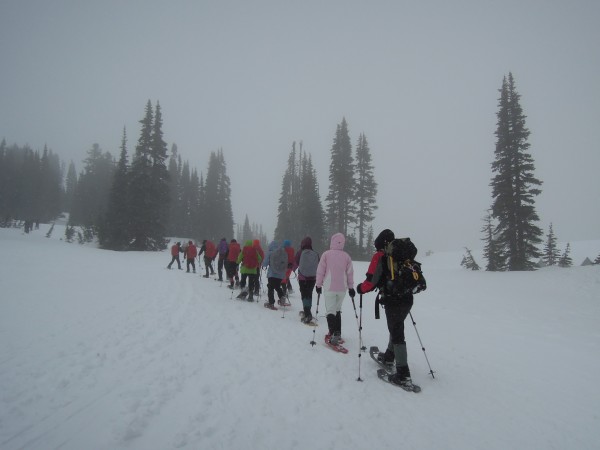 The mid-January outing was nothing out of the ordinary. Kim, an experienced snowshoer, has led groups in and around Paradise for several years. This particular trip was a planned six-hour excursion that would cover about six to eight miles. On the morning of January 14, he strapped on his MSR snowshoes as usual, then he and the group headed out. But it wasn't long before weather conditions drastically changed, going from an overcast morning to sudden whiteout blizzard and heavy fog in literally a matter of minutes.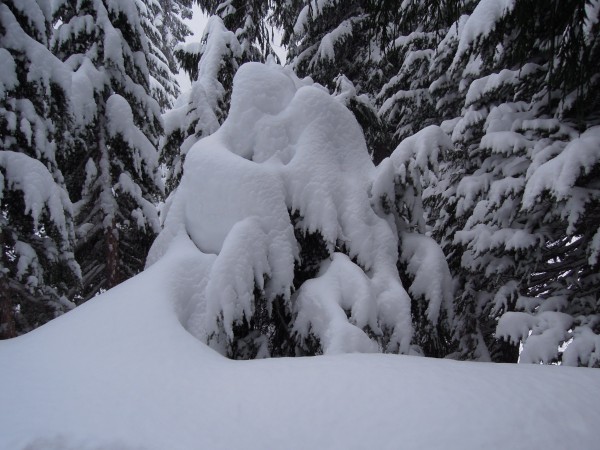 While trying to make their way back, Kim fell 150 yards down a steep slope, cut off from the group in more ways than one. "I had a walkie talkie, but I lost it in the tumble down the hill," said Kim. He tried climbing up the steep slope but fell once again, this time being buried in a mound of snow. With dense fog and continued snow, there was little hope of finding his way out of this situation.
Before nightfall, Kim had used up a lot of energy walking around in circles trying to stay warm. When nightfall arrived, he made the best of a bad situation. There in the forest in total darkness, he briefly made a fire that consisted of small pieces of wood shaved from a branch, energy bar wrappers, and his socks. "I lit the fire with my lighter, but it only lasted for 10 minutes or so," Kim explained.
After running out of energy while walking to stay warm, he then started running in place to keep the blood flowing. He would also sing Amazing Grace, in Korean. On a few occasions, Kim actually fell asleep while jogging in place, barely catching himself before falling. On the second night in the woods, the weary snowshoer actually burned his last six dollars, a $1 bill and a $5 bill. It bought him a little warmth, but not enough to increase his internal temperature.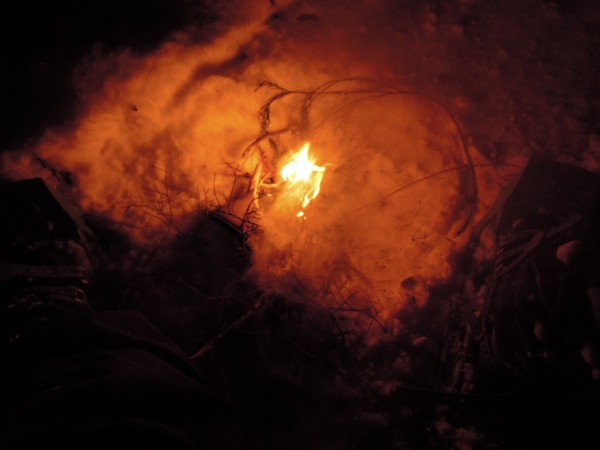 When rescue crews finally located Kim on Monday afternoon, it took another nine hours to actually get him out of the steep and snowy terrain. He was tired, hungry, dehydrated, and weak from exhaustion, but he had a smile on his face that reflected nothing of his ordeal.
As an elder in a local church, Kim felt like he had divine intervention during his two-day ordeal. "People look for happiness all the time, but true happiness is with us always. I felt like someone was watching over me during the entire time I was lost. In fact, I know God was with me, for I was just cold, not scared or frightened," he shared.
Always be prepared
Though never afraid while lost in the woods, Kim did equate his calm demeanor with another sport: golf. "I actually tried golf several years ago, but it was too stressful," said. Kim, an avid outdoorsman. He turned his attention to snowshoeing several years ago and has been at it ever since. The ordeal on the mountain was something he never anticipated, and on that fateful day he wasn't as fully prepared as he should have been.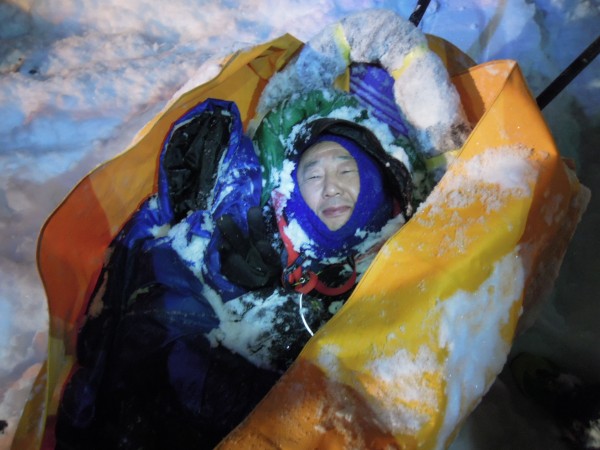 He had five energy bars, and ate three of them during those 50 hours. He also had hand and foot warmers, too, but no compass or rope. "The snowshoer who usually brings the rope did not go with us on this trip, thus we were without a rope," Kim explained.
In reviewing his sparse equipment list from that fateful day, Yong Chun Kim suggested that snowshoers pack the following gear – even if you're just going out for a day trip:
Rope
First aid kit
Flashlight
Extra food, energy bars
Extra socks, hat, face warmer
Cell phone
Extra hand and foot warmers
Compass
A lighter and matches
Knife
Paper for starting a fire
Head lamp
Small stove
Jacket
Large plastic bag (for warmth)
To read more about Kim's experience, click here.