If you're looking for equipment designed by outdoorsy people with a penchant for innovation in engineering, MSR provides many options for you.
The company, founded by engineer/inventor Larry Penberthy in 1969 with the mission of making climbing equipment safer for mountaineers, is well-known for its innovative backpacking supplies
(especially its stoves) but has evolved to include other winter sports such as snowshoeing. Its sister companies, under the umbrella of Seattle-based Cascade Designs, design and manufacture such brands as Platypus hydration products and the well-known Therm-A-Rest self-inflating mattress pad, among other products. What stands out about this company is its commitment to smart engineering. A good example of this is the development of the first Therm-A-Rest sleeping pad in 1972, invented by former Boeing engineers who started Cascade Designs. A leader in the outdoor products industry, MSR and Cascade Designs have won numerous awards for their products over the years.
"We're often the first to come out with certain products and then you'll see others following us," said company spokeswoman Kerri Dellisanti, referencing the Therm-A-Rest mattress pad. Other companies started producing their own versions after Cascade Designs' patents expired. The company is releasing a limited edition mattress in honor of the Therm-A-Rest's 40th anniversary in 2012, and is proud of the 15 million mattresses they've sold around the world. They also released the first all-season Neo Air Mattress in 2011, ultralight comfort for ounce-counters that is designed for year-round camping and backpacking.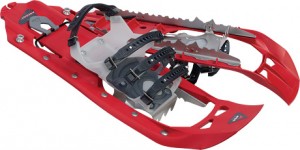 Other innovations the company is proud of includes their patents on snowshoe design – MSR snowshoes feature a 360-degree traction frame. Traditional snowshoes have a tubular frame and usually have a crampon for traction under the foot. To create all-around traction, MSR designed a lightweight, space-grade aluminum frame which has jagged teeth cut out of the frame. These craggy teeth allow for sideways traction when traveling up the side of a hill or on icy terrain.
"We really concentrate on the traction so you can use the snowshoe in all situations," Dellisanti said. For example, their snowshoe design functions for backcountry snowshoers as well as those who prefer groomed trails. An optional "flotation tail" accessory allows snowshoers to make the most out of one pair of snowshoes.
"A person can buy a really short pair of snowshoes, which is what you want because they're more efficient, your legs don't get as tired and they're not as cumbersome," said Dellisanti. "The tails cost around fifty dollars and for that you can use the same snowshoes for deep powder and for trails."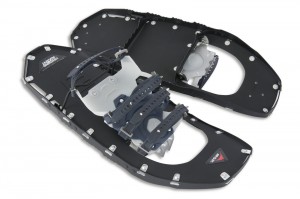 All of MSR's snowshoes are notched to fit the optional flotation tails. The 2011 season was the first time the company offered it on their lightning snowshoes, and they're hearing good reviews. MSR updated the design on all of their snowshoes last season with small improvements. One of their snowshoes, the lightning series, will feature an update on its crampon in January 2012.
Another unique feature of MSR snowshoes is the "televator" – a small bar which folds up under the snowshoer's heel. This feature keeps the snowshoer's foot flexed forward, to prevent calf fatigue when traveling up hills.
New for 2012, MSR is releasing a new line of multi-season poles – the SureLockTR3, which collapses into three sections, measuring only 57 cm. long. It also features the patent-pending Surelock adjustment system allowing snowshoers to adjust the telescoping length with one hand, without removing gloves.  "Say you're ascending, making a traverse on uneven ground. You need a longer pole on one side and a shorter one on the other side. It's just a two-finger trigger that you pull up and you can adjust your pole," Dellisanti explained.
MSR stands behind their products and offers a comprehensive warranty and repair program on all their products. Eighty percent of their products are manufactured in Seattle (for U.S. customers) or in Cork, Ireland (for their European market). Many customers take advantage of their low-cost repairs if their snowshoe bindings break, their stove gets clogged or their mattress pads are leaking air. Many customers would rather pay a small fee to fix what they already know and love, Dellisanti said.
"There's a lot of people who become emotionally attached to their gear," said Dellisanti. "It's been on a lot of trips and has a lot of memories."
All of MSR's products are warrantied, and Dellisanti says the company is committed to keeping customers satisfied with their products. "We rarely turn anyone away …it would have to be blatant abuse."
The company uses the knowledge it gains from warranties, repairs and customer suggestions to add to their ideas for innovation, and value input. The new Whisperlite Universal stove, coming out in January 2012, is a result of that customer input. Designed to run on a variety of fuels, the hybrid stove can run on canister fuel or liquid fuel, such as diesel or unleaded gas. "It's a stove that does everything and people have been asking for that for years," Dellisanti said. "We've spent a lot of time field-testing it, as most of our products are years in the works before we feel comfortable putting them out there."
Check out more information on MSR and its parent company, Cascade Designs, at www.cascadedesigns.com.
To purchase MSR products, click here.