The big question on the minds of those racing one of the three venues at the 19th Annual Northwoods Snowshoe Championships is whether the 2010 version will be the end of the line. For several years, Race Director Barb Van Skike has been hinting that she would make it to the finish of the 20th and then . . . we'll see what happens. 20 in '10 has a ring to it. There are family members who might continue the annual challenge of snowshoe racing in the City of Duluth, Minnesota. The 10km isn't too much of a challenge distance wise, but the half marathon and marathon on snowshoes — one of only two marathons on snowshoes in the country at present — wander out into the surrounding mountains and terrain and require the cooperation of eight different land owners. Barb has been very gracious in thanking them for their annual help and maintains a good relationship with them. But 20 years of dealing with these distance challenges can wear on a race director; weather is getting even more spastic though this year was near perfect.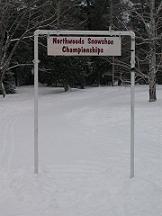 The race, definitely under promoted (picture above: starting line where one passes 3x before finishing marathon) is nicely organized and has a big following. Shelly Wilson (photo with Mike Most's best lime boggan look), Wisconsin, in winning the half marathon has been at the event a number of times and said, "The race was great. The temps started at about 6 degrees (F) above zero and with little wind. The snow was packed but not too hard in most places. Great volunteers who stand out in the cold for hours offering support. The post party was filled with good friends, pizza and beer. What more couold a snowshoer want? For anyone wanting a winter event this one is top notch. I understand that next year is the last year . . . it's the 20th year, and Barb says she's had enough."
Jim McDonell's Tartan Park snowshoe group out of St. Paul had a big turnout at the race. He pointed out, "Tim Zbikowski and his wife Carol both did the 10km. Tim finished first in his class and Carol finished second in hers adding two more qualifiers for the USSSA National Championships. Tim maintains the www.cutemoose.net snowshoe site. It was indeed a fun race and day and my favorite!!!! Awards as usual had a raffle with lots of goodies and snowshoes given away in drawings open to all.  Plus lots of pizza and beer and comraderie," and who would want to miss the cool hat of Judd Johnston from the U.P. of Michigan (picture)?
Jason Bond of Buhl, Minnesota, won the 10km Qualifier in 50 minutes, ahead of ten other men who completed the distance in under an hour. The looped ski trails, groomed and all, are fast. Becky O'Hearn of Baxter won the women's 10km.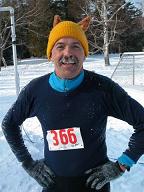 Half Marathon overall winner was Scott Marsh of Austin.
The marathon was a reunion of sorts of the ultramarathon crowd as Chris Gardner, now getting famous on these Superior trails (and the area), zipped through in 4:35. Duluth is home; Chris compares Duluth to Boulder, Colorado, but says it is "without the pretension." No further explanation necessary. Julie Berg, Upper Midwest Trail Runners Board Member, won the women's class again, this year in 6:24.
These distances offer vista views and wonderful terrain. Trustfully the Northwoods will continue for the new generation of snowshoers who are just getting to discover its charms . . . and challenges.
Any comments on the race?
email me at phillipgary@snowshoemag.com
www.ultrasuperior.com
Photos courtesy of Jim McDonell aka Mr. Braveheart.