For the wimps in the continental U.S., our fellow citizens in Alaska really know how to put us in our place. Imagine waking up for the 2nd Annual Fairbanks Snowshoe Classic, a National Championship Qualifying Event, and being excited that the 'official' temperature of -43 was at the airport and the temp at the starting line, a few hundred feet higher on the ski trails at the University of Alaska, would be 'warmer.'
The official race temperature was 32. That's a -32, but get this; when it's cold, the 'minus' symbol isn't even displayed, it is just assumed to be below zero. Try to get away with that in Minnesota or New York or California.
The turnout was more than forecast attesting to the dedication to snowshoeing with this crowd, and all gathered in the heated ski hut for the prerace talk. The short speech probably went like this: "Don't loaf."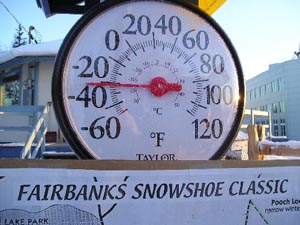 The course is a 5k loop and consists of groomed ski trails, single track walking trails, and unpacked single track. The good news: the course is fast, so the racers can finish sooner. The bad news: the course is fast, so you create your own wind chill.
In the men's 10K, 4 snowshoers led the pack (Kevin Brinegar and Chad Carroll as30-somethings, and master racers Roger Sayre and Simon McLoughlin) but before the first loop was completed, Chad was leading and went on to win in 44.28.
Women's 10K was an exciting 1-2 dual for 9.5K as Elizabeth Little led Heather Best until those final yards when Heather slipped by for the win in 55:00. Elizabeth had a consolation prize to take home as Jack Frost nipped her nose. Amy Carroll took 3rd even after shattering a crampon on her Red Feathers. That's like running on a flat tire in a NASCAR event, but pit crews are hard to find when it is this, uh, cool.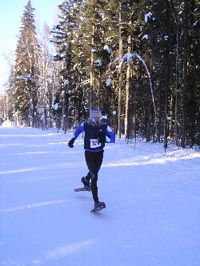 If you were to have an aid station at these temps then you would be serving 'HEED on a stick' like a Popsicle (remember, you read it here first)since boiling water, tossed in the air, will freeze before it hits the ground. So the aid station is inside the heated tent with bagels and cookies and the standards of Hammer Gel and heated HEED.
This Qualifier for the USSSA Nationals is not only the last one held for the 2007 Championship run to be contested in Minneapolis March 9-10, but is the last race in the FINNISH line Snowshoe Series. This first year of the series, the creative effort by Chad Carroll, consists of 5 snowshoe runs in the Fairbanks area. Title sponsor, FINNISH Line Physical Therapy, and Atlas RACE snowshoes provide the prizes and support. Even with a low snow total for the season, the series had a great Year One and was won by Andy Holland (points awarded on age group placement) and Elizabeth Little vindicated her loss in the last 1/2K today by winning the women's series. Heather Best took 2nd in the series, so these two were at it all series long. Simon McLoughlin took the men's 2nd.
What do you wear at these temperatures? And, no, the answer isn't 'plenty.'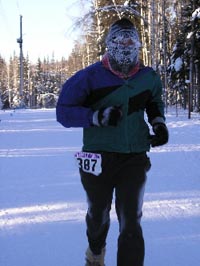 Not surprisingly, with no wind, you can get hot quickly if you're not careful. Chad Carroll raced with 2 layers — a midweight SmartWool base for uppers and lowers combined with a Marmot Precip jacket and ordinary running pants. Socks are a SmartWool liner covered by a heavy running sock. He added this year neoprene Sidetrack cycle booties that covers his shoes and keep all the little tootsies toasty. For the head and face he wears a Mountain Hardware windproof hat with ear flaps and a neck gaiter that can be pulled down and up as you run into these temperature inversions — not much elevation change can drop or raise temps 10 degrees easy. Protection for some special areas of the body is provided by a good pair or two of windbriefs.
With some snowshoe series struggling with a dearth of entrants, it's encouraging to see a new one get born. It's this kind of enthusiasm, creativity, and drive that pushes our sport.
So now Qualifying is over for the 2007 National Championships. All that is left is for you, and you, and especially YOU to show up on the starting line, Saturday, March 10th, and enjoy competing in a United States National Championship Event, and be a part of determining all of the winners in The 2007 Snowshoe National Championships.
PHILLIP GARY SMITH
WWW.ULTRASUPERIOR.COM