When most people think of Australia, snow doesn't immediately come to mind. Most people think of beaches, desert and endless sun. However, it shouldn't be surprising that in a country nearly as vast as America, Australia has large areas of high country that in Winter turn into a snow-covered wonderland.
The prime snow area in Australia is Kosciuszko National Park, 310 miles south-west of Sydney. This massive park stretches for 124 miles and has two distinct snow areas – Perisher and Thredbo. Perisher gets the most snow and is characterized by a series of gently undulating hills and valleys – all of which makes it a snowshoers' paradise. From June to mid September you can experience crisp but sunny days, blue skies, cold nights, powdery snow and a lack of crowds.
The most popular walk and a good way to acclimatize to Australian snowshoeing is to trek to The Porcupines.
Starting from Perisher Valley this 4.5 mile snowshoe trail takes you past the village over a cross-country ski track, up a short rise to a high point called Porcupine Rocks. Here you will get commanding views of Perisher Valley and the surrounding snow-covered high country.
From there you can cut across to Mount Wheatley for a higher view and even more spectacular views of the surrounding valleys.
For something more strenuous you can head straight from Perisher Valley or The Porcupines along the cross-country ski track to the scarily-named Paralyser. This imposing mountain is only 5 miles from civilization but feels like it's another world away. On the top of The Paralyser you will hear the lonely cries of ravens which cruise the higher altitudes looking for bogong moths to feast on. You may be lucky enough to spot a wombat, Australia's sturdy marsupial, but even if you don't see them you will certainly see their burrows.
Another popular snowshoe route is the 3.1 mile Piper Loop. Head along the link road between the picturesque ski resorts of Guthega and Smiggen Holes. Once you arrive at Smiggen Holes you can return to Perisher on the shuttle bus or cut through a back access route on snowshoe.
For an even bigger walk and a chance to go backcountry, take the full day trek between two ski resorts – Perisher and Blue Cow. Start at Perisher Village and walk to The Paralyser. Instead of going up the mountain, snowshoe the trail between The Paralyser and its neighboring mountain, Mount Perisher. Keep walking until you come to a quaint cross-country ski lodge, Illawong Hut, where you are often invited in for a game of scrabble and a cup of coffee. Just after Illawong Hut you will come across the mighty Snowy River, Australia's biggest river and source of many myths and legends. From the Snowy River it's about 1 mile to Blue Cow Ski Resort and then a short ski tube ride back to Perisher.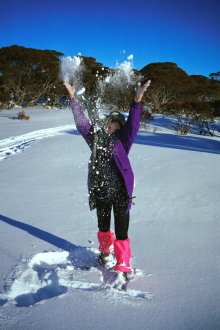 If you want to keep snoeshoeing into the night, once a year, Wilderness Sports, a local snowshoe tour operator, organizes a Snoeshoe Dinner Tour. You are taken up a chairlift to one of the mountain restaurants where you are wined, dined and an Aboriginal ranger gives a talk on Australian wildlife. After dinner you get to snoeshoe down the mountain under lights back to your accommodations.
Snowshoeing is a perfect way to discover Australia's unique wilderness and wildlife. The landscape is very different from America or Europe as there are no pine trees. Instead the hills are covered with snow gums, their twisted gnarled limbs and their mottled orange trunks contrast with the blue sky and white snow. They translate into great photographs and make for a different kind of snoeshoe experience.
After a hard day's snowshowing, Perisher Valley has accommodations and restaurants to suit all budgets. There are hostel-style accommodations, upmarket chalets with prices to match and a range of self-catering apartments.
The valley has dozens of restaurants and cafes so you can unwind any way you like. From the The Gallery where you can sample thyme-roasted baby chicken and crispy smashed potatoes to Clancy's which serves up great steak sandwiches and nachos. The valley also boasts plenty of cozy bars and pubs with open fires.
And after an invigorating day's snowshoeing, there's nothing better than sitting back with a robust Aussie red wine and juicy steak, and planning the next day's adventure.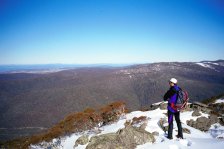 FACT FILE
Where is it:
Perisher Valley is located in Kosciuszko National Park, 310 miles south-west of Sydney. You can drive to Bullocks Flat and leave your car in the overnight carpark and catch the ski tube train to Perisher Valley.
When to go:
The Australian snow season runs from end June to mid September.
Where to stay:
Swagman Chalet – a friendly and comfortable lodge with relaxed atmosphere
Snowy Gums – a modern chalet set amongst the snow gums
Man From Snowy River Hotel – this comfortable hotel is one of Perisher's most popular
Useful Web sites:
http://www.wildernesssports.com.au – runs snoeshoe tours, including the annual snoeshoe moonlight dinner
http://www.nationalparks.nsw.gov.au – official National Parks site
http://www.perisherblue.com.au – for all accommodations bookings