Over the past seventy years, there has been a significant increase in visitors to our wilderness areas and public lands. For example, recreational visits to national parks have skyrocketed from 33 million in 1950 up to 327.5 million in 2019, according to the U.S. National Park Service.  Similarly, the Outdoor Industry Association found that a little more than half of the U.S. population (151.8 million) participated in at least one outdoor activity in 2019.
With such a large number of people recreating outdoors, there also comes an increased threat of deterioration to our trails, shorelines, and campsites. Therefore, minimizing the impact through an initiative such as the Leave No Trace principles has become an essential need to preserve our lands.
Some of the links in this article may contain affiliate links. When you make a purchase using these links, part of the proceeds go to Snowshoe Mag. These proceeds help us pay for site maintenance and article contributions. Additionally, as an Amazon Associate, we earn from qualifying purchases. Please see our disclosure for more details.
The Beginning of Leave No Trace
In the past, environmentalists such as John Muir, Aldo Leopold, and Sigurd Olson have expressed appreciation of our wildlands and identified a need for protection and preservation. Sigurd Olson pointed out the love of the land as a necessary component to preservation by saying, "Without a love of the land, conservation lacks meaning or purpose. For only in a deep and inherent feeling for the land can there be dedication in preserving it."
But then, in the late 1980s, there was a cry for change. Outdoor recreation enthusiasts and environmentalists realized there needs to be a plan to help protect and preserve our public lands. So, in 1994, Leave No Trace was incorporated to form public and private partnerships to support education programs and develop and implement much-needed training and outreach programs that teach outdoor ethics. With a 35 year heritage and acceptance within federal, state, and local land management agencies, the Leave No Trace Center for Outdoor Ethics program is the recognized standard for minimum impact recreation.
In addition to numerous individual members, over 300 diverse partners have joined the Leave No Trace effort. These partners include the federal government and regional land management agencies, non-profit organizations, grass-roots conservation groups, outdoor industries, and retailers. All are instrumental in sending messages reaching more than 20 million recreation enthusiasts annually throughout all fifty states. The United States Snowshoe Association and Snowshoe Mag are also proud to be Leave No Trace partners.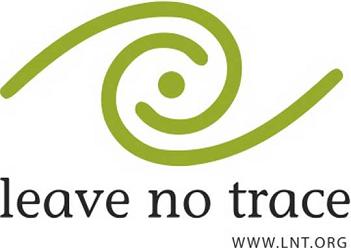 The 7 Leave No Trace Principles
Leave No Trace has developed seven outdoor principles to preserve our environment when recreating outside. There are no laws that warrant arrest if you do not follow these principles since they are not considered rules or regulations. However, they are guidelines and a call for establishing a healthy value by asking wilderness visitors to respect the land.
Keep in mind that snowshoers travel on snow, unlike our fellow three-season hikers who traverse on bare ground. So, interpretation of the principles may vary some for winter touring. However, the following suggestions can be implemented while snowshoeing in winter and during hiking and camping during the summer.
1. Plan Ahead and Prepare
The first Leave No Trace principle is to plan. Planning and preparing can save your life, and it can help protect our environment. When an unprepared camper is uncomfortable, unhappy, unsafe, and cold, they will be the first to let down their guard relative to all the other principles to be comfortable, happy, safe, and warm.
So, plan by researching where you are going before recreating outside. When you plan, make sure to:
Plan out your route. If a trail has multiple sections, what is your final destination?
Be familiar with the distance and difficulty of the trail. Also, remember that it's more challenging to hike or snowshoe on an unbroken trail. So your route may need to be shorter in winter.
What are the trail conditions like now? Will you need to bring snowshoes or another traction device for the trail?
Read More: How To Choose The Best Trail: Tips For Learning When You Need Snowshoes
Also, learn all about how to prevent hypothermia and frostbite. You never know when the conditions could turn from bad to worse, especially if you're several miles from the trailhead or civilization.  For an in-depth account of the body's response to cold weather injuries and how to prevent and treat them, the book Hypothermia, Frostbite, & Other Cold Weather Injuries is a valuable source.
Read More: Book Review: Hypothermia, Frostbite & Other Cold Injuries
Finally, remember to pack your essential day hike accessories for any backcountry winter hike. In Tom Brown's Field Guide, Wilderness Survival, the author recommends taking a few essential items, such as:
Pocketknife (such as these five knives)
Waterproof matches or another fire starter
Candle and flashlight
Cordage or rope
Map and compass (just make sure you also know how to use a compass)
Sunglasses and sunscreen
Food and water
Emergency shelter
Additionally, Rick Curtis, author of Backpacker's Field Manual, recommends a few more items, in addition to the ones listed above. These include:
Extra clothing
Water purification system
Just remember to follow the Scout motto: Be prepared.
2. Travel and Camp on Durable Surfaces
Resilient surfaces for travel include rock, gravel, dry grasses, packed trails, and snow. Since snow is the primary ingredient used for snowshoeing, winter travel is the least intrusive of the four seasons.
Furthermore, staying on the trail prevents possible damage to dormant plant life and will even avoid disrupting snow burrowing animals like mice.
However, I enjoy breaking trail on occasion by heading off through deep snow in uncharted areas. But when off-trail, I always travel where there is ample snow, and I avoid going through areas where vegetation is visible. So I meander around branches on young trees, shrubs, and bushes to prevent damaging dormant plant life.
In spring, I avoid snowshoeing in areas where snow is melting and appears thin. Underlying vegetation could pack down into the mud, thus making new growth nearly impossible. A little caution in springtime can go a long way.
Read More: Leave No Trace: Snowshoe Responsibly
3. Dispose of Waste Properly
The most effective way to get rid of any waste in winter travel, like leftover food and packaging, is by packing it out.
When it comes to human waste, it's recommended to dig a 6-8 inch (15-20 cm) deep "cat hole" in the ground. However, in winter, you may find it unrealistic to dig a hole in frozen ground. Some instances where melted snow and exposed terrain at the base of pine or spruce tree may be manageable for digging. However, you may run into root problems.
If you must leave waste, do so at least 200 feet (61 M) off-trail and away from any water source that would be present in spring so that when all melts, it won't be too intrusive. I recommend taking along poop tubes or using a doggie-style plastic bag to pack it out. You can carry a compact trash can (like this one for dog waste) to store and limit the odor of poop from you or your dog. Always pack out your toilet paper in winter. Urine is relatively harmless, so feel free to pee in the snow well away from water sources and trails.
4. Leave What You Find
You may not find much while snowshoeing since snow covers most everything. However, when you find artifacts, animal bones, or antlers above the snow surface or in warmer weather hiking, please leave it for others to enjoy. Leave decaying logs alone, too, since various animals use them for food and shelter during the cold months.
5. Minimize Campfire Impacts
If winter camping or snowshoeing, or hiking at night, a fire can be a valuable heat source for cooking and comfort. In some cases, it may become necessary for survival, such as providing needed warmth and signaling if lost. The biggest problem with a campfire in the snow season is the lack of available dry firewood. People tend to break off the bottom branches of barren trees or peel the bark from live birch trees. This practice is not good stewardship of our wilderness.
Instead, for your fire, look for dry deadwood underneath downed snow-covered trees or under debris. As an alternative, consider using a gas or propane stove for cooking and providing heat rather than destroying vegetation.
If you do plan to build a fire, keep it small. A preferred method is to carry in a small aluminum pan, like a mini-charcoal grill pan or baking pan with a small bag of sand or inorganic soil. Or, you can consider using a fire pan.
To build a fire with the grill pan and sand, dig through the snow down to the ground. Then, set the rocks in a circle to create a base. Put the pan on top of the stones to prevent ground scarring. You can create a pan fire by filling the area underneath the pan with sand, which helps soak up and evenly distribute the heat.  Then, you can layer the dry deadwood to build a small fire on top of the sand. Just remember to leave room for air to circulate.
Read More:
Snowshoes, Snow Camping & Snowstorms
The Winter Campfire: A Primer for Snowshoers and Campers
6. Respect Wildlife
Respecting wildlife is essential all year, but it is especially critical to animals in winter. Animals need every bit of their energy to survive in the cold, especially considering the lack of food available to them and the potential of freezing in subzero temperatures. If you get too close to an animal and create a disturbance, it can expend vast amounts of energy trying to escape from you.
Thus, during any time of year, always observe wildlife from a distance, and if they notice you, back away or leave. Don't cause the animal any undue stress. Watch for signs of dens or nesting sites by looking for tracks and scat, and keep clear of their living space.
Feeding animals with human food is not good either. It disrupts their natural diet and makes them dependent on human food offerings. Feeding animals can also result in them becoming pests to other human travelers.
Read More: A New Found Passion: Wildlife Tracking & Identification
7. Be Considerate of Other Visitors
Finally, the last Leave No Trace principle to consider is to be considerate of others on the trail.
I have a friend who informed me he was thinking of taking up snowshoeing and planned to hike on a nearby cross-country ski trail. I responded by saying, "Ah, that's not a good idea." I also cross-country ski and know that skiers do not appreciate snowshoe tracks through their trails.
So, unless a ski park has designated both skiers and snowshoers a right of way on the same trail, snowshoers should be considerate of skiers and not travel on groomed ski trails. And in the event it is a shared trail, snowshoers should move to the side of the trail so as not to disturb the middle ski path.
Similarly, remember to step to the side of the trail when taking a break. Additionally, when hiking during all seasons, hikers going downhill have the right of way since they are typically traveling faster.
Read More: Trail Etiquette For Snowshoeing & Winter Hiking
Practice Leave No Trace Principles
The Leave No Trace principles offer a way to preserve the land while appreciating its beauty.
However, do all of our efforts at being good wilderness stewards pay off as we snowshoe on trails and practice the seven Leave No Trace principles? For snowshoers, the real test will come in spring when the snow melts and our three-season visitors find no trace that you were ever there. You will then know that you had a part in minimizing snowshoeing's impact on our environment.
To learn more about Leave No Trace Center for Outdoor Ethics, go online to http://www.lnt.org.
How have you seen the Leave No Trace principles enacted on the trail? What other recommendations do you have for preserving our lands?
This article was originally published on Oct 25, 2005, and was most recently updated on July 4, 2021. 
Read Next: The Literal Leave No Trace of Snowshoeing