A freakish multiday rain deluge in southern Minnesota left towns and farms devastated with ten inches that uniquely created Lake Interstate 35, thereby closing the main southern escape route out of the state. If you live in the city of  Zumbro Falls, as do race directors Larry and Colleen Pederson (Colleen, below, at Zumbro 100 Mile), on the banks of the roaring Zumbro River, the outcome is heartbreaking for them, their family, and their friends of the trail racing world who gathered at this edition of the In Yan Teopa 10 Mile nestled within the confines of the fall-beautiful Frontenac State Park. (Larry with 100-mile queen, Susan Donnelly. Pederson photos courtesy Susan Donnelly  http://www.susanruns100s.com/  )
To race the race, entrants had to find a route to get there. Major arteries, like Highway 61 running alongside the Missisippi River were open, but normal roads, particularly those involving bridges over the Cannon River and the Straight River, were only navigable with watercraft.
Devastation to the homes and lives of the population were Lehman-like in the microcosm of real life.
Yet . . . yet, the race went on even though all of the 'normal' race supplies and equipment were floating and bobbing back at the Pederson ranch in the trailer just parked after the Superior Fall races over the September 11 weekend . . . along with virtually everything else they own.
I've driven over the modern concrete bridge connecting the main road, Highway 60 running East-West, also known as Main Street, to their Cul-de-Sac and more, next to the river. The town is nestled between a mountain and a big bend in the river setting a picturesque landscape. The banks seem so deep that it is (almost) unimaginable they could ever fill and spill over like angry waters boiling eggs. The mountains in the area concentrate moisture and move it at speeds so even elite trail speedsters like In Yan Teopa record holder, Wynn Davis, could not keep up.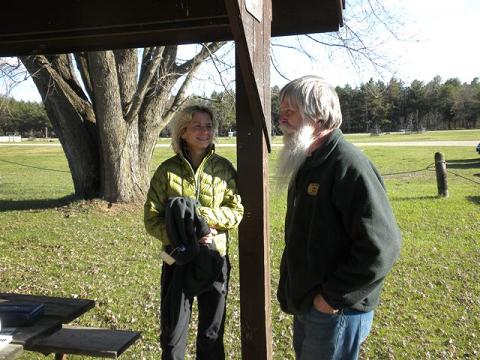 Yet . . . yet the race went on. "What else could we do?" Larry said to me. "We can't get to the house, they won't let us back in. When we left, water was this much (jestering an inch-like newbie trail runner's foot lift) from flooding the main floor. The basement was already full." That's critical, too, because there remains the infamous Larry Dungeon, home of secret wood-working equipment creating unique works of art for winners and participants in trail races for years.
Yet . . . yet the race went on. Donny Clark, chief of trails, maintains the trail markers at his place and lined the course. Sweeping afterward, while I was manning the highway crossing out of the park to the field and back, he showed me the correct way to lay those thin metal poles with waving orange and reflective strips so they don't tangle. In the process I learned marking the Sawtooth 100-mile course requires an extraordinary number of those — care to guess how many? It is something north of 3,000. Just think of maintaining all of them. "It takes all winter to get them back in order."
Driving to the finish line, the standard count clock with its red ticking digits isn't there — well, of course not — its floating somewhere around Zumbro Falls. In its place is Bohdan Stepchuk standing at the finish line with his handheld stopwatch giving times to Colleen and others at the picnic table logging in finishers. Bohdan's wife, Ann, was also there, and I got to meet her.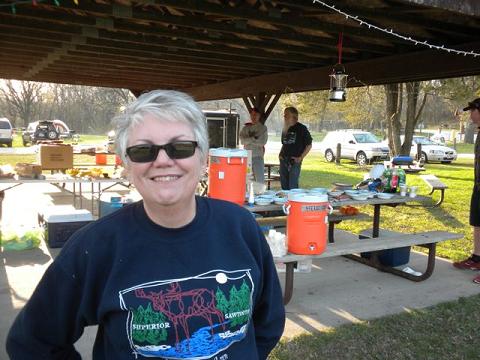 The refreshments were just bought the night before. Fortunately the finishers mug, the race's tradition, had only been delivered Friday so they were available.
This race is the 2010 Upper Midwest Trail Runners Trail Championship. The male overall winner was Rob Mitchell at 1:03:05, (bottom photo, hill climb) a quick time registered on a rerouted course as the Frontenac pond had morphed into Lake Frontenac, so the trail tour bypassed that feature. Moose Mountain Marathon winner just two weeks ago, Kirk Walztoni, followed him in at 1:08.49. Considered by some as the toughest marathan there is, particularly with the creeks-for-trails from an overnight thunderstorm in Lutsen, Mn., Kirk completed that challenge in 3:54.
As they passed the early road crossing (about 1.5 miles), they were a tandem, but in the fields Rob pulled away before leading back across the highway into the contiguous park grounds.  Peter Maves was third overall at 1:11:27, moving up three spots from his 2009 finish.
Jill Payne, just moving here from Nebraska, won the women's race with a finish of 1:20. Vicki Evanburger followed eight minutes later, then Teresa Mills with a 1:31. Vicki commented on the traditional souvenir: "Love the mugs!" Lisa Messerer noted the near perfect weather with temperatures around 50 degrees, "But, I dressed too warmly."
A more subdued Championship this year, and the competitor ranks appeared to be a little thinner than 2009's, though Larry said he would not know for sure until he gets a chance to see the registration list. And what of the lunch that's typically held at the Pederson place?
He quipped, "We won't be having our standard after-race lunch at the house this year unless someone maybe gets a carp in the basement downstairs."
Perhaps the race this weekend was a blessing of a sort. For a few hours, the raging waters were put on the back shelf and the camaraderie and competitive fun of a trail run with trail friends in the scenic Frontenac State Park taking center stage.  Later, driving toward the Twin Cities, maybe a mile north on Highway 61, a large mammal quickly passed in front of me, appearing every bit like a Gray Wolf.
With their ability to run forty miles without stopping, the Gray Wolf provides nature's best example of a natural trail runner. Not known so much in this area, this wolf provided a metaphor for the storms that ravaged here this week, also not known for this time of the year . . . but appearing anyway.

A special call to all from Donald Clark:
(photo above right) "At times, kindness wears a cloak of many colors. Larry and Colleen are Great Unknowns like many others of us who live and die in small towns. Never arising to greatness to make the tabloids as stars, they don't ask for much out of life yet mold their lives around kindess and giving.
Most Givers don't know how to ask for help. So, my friends, think of them when you pour your coffee today and slide your feet across your carpeting, or when you go to the basement to get the clothes out of the dryer or canned goods off the shelf.
All Gone . . . Think of them. Then, maybe, share six hours of your time to help out and move a piece of furniture, wipe a picture off, help tear out some carpeting. Just see if you can give a little back to that cloak of kindness. Peace to us all."
Write phillipgary@snowshoemag.com
UpperMidwest Trail Runner's Minnesota Trail Series (now encompassing Wisconsin): http://www.uppermidwesttrailrunners.com/mntrailseries.html
Free Subscription to Snowshoe Magazine Online Edition (click now): https://www.snowshoemag.com/subscribe.cfm.
UltraSuperior: www.ultrasuperior.com
Donald Clark courtesy Ultra Superior Media