Have you ever participated in or watched a snowshoe race and wondered why there was no such event near your town?
Somebody has to organize such an event. Why not you? Setting up a snowshoe race, or any local endurance race for that matter, takes a lot more time and effort than a neophyte might think. But the reward is bringing to town a fun, competitive event centered around your passion. And you get to meet a lot of cool people.
If you're contemplating organizing a snowshoe race for next winter, the time to start working on it is right now. Organizing any kind of race, snowshoe, Nordic ski, road running or anything else takes a lot of…well…organization.
The first step is to think about what kind of event you want the snowshoe race to be, suggests Mark Elmore, the sports director for the United States Snowshoe Association (USSSA).
One that appeals to elite athletes? Or one that attracts a wide variety of ability levels? Is it a charity fundraiser? Is it in a remote area or a fairly densely populated area? Elmore said he likes events that attract people with a variety of fitness levels and experience.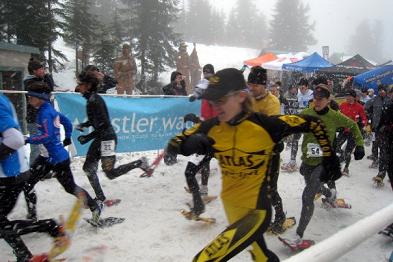 There are a lot of options on where you can set up a snowshoe race. Many municipalities have park lands that work. Ski resorts typically have miles of cross country, hiking and snowshoe trails begging for a snowshoe race.
Getting Started
Before approaching a resort, town or city to ask about holding an event, it's best to have some information about your race, said Josh Arneson, the marketing director for the Bolton Valley Resort in Vermont. The resort, near Burlington, Vt., hosted the 2006 United States National Snowshoe Championship and also hosts a variety of smaller events.
Arneson and Elmore said race organizers should be able to answer basic information about the event before approaching venues. How big is it? Is the event insured? Will the town or resort need to provide staff? How many people are expected? If it's a resort, will they need to provide lodging? Are there sponsorships? What about safety precautions?
By all means, try to arrange a venue early. "Realistically, it's nice to talk in July for a January event," Arneson said. "Sometimes we can do something in November for a January event." However, he said that's rare, and it's not a good idea to take such chances.
Race venues are understandably keenly interested in safety and insurance coverage. To obtain insurance, just start by asking your own insurance carrier, Elmore said. If your insurer doesn't offer event coverage, the insurer can surely direct you to a company that does.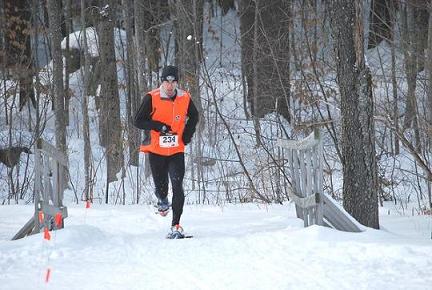 Most venues also want information on public safety. An event organizer should arrange in advance with a local rescue squad to have coverage of an event. You should also contact the nearest hospital to see if they provide any helpful safety advice.
A helpful guide to all this is the USSSA. They, of course, sanction many snowshoe races and have a detailed application for those who want a race sanctioned by the organization. Even if you don't want the USSSA to sanction your event, the application acts as a handy, but not exhaustive checklist of what you need to think about as you are organizing an event. "We're getting more and more requests," Elmore said.
Elmore said getting a USSSA sanction is beneficial. "It lends a certain validity to the process. It may help out with promoting attendance, and help them solicit sponsorships. They'll see it has been reviewed by a national association," Elmore said. That will signal to venues and sponsors that the race has been carefully planned, and thus more likely to succeed.
Municipalities typically event request forms that are similar to that of the USSSA. For instance, Colchester, Vt., a busy town with plenty of recreational trails and sites along Lake Champlain, asks for $1 million in insurance coverage, details on safety arrangements and other requirements.
If you are seeing a race venue in a town or city, the municipality's parks and recreation department usually has the information and forms needed to seek permission for the event.
Money
Every event needs a budget, and so does a snowshoe race. You've got to be careful to recoup the money spent on venue rental, insurance, staff, supplies and equipment. One way to do that is through sponsorships.
Elmore cautions that obtaining sponsorships is hard work. It mostly involves research. Find businesses that sell merchandise and services related to snowshoeing. Try to find businesses and organizations located near the race venue that might want to have their name displayed at the event. It takes a lot of networking to get sponsorships. Perhaps one in 10 potential sponsors will agree to sign on, Elmore said.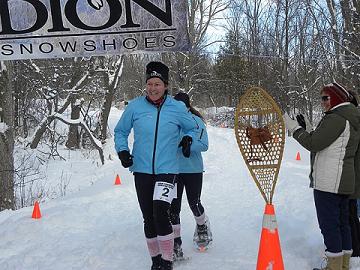 Just as you want to find a venue early, you need to start finding sponsors early, Elmore said. Businesses often establish their marketing budgets early in the year, so if you approach them too late, the marketing money might already be allocated, leading the company to turn down our sponsorship if you procrastinate, he said.
Also carefully consider entrance fees for competitors. Try to get a feel for it by learning what other snowshoe race organizers charge. Also consider that resorts often charge a trail pass fee for competitors. Bolton's is $17, for instance, but often you can negotiate a deal: "Every event is different, so we take it on a case by case basis," Arneson said.
Almost Race Day
As the race draws near, it's time to make sure a lot of details are in place. It helps to have volunteered at other snowshoe races, so you get a feel of how a well-managed race operates.
The quality of the course is of utmost importance, Elmore said.  "Obviously, the course has to be well marked," he said.
You don't want competitors getting lost or confused, especially in cold winter conditions. Make sure you have enough volunteers to guide and direct competitors, and make sure they all fully understand the trail design.
Check off other details. Are there adequate refreshments? Space for spectators? Is there an awards ceremony after the race?
Elmore acknowledges organizing any race is a lot of work. But he says it is worth it: "I've been putting on snowshoe races for the better part of 12 years," Elmore said. "I just get a lot of gratitude seeing people enjoy themselves," he said.
"You want to put on a good event, and have people be able to leave with a smile after the event," Elmore added.
For more information about the USSSA, visit http://www.snowshoeracing.com.