From treks along rivers to exploring California mountains, Michael Moxnes, 27, began snowshoeing as a child and continues to pursue numerous adventures. He discovered new lands on these spontaneous adventures, often in fresh laden snow settings where the air was crisp and cold.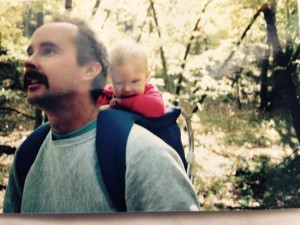 Michael's innate love of nature began early, spending time with his father outdoors gave him opportunities to be absorbed in the wintery months of Sioux Falls, South Dakota where he calls home. Skiing and snowshoeing were a part of his social and family life on a regular basis. Over the course of his childhood, the Moxnes family created many memories that included camping trips, skiing, snowshoeing and visiting mountainous areas together. The family has Michelle, Michael's mom, caught on camera with snowballs in her hands ready to fire away and Gary, Michael's dad, never missed a South Dakota winter in his snowshoes.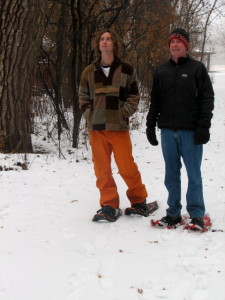 This led to Michael's academic specialties in Biology and Ecology, where he worked for the Rapid City National forest crew. After completing work such as tagging birds in a shelter belt and measuring flood effects on Missouri River Cottonwood trees, his future employment options were being explored, but no clear path had surfaced. As this looming uncertainty continued, a connection with a co-worker introduced Michael to his first season of employment at a ski resort–Mount Crested Butte, in Colorado.
There he was asked to snowboard again. Michael found that even though his board had been tucked away for five years he "fell back in love with it." Access to the resort's hot tubs were a definite bonus feature after a long day on the slopes. Although Michael spent his days on the slopes, his love for snowshoeing persisted in his free time. He found great enjoyment in the sharing of conversation while snowshoeing and being active the others.
Many people don't associate California with opportunities to ski, snowboard or snowshoe, but it was these mountainous areas where Michael continued snowshoeing and eventually moved for work. His employment with Mammoth Mountain brought him to discover new areas, like Tamarack Resort XC Ski Center.


On the weekends, the heavy flow of vacationers would pack the down the once fluffy snow, but as an employee at the resort, Michael was able to enjoy the off-times during the week. He often used the bus transportation that was available that made travel easy for vacationers. Michael was interested in having new experiences and meeting new people. He would find himself surprised to learn that many people had family or were from his hometown or midwest state of South Dakota.
Overall, the highlights at Mammoth Mountain included seeing several Olympic athletes in the half-pike qualifiers, finding vacationers were usually "always in a good mood," and heading out early in the morning when the snow was fresh to ski or snowshoe. The terrain was also so diverse that Michael found the contrast of the mountains to desert in a few short miles fascinating–sometimes camping in the sand after a morning in the snow.
Michael feels nostalgia when he spends time at home in Sioux Falls, snowshoeing near the Big Sioux River and navigating the evergreens of his former camping days. He recalled how the camp counselor would hide coins along the riverbank for them to discover, leading them to believe it was left behind gold from the fabled hidings of Jesse James. His snowshoeing has given him many opportunities to relax, explore and grow up as an outdoorsman who can inspire and aspire towards a future alfresco.