Vermont's resorts have been hard at work planning and prepping millions of dollars of improvements for winter fun.
Here's the latest and greatest news in upgrades, expansions, additions, and more:
Bromley is getting ready to undergo a much anticipated renovation of their base lodge for the upcoming winter season, with the first floor receiving the entire investment for upgraded guest experience and comfort. But renovations don't stop there. The adult first timer's program is undergoing its own changes…introducing GET – Guaranteed Easy Turns to get you on the slopes quickly and successfully. The revamped program will include an indoor instructional period to get to know your instructor on a more intimate level, and a GET "frequent skier" Card that offers discounts and incentives on subsequent lift tickets, lessons and equipment. The 2012/13 season will also see 60 new HKD energy efficient tower guns spread out over five different trails and the top of the mountain for a total investment of $200,000 in snow.
Under new ownership in May 2012, the home mountain of more than 50 Olympians has had its share of exciting winters, but this may top them all. Just announced, $108 million dollars will be invested over three years into snowmaking and on-mountain accommodations, including four mountain lodge facilities. Two will be built just below the mid-Burke detachable quad, a third at the site of the current mid-Burke Lodge, and the last in the base area near the Tamarack Grill. With a significant snowmaking project completed this fall, more than 100 high efficiency snow and fan guns have been installed, increasing snowmaking capacity by over 50 percent.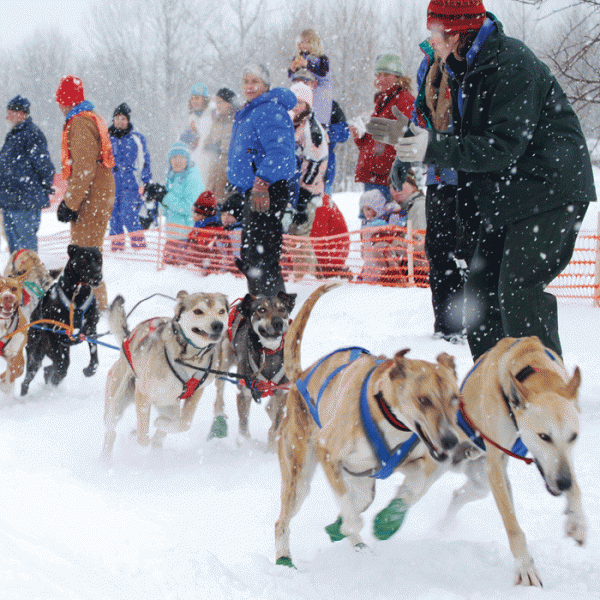 Burke's new high-speed quad will carry guests to the summit in about one-third of the time of the Willoughby Chair, meaning more time on their favorite winding trails or deep in the 100+ acres of glades, including five new glades for this season. Guests, world-class athletes, and Burke Mountain Academy Students will celebrate an earlier opening than ever before and will enjoy spring skiing and riding longer than ever. All of this is just the beginning, as Burke continues to create a modern version of everything that makes Vermont skiing great.
On heels of news that Jay Peak Resort acquired neighboring Burke Mountain, the mountain also announced an additional $30 million in resort-wide improvements for the 2012-13 season. While past revitalization efforts have been primarily focused on the Tram side of the resort, the attention will now broaden to the State Side area as well as the summit of Jay Peak. A new 8,500-square foot Mountain Learning Center at State Side will have a rental-and-repair shop, a ski-and-ride school, a café, and a daycare center. Two new lifts will also be installed.
A fixed-grip quad chair will carry guests from the State Side base area, over the 720 terrain park, unloading just above the Taxi trail providing visitors easier access to the Tram side of the mountain. The other, a moving carpet, will be a part of the new dedicated learning area upslope from the Mountain Learning Center. Jay Peak will also transform its Sky Haus into a 120-seat restaurant. Originally opened in 1967 as the summit station of the resort's tram, the Sky Haus has never had a truly established restaurant. The new eatery will offer soups, salads, sandwiches, beers, and wine.
But that isn't all… another $170 million will be invested over the next three years to open the West Bowl and continuing improving upon State Side.  New lifts, trails, a hotel complex and skier service facilities will be erected at the West Bowl, while 100 dwellings, and 84-unit hotel and Medical center are being planned for State Side.
Killington Resort has invested more than $20 million in the last five years building the Skye Peak Express Quad, improving snowmaking and preparing the construction of Killington's new Peak Lodge facility. Soon crews will complete the sewer system from the Killington Peak Lodge to the K-1 Lodge as well as set the foundation, footings and bottom floor walls of the new facility. The construction management company, Engelberth from Colchester, Vt., will resume building in the spring of 2013 with the intention of completing the new facility by Christmas 2013. Furthermore, they will continue to upgrade snowmaking systems and fine tune trails.
Magic Mountain has partnered with TimberQuest to bring year-round challenge and adventure to its tree-lined slopes in 2012. They've provided a multiple skill-level Tree-versing ropes course that scales the lower sections of Magic, with aerial zip-lines that bring you back down the hill. Tree-crossing is a new, all-season, nature-oriented sport that is a great compliment to one of the most challenging and interesting ski areas in southern Vermont.
With the new skier-owned Magic Partnership million-dollar capital raise completed, the 2012-13 season will highlight the beginning of the three-year plan for expanding Magic's snowmaking system. The goal is to bring snow earlier, later and more consistently throughout the season—no matter what mother-nature brings. More than 70 percent of Magic will be accessible to snowmaking covering beginner, intermediate and expert trails. While powder days are legendary here, better snowmaking will make every weekend a winter festival.
Over the first 17 years of co-op ownership, Mad River Glen has invested nearly $5 million in capital improvements. Mad River's goal is to maintain and preserve the experience rather than overhaul or upgrade it. Both the skier-owners and the management understand that skiers come to Mad River for the unique combination of legendary terrain, sense of community, low skier density and intimate atmosphere. "We don't want to mess with a winning combination," President Jamey Wimble explains. "Our capital plan is designed to maintain the existing infrastructure and to make small changes that will improve the overall experience for our skiers."
Mount Snow has teamed up with the world's largest snowboard manufacturer in a continuing effort to make the learning experience easier and more fun than ever before–introducing Mount Snow's Official Burton Learn to Ride Center.  The center features programs available for aspiring riders as young as three years old all the way up to adults who need help honing freestyle skills in one of Carinthia's 10 terrain parks. The youngest rider–three to six year-olds–can experience a new dynamic in snowboard lessons at the Burton Riglet Park, where instructors guide youngsters through small terrain park features. On top of it all, Burton has provided Mount Snow with the latest, most technologically advanced learning equipment designed to make the progression from one skill level to the next quicker and easier.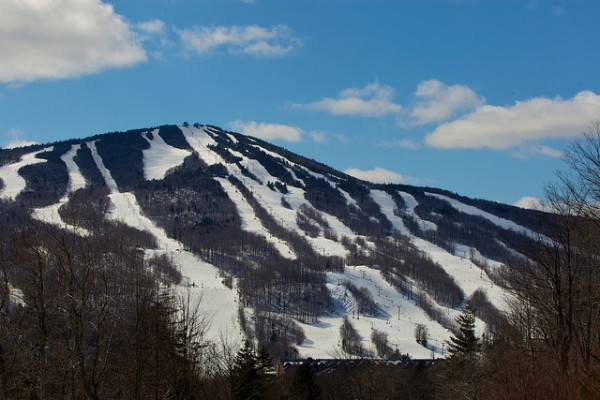 Mount Snow is also pumping cash into its food and beverage options. Go Fish Sushi features a broad selection of sushi made fresh daily out of the highest quality ingredients. Conveniently located in the Main Base Lodge, Go Fish will offer grab-and-go meals for skiers and riders looking for a healthy and delicious bite to eat before heading back out onto the mountain. Since the State of Vermont is synonymous with farms and agriculture, making the finest dairy products and growing some of the best produce in the world, the new Harriman's Restaurant Farm to Table menu is made with fresh products from local farmers. You really can taste the difference.
The Cupola, once a legendary shop located about a half mile from the resort on scenic Route 100, has been reinvigorated by Mount Snow and will feature concept shops from top retailers as well as a large selection of high performance equipment rentals.
Okemo Mountain Resort is ready for winter with a countdown of capital improvements: three new gladed areas add 16 acres of tree skiing and riding; two new grooming machines added to the fleet include another Prinoth 500 horsepower Beast and an agile Prinoth Bison Park Cat; one additional Waffle Cabin will be installed at Jackson Gore, so the sweet, siren smell of those beguiling Belgian waffles will now tempt skiers and riders at both base areas. And it's blastoff for 19-29 year-olds with Okemo's new Millennial Pass–valid seven days a week with no blackout dates… only $599.
An investment of more than $1 million in snowmaking enhancements will bring an additional 150 high efficiency tower guns and a new electric compressor to Smugglers' Notch Resort this season. This investment will allow more snow to be made at a wider temperature range, improving early and late season coverage, and also improving in-season coverage, with greatly reduced energy costs.
Continuing the environmental stewardship initiatives that have earned Smugglers' an Environmental Leader designation, the resort has installed 35 solar trackers with a 150-kilowatt capacity that are projected to offset the energy use of the Village Lodge, home to a deli, pizzeria, entertainment venue and lounge, and Ben & Jerry's Scoop Shop.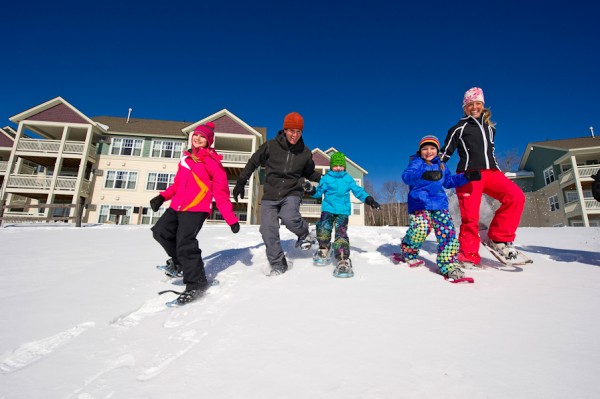 A new natural feature terrain park for intermediate and advanced skiers and riders at Smugglers' will open in the Knight's Revenge glade on Madonna Mountain between Lower Rumrunner and Lower Madonna Liftline. Freestyle riders in the glade will encounter log slides, quarterpipes, bank turns, rock jumps and much more as the park's features evolve with influence from Mother Nature.
The winter of 2011-2012 proved that snowmaking is an essential component to any successful and sustainable ski resort. This year Stowe Mountain Resort continues to invest in its state-of-the-art snowmaking operations with an additional 4.7 million dollars in new equipment and upgrades that include 325 HKD tower guns, 150 energy efficient land guns, 16 Super Pole Cat fan guns and seven miles of new snowmaking pipe. In addition to supplementing its already superlative snowmaking, this year's improvements will allow Stowe to operate with greater energy efficiency and eliminate 100,000 gallons of diesel storage, use and emissions. From a skier's standpoint, the new snowmaking increases potential for more early season terrain, increases overall snow quality and allows mountain operations to resurface the mountain quicker.
Visit http:/www.stowe.com/media/flash/1213/ for more media info.
A new trail called Sunbeam, more snowmaking coverage on favorite trails Duck Soup and Spillway and continued glade work for more fun in the trees are all things to look forward to at Stratton. The Sun Bowl terrain parks on Sunriser Supertrail and Big Ben will be bigger than ever. A new boardercross course will host camps with Olympic medalists Ross Powers and Lindsey Jacobellis. Off the slopes, pure Vermont adventures like dog-sledding, full moon snowshoe hikes and stargazing are offered through the Activity HUB, an insider's guide to southern Vermont.
Year after year, Stratton's investments in snowmaking create a powerful system that uses less air and less energy and produces snow so good it is guaranteed. Learn more at www.stratton.com.
Sugarbush starts the season with a complete Lincoln Peak base area, designed in the Vermont Vernacular style, that provides guests with an ultra-convenient and memorable winter vacation experience: Slopeside lodging, shopping, specialty dining, instruction for skiers and riders of all abilities and–of course–some of the best terrain on the East Coast. The Schoolhouse, designed to resemble a traditional Vermont schoolhouse and decorated with murals and play spaces by celebrated local artists, serves as an all-inclusive home for children's ski and ride programs.
Sugarbush is forging ahead on the second phase of construction at Lincoln Peak Village. The new Rice Brook Residences will feature 15 total new homes and three new buildings all slopeside at Lincoln Peak. For real estate information and ownership opportunities visit sugarbushliving.com or call 800.806.1070.
On Thanksgiving morning in 1937, a legend was born: Pico Mountain Ski Resort. Although it was humbly equipped with only a 1,200-foot rope-tow powered by a Hudson motor car engine, skiers–true skiers–loved it. No other big mountain has so much quaint charm. Since then a lot has changed. But the love that began seventy-five years ago for this mountain still lives today, and it's as strong as ever. Families and skiing traditionalists now enjoy 52 trails and the Triple Slope Terrain Park serviced by seven lifts, including two high-speed detachable quads.
Middlebury College will host the 2013 NCAA Skiing Championships bringing together the best collegiate alpine and Nordic ski racers in the U.S, many of whom are former World Cup competitors. The alpine races will take place at the Middlebury College Snow Bowl, March 6-8, 2013, and the Nordic races will be held at the Carroll and Jane Rikert Nordic Center, March 7-9, 2013. These events are free and open to the public.
Rikert Nordic Center
For the coming season, the Rikert Nordic Center will be better than ever with a 5-kilometer snowmaking system, and improved rental equipment–including Jib Skates for the adventurous–and increased offerings in instructional programs for all ages and abilities.  Check out the website at www.rikertnordic.com for more detailed information.
The Mountain Top Inn & Resort will complete construction of their 4,650 square-foot barn in January 2013.  The Barn situated just steps from the Main Lodge, will be the perfect setting for weddings and special events; including Nordic ski competitions and winter events that require indoor dining for up to 250 guests. Additional space on the lower level consists of space for yoga, meetings, massage, fitness and a theatre.