Whenever there is a first-time snowshoe race, usually there are a lot of kinks to work out in the first year of the event to improve on for future races.  But the Phillips Flurry Snowshoe Race, Wisconsin, was very well-organized in its inaugural year, with an efficient registration, an outstanding course and an unparalleled awards ceremony.  Around 170 participants traveled to the Phillips School Forest on Saturday, January 22, 2011, to snowshoe in either the 5-kilometer or 10-kilometer races in this event's debut.  Racers had to brave the sub-zero temperatures, as this was yet another snowshoe race that went on this month in similarly frigid temperatures.
Racers were mostly protected from the biting wind chills due to the thick woods enveloping the area all competitors were able to traverse on the race course.  The course mainly consisted of ski trails that had been recently groomed with some sections of single-track that were comfortably wide and hard-packed.  There were some hilly sections that were slightly challenging but still fun in their own right (see picture of the start of the race – photos courtesy Adam Speer).
With around a half-mile to go on the first loop, racers faced a daunting drop and quick climb with co-race director Kristi Speer strategically placed at the top of the hill, encouraging on the competitors.  The 5-kilometer and 10-kilometer courses ran together until the 5-kilometer's finish, and the 10-kilometer races led into an alternate second loop with a higher percentage of single-track to race.
The fastest pace of the day honor went to Eau Claire's Brent Kann, 24, who was the overall champion in the 10-kilometer race.  His winning time was 47:21, and he had no easy victory as he had to duke it out with current college track athlete Jeff Quednow (see picture of these two fighting for the lead).  Kann, who's father is the wily and talented snowshoe veteran John Kann, has raced in snowshoe events off and on over the last couple of years.  Brent is currently a "super-senior" at University of Wisconsin – Eau Claire, where he has run out of eligibility for cross country and track but is continuing on with endurance racing doing skiing and snowshoe racing in the winter-time.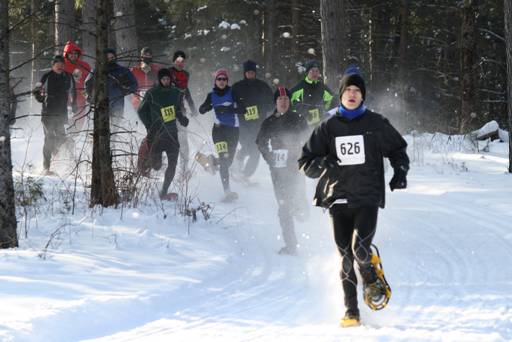 Kann talked about how he enjoyed the Phillips course, "It has a good mix of single-track and skiing and snowmobile trails.  This was my first snowshoe race of the season – on the first lap my goal was to stay comfortable.  Jeff and I were switching back and forth for the lead, and I later pulled away near the end.  I'm planning to qualify for Nationals in an upcoming Minnesota race, and then race at Nationals in Cable."  Kann also does the Birkie, a skiing event, which is held in roughly the same location, so he should be relatively familiar with the layout of the Dion Snowshoes USSSA National Championship course.
Kann's winning margin was just 18 seconds over Quednow.  Westboro's Quednow, 19, battled back and forth with Kann throughout the race but fell back near the end, finishing second in a time of 47:39.  Jeff's father, Mike Quednow, 47, finished several minutes behind his son but was in his own heated battle with two other competitors, including one in his age class.  Ironwood's Larry Buerger, 47, stayed very close with Quednow in the battle of third place until the end, but ultimately Quednow was able to edge Buerger by less than two seconds, 53:12 to 53:14.  Fifth place overall went to Catawba's Kyle Schmidt, 36, who lives just a few miles from this race course.  Schmidt was in the running for third place as well but fell back in the second half of the race and ended up with a time of 53:52, about 40 seconds behind the elder Quednow and Buerger.
There were twenty-one competitors in the 10-kilometer race, with sixteen men and five women partaking in the longer event.  The first woman to cross the line in this race was Medford's Michayla Heil, 18, who blazed the course in just over an hour in 1:01:51.  She had an unbelievable margin of victory, beating the second place woman by over twelve minutes in this race.  Birchwood's Nicole Finstad, 36, was second place in 1:14:02, just beating out Phillips' Pamela Onchuck, 28, who finished her race in 1:14:25, just 23 seconds back.  Wausau's Judy Punke celebrated her 57th birthday with a fourth place finish in 1:17:12, just three minutes behind her younger competitors battling for the second-place position.
The 5-kilometer race had 148 racers in all, and the overall champion was Kronenwetter's Kris Borchardt, 31, who led wire-to-wire in this race and hit the finish line first in a time of 26:06.  His winning margin was 1:23 over the second place competitor, Phillips' Steve Kerner, 17, who completed his race in 27:30.  Third place went to fellow Phillips' high school cross-country and track teammate John Simurdiak, 17, who was just twelve seconds behind in 27:42.  Medford's Joe Freudenthal, 24, was a minute back in fourth place in 28:42.  Another thirty seconds behind him was St. Paul Park's Jim Rabusitz, 31, taking a fifth place standing with a finishing time of 29:12.
There were 61 males and 87 females doing the 5-kilometer race, and the first female crossed the line in 31:07.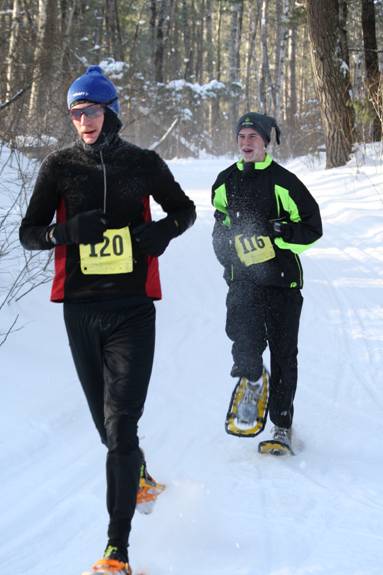 This was Phillips' Lesley Reynolds, 34, winning her first ever snowshoe race, making her hometown proud with the victory (see picture of her nearing the end of her race).  Reynolds elaborated on her race, "I liked the course and the single track, and the temperature felt better than I thought it was going to feel, as the sun came out for the race and things warmed up.  This is my first year snowshoeing, and this was only my second race (Duluth was her first), and this was my first win.  I've been a runner since I was young, and tried this out, borrowing a pair of snowshoes for racing — I'm doing this to supplement my running.  This was very well organized for a first-time race — there was a really good turnout and it was a lot of fun."
Medford's Paula Liske, 50, was just under a minute back of the champion, completing the course in 32:04.  She held off Medford's Lori Thompson, 26, by just twelve seconds, as Thompson came in at 32:16.  Ogema's Corinne Bauer, 30, crossed the line a little over two minutes later in 34:42.  Closely following was another snowshoeing Quednow, named Carmen, 42, also from Medford, who raced the course in a perfect 35 minutes flat.
Head race director Kristi Speer did a great job organizing this race and putting it all together.  Co-race director Todd Zumach discussed some of the details of the background of this race, "We were fortunate that starting three years ago we've been able to build single-track out here during the last three summers.  We've had the Phillips cross country team helping out a lot.  I've been the race director for bike races and skiing events before doing this.  We were hoping at first to get 100 people to race here today and were expecting about eighty.  But we had 115 pre-registered and we ended up with around 180 that signed up."
The awards ceremony was accompanied by a great door prizes' affair, where items such as skis, snowshoes, wool socks and free registrations were given away.  The four overall winners received very original trophies, which were the snowflake "mascot" sculpted in metal wearing snowshoes attached to a crosscut of birch wood (see picture of this trophy, on top of the light blue long-sleeve race T-shirt given out).  The top three racers in each age group also received these crosscuts of birch wood, in the form of being the faces of medals with the race logo being burned into the wood.  These were very original and unrivaled ideas for awards, and those that received these creative trophies and medals will always remember where they earned them.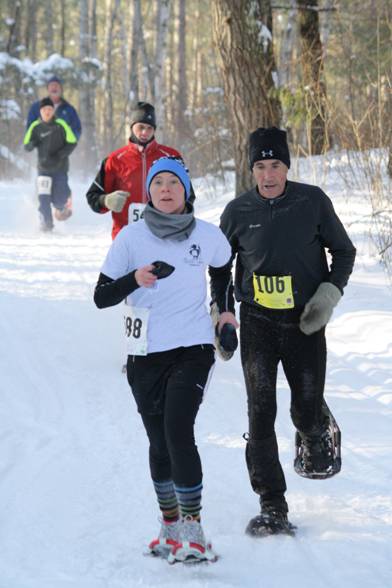 Folks in these parts are looking forward to seeing their beloved Green Bay Packers play against the Pittsburgh Steelers in less than two weeks in the Super Bowl.  That will be the 45th edition of the big game, to be played in Dallas.
These folks will also definitely be looking forward to the second edition of the Phillips Flurry Snowshoe Race, to be held at this time again next year.
Results and additional pictures of this race are available at http://www.thecrazyloon.com/ and http://www.performancetiming.com/admin/results/All_Results[1].pdf.
Any comments or thoughts about this race or story? E-mail kris@snowshoemag.com.
For a free e-mail Snowshoe Magazine subscription, visit https://www.snowshoemag.com/subscribe.cfm
United States Snowshoe Association: www.snowshoeracing.com