They like to joke that they get 12 months of winter in Norway and perhaps that attitude is why Fimbulvetr just happens to be one of the hottest up-and-coming snowshoe companies. What started as an idea over a couple of drinks has been born into a leading edge, award-winning snowshoe design. I had the opportunity to speak with Kristan Wenstøp (partner, and product designer) and Ketil Løkke (partner and brand manager) from Fimbulvetr to discover who they really are and what makes this brand so unique.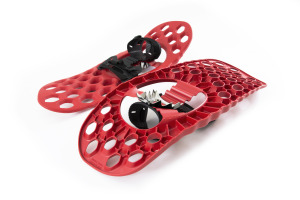 The story starts a few years ago when  Wenstøp and his brother were trekking up a steep hill in some very heavy snow with snowshoes and getting passed by skiers.
As  Wenstøp puts it, "At some point it gets demoting to get passed by skiers so we decided to do something about it."
The idea stayed in the back of their minds until they came across a fantastic material that is capable of creating the exact snowshoe they imagined with superior capabilities. Over a few drinks and dinner one night, Wenstøp brought the idea to the table and three companies: Pivot (product design), Maskinen (brand strategy) and HiForm (business angel, production and material excellence) joined forces to create a snowshoe tough enough for the Norwegian Army and perfect for the backcountry snowshoer.
The first unique aspect of this snowshoe is the material it is made out of; DuPont™ Hytrel® is a high-end strong material often used in train construction due to its durability and flexibility in extreme low temperatures. Pair that with a one-part hinge, which ensures no rattling, nothing to come lose and less breakage… and you have a sleek, modern, easy-to-use snowshoe. The focus is on making a product from start to finish with control over both engineering and production. Injection molding lets the snowshoe be produced in one single part maximizing material usage and preventing future breakage. The honeycomb pattern of the shoe was born from the inspiration of nature in its strongest form and gives the shoe maximum strength and flotation.
"We tried to take away as many things as possible leaving you only with what's best to carry you over snow. It is more about stripping it down and making the best kind of snowshoe," said Wenstøp.
With more and more snowshoe choices on the market I was curious as to why they only produce a single non-gender specific snowshoe. I got the opportunity to ask how they were going to be compete in such a saturated market and why they only offer the one choice:
"The size of snowshoe you need we feel depends more on the type of snow and terrain you are crossing instead of gender," said Løkke. "We don't think its right to make a female or male gender specific snowshoe. Anyone can strap these on and walk. Our approach isn't to make smart new marketing tools to sell snowshoes; it's about making the best possible snowshoe."
A refreshing outlook this company has–oozing with passion for making the best snowshoe possible without any unnecessary extras–their belief in their product coupled with the awards they won last year brought Mikkel Bang from the Burton Snowboard Team on board to test out the snowshoes. A heavy user of snowshoes, Mikkel did a lot of backcountry climbing, walking and jump building in these shoes and appropriately named them the "Batmobiles." Fimbulvetr has set its sights on entering into the market for backcountry snowboarders as their success with Mikkel Bang continues to grow.
This is a company built around people who love and embrace winter. They wanted their brand to revolve around the cold winter of the Nordic countries. The name Fimbulvetr means the "Great Winter" and comes from when the Vikings believed that three years before the world ends it would be winter all year around. Embracing the winter and creating a product that can help people enjoy the cold and snow and take them back to the core of snowshoeing is really the vision of this company.
With three major awards won last year–the ISPO BrandNew, Red Dot Award and The Norwegian Design Councils Award for Design Excellence–this company shows no sign of slowing. With their snowshoes being featured in the fastest-growing sports retailer in Europe (Scandinavia XXL) and with customers from all over the world ordering via the website, Fimbulvetr is becoming a common name in the snowshoe world. I asked what the "big dream" is:
"The big dream is to set up a production injection molding line in North America. To have a pair of our snowshoes in every household. We are building our company brick by brick," said Løkke.
By far one of the most innovative snowshoes I have come across, paired with a team of engineers and designers that have a passion for this winter sport, makes Fimbulvetr a unique company. With snowshoes that look and feel like they can float on not just snow but air and a design that can stand up to the coldest temperatures and the deepest snow, Fimbulvetr has taken snowshoe design to a new level. And as they say, "not just a snowshoe but more of a natural extension of the foot."
To discover more about Fimbulvetr and to purchase a pair of your own, click here.