The key to enjoying a snowshoeing adventure is being prepared for the worst of conditions. Nothing can ruin an otherwise glorious experience worse than not having the proper tools necessary to brave the elements. And in some cases, venturing out into the wilderness without the proper gear can be dangerous and potentially life-threatening.
Here is a basic how-to guide with the essential gear you'll want to have on you while snowshoeing this winter: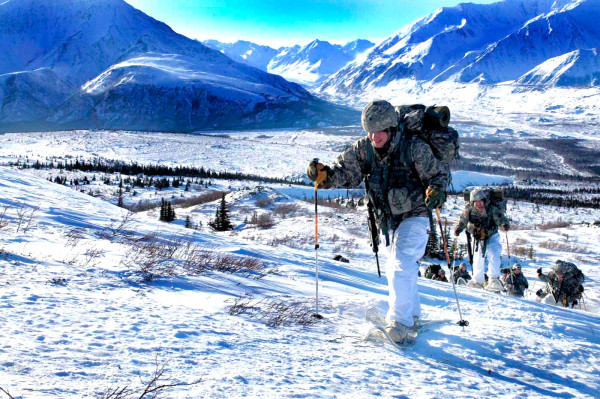 What to Wear Snowshoeing
You can always shed layers if you get too hot. But if the weather takes a peculiar turn for the worst, it is always nice to be prepared for it. Your base layer should be something that keeps you warm and can wick away moisture. A fleece mid-layer on top of your base will provide the insulation you need to maintain your warmth in the coldest of conditions. And lastly, a waterproof outer layer that also breathes is essential. If your outer layer doesn't breathe, any moisture underneath it won't be able to dry quickly and will cause you chilly discomfort.
Read More: Snowshoeing Dress Code: What Clothing To Wear
Snowshoeing Footwear
Since you'll be stomping through or on top of the snow, your choice in footwear is probably the most important decision of them all. Your feet will be in direct contact with the snowfall and will need insulation and moisture protection. Smartwool or Ausangate socks are two of the top brands that will keep your feet insulated and dry. Depending on your destination and the amount of snowfall, treated leather hiking boots or insulated winter hiking boots are essential investments. Don't cut corners on this purchase and pick the boots that fit you best. It is also smart to bring a few boot options with you to test out before you venture off. If you'll be in deep powdery snow, gaiters are another good piece of equipment to have.
Read More: Snowshoeing Footwear: What To Wear
Poles and Snowshoes
Some people use their ski poles for snowshoeing ventures, but telescopic poles are a better choice because they are adjustable in length, and pack away much easier if you aren't using them. There are different types of snowshoes for the different types of snowshoeing levels and activities. Be sure to do your homework and consult with a salesperson before you buy the first pair of snowshoes you see. There are different designs for steep terrains, deep powder, and trails.
Read More: Definitive Guide: How To Choose The Perfect Snowshoe For Your Needs
Accessories
You'll need a beanie or some similar type of insulated covering for your head and ears. Insulated and waterproofed gloves are also important in keeping your extremities from getting uncomfortable and numb. Eyewear is also important for two reasons: one, higher elevations in winter conditions are really tough on your eyes; and two, glare from the sun off the snow makes it really hard to see without eye protection. Sunglasses or goggles are a must in this situation. Prescription sunglasses or perhaps prescription lens inserts for ski goggles could be used for people who wear glasses or contacts.
Read More: What To Bring When Snowshoeing: Top Accessories For The Day Hiker
Safety Gear
If you are braving hazardous backcountry terrain it is always better to be safer than sorry. Avalanche beacons and probes are essential tools that can help you determine if your chosen path is safe to traverse. Other useful safety tools include a compactable shovel, sled, and avalanche snorkel. Of course, it is always smart to stick to areas with minimal avalanche hazards, but for those of you seeking adventure, these tools could mean the difference between life and death.
Read More: Why All Snowshoers Should Be Avalanche Aware (Even Beginners)