The concept of ecotourism is not new, but lately we're hearing a lot more about this kind of travel.  Take a look at any travel magazine and you're likely to read something about it.  But what exactly does it mean?  Ecotourism is a form of tourism that involves visiting fragile and pristine environmental areas that are usually protected.  These natural and undamaged environments are intended for low impact.
Ecotourism typically involves some sort of physical activity like hiking, biking, snowshoeing and even trekking along with llamas. Take an ecotourism experience to a new level by combining it with a visit to an eco-friendly spa.
Start at Ojo Caliente Mineral Springs Resort and Spa, an hour north of Santa Fe, N.M., and 45 minutes southwest of Taos, where rustic meets posh. Set in front of dramatic sandstone cliffs, the cluster of adobe buildings surround hot springs where sulphur-free, geothermal mineral waters flow.
Ojo Caliente Mineral Springs is the first natural health spa in the country and was opened as a sanitarium by Antonio Joseph in 1868.  Prior to that time, Native American Tewa tribes used these waters centuries ago and built a pueblo overlooking the springs. The place was named Posi or Poseouinge meaning "village at the place of the green bubbling hot springs". In the 1500s, the Spanish explorers also discovered the springs and named them "Ojo Caliente"  Three buildings on the property, the historic hotel, the historic bathhouse and the round barn are listed on the National Registry of Historic Places.
Ojo Caliente is on 1,100 acres of river landscape next to national forest and public land. Twelve miles of hiking trails are easily accessed. And for a most unique experience, take a hike with a llama. Llamas are perfect high-altitude and low impact pack animals.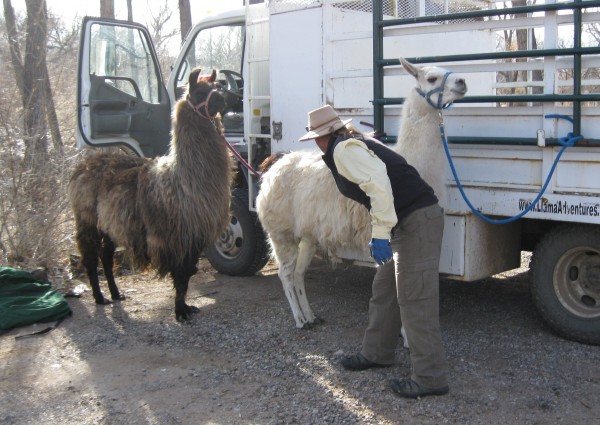 Contact Stuart Wilde, naturalist, guide and llama rescuer, at Wild Earth. Wilde provides the llamas along with gourmet meals and relevant commentary about the area. Lead a llama, on a trail that is a bit steep and rocky in some places but sandy and level in others to Posi-Ouinge. At Posi, there's a mile route around the site with remnants of the past. Pot shards are scattered about. The atmosphere reeks of history and the site allows a spectacular view of the Sangre de Cristo Mountains. Take some time to slowly breathe in and out to absorb the tranquility.
Hike down to the whisper zone of Ojo Caliente. You'll be ready to soak in one of the ten pools. The ten pools contain four different types of mineral water and combinations of these waters. The lithia spring water is believed to relieve depression and aid digestion and the iron spring is beneficial to the blood and immune system. The soda spring water is used to relieve digestive problems and arsenic water is believed to be beneficial for relief from arthritis, stomach ulcers and to heal a variety of skin conditions.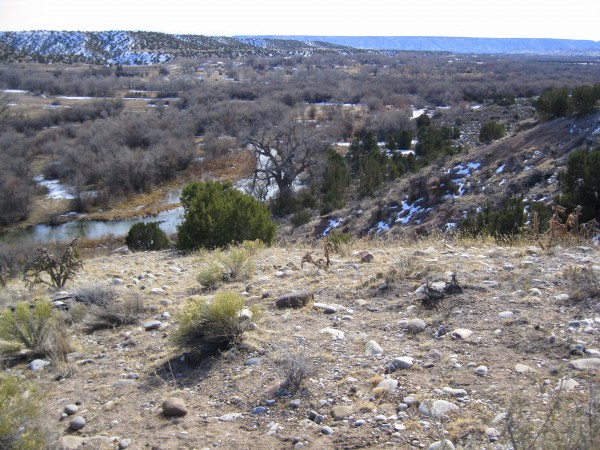 Splurge, arrange for a private pool. The edges of the pool are lined with luminarias for night time soaks. An attendant will build a pinon fire in an outdoor keva fireplace. Plenty of snowy white towels are readily available. Sunset is a special time to soak. The setting sun washes the nearby hills in a soft rosy glow. And there are more choices ahead.
Head to spa center where you will find an extensive list of spa services. Private water therapy, skin-care therapy, therapeutic massage, restorative body therapies and spa packages are among the selections. The Native American Blue Corn and Prickly Pear Salt Scrub is one of the favorite treatments. This treatment includes scalp massage and an Ojo herbal oil therapy.  And for further indulgence, add on a healing hands or restorative foot therapies. Now fully relaxed, follow the path to the Artesian Restaurant.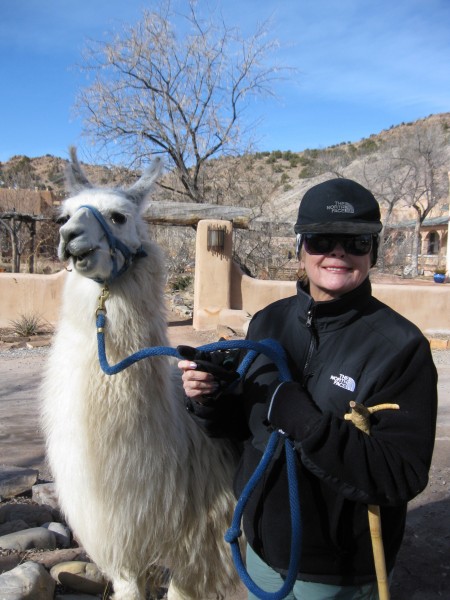 The Artesian Restaurant is in the historic hotel where a wine bar and lounge area are located. The dining room is understated elegance with soft lighting and the menu offers southwestern items with gourmet twists. Locally grown foods are incorporated in the meals. The wine list is impressive and wines have been selected based on taste, representation and value. Whether you eat in the restaurant or wine bar, sample the lightly fried green chili strips.
Guests can stay in the hotel or in the new Cliffside or Pueblos suites. These suites are traditional pueblo style buildings. Plaza suites replace the circa 1930s cottages and eight restored cottages are available. RVs can be accommodated in a nearby park.
There's no need to "rough it' when exploring northern New Mexico's wilderness. Discover undamaged and pristine areas at any time of the year. During the winter, snowshoe near Taos on half or full day treks. But make your way back to Ojo Caliente Mineral Springs Resort and Spa, an oasis in any season.
For further information, visit www.ojospa.com, www.LlamaAdventures.com, and www.SnowshoeTaos.com.