"The one thing I enjoy the most at Devil's Thumb Ranch is the moment right after a good snowshoe trek and I'm sitting either in The Lodge or outside watching life slow down enough to witness the beauty of Colorado."
A suite at the Devil's Thumb Ranch Lodge: Check.
Two tickets to the Grand Huts Association Progressive Dinner: Check.
Two pairs of snowshoes: Check.  
My wife: Check.
A sense of adventure: Check.
A full moon, deep snow, no wind, good conversation with fellow attendees….  I won't follow that statement with the word "priceless," but the whole experience was pretty darn cool.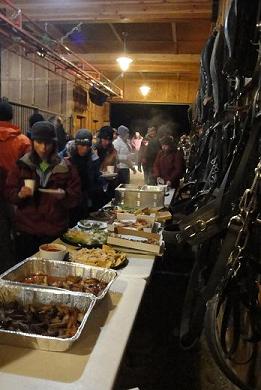 "Priceless" doesn't quite capture the thrill and adrenaline-infused dining experience of a Grand Huts Association Progressive Dinner at Devil's Thumb Ranch.  On Feb. 18, 2011, the moon was exceptionally full and bathed the Ranch's more than 5,000 acres of "snowshoeable" backcountry in a brilliant glow.  This wintry night was one to be remembered – and one of my favorite Colorado year-round destinations was the evening's playground.
Devil's Thumb Ranch isn't ordinary.  It's beyond the usual.  It has personality and character that far exceeds expectations.  In fact, before visiting, don't expect anything other than a tasty gulp of Rocky Mountain excellence.
The Ranch sits at the foot of Colorado's majestic Ranch Creek Valley, near the Continental Divide, in Grand County.  Panoramic views and awe-inspiring scenery calms the blood pressure and hushes the hum of everyday life.
Nothing can match how all the right elements fell into place that evening.  More than 200 people on snowshoes and cross country skis followed a 5K trail to full bellies.  Distinctive.  Extraordinary.  Strangely elegant.
Grand Huts Association's Dave Maddox and Andy Miller spearheaded the planning of the progressive dinner – using Devil's Thumb Ranch to host the gala.  Organizing these events provides an opportunity for GHA to raise money through ticket purchases and a silent auction.  Proceeds go to fund the GHA's construction of a sustainable hut system within Grand County.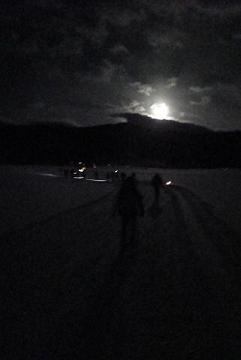 So far, the GHA has built four huts – spread out from Winter Park Resort to Grand Lake.  More huts – approximately five – are needed to bridge the large gaps between the existing huts.  Snowshoers, cross-country skiers, and other backcountry enthusiasts can then schedule reservations at the huts – depending on where their excursion takes them.
Could a full moon progressive dinner be on your bucket list?  Chances are this would be your first time to hear of such an event.  Plan on it for the 2011/2012 snowshoeing season.  Of course, the Ranch is always open for all-season activities.
A Recipe for Romance
Each year, the Devil's Thumb Ranch calendar features a lineup of winter weekend events that aim to inspire.  In addition to full moon get-togethers, the Ranch offers skijoring clinics, festivals and cross country ski races.  No matter the preferred flavor, each weekend has something for everyone.  And the full moon events – on snowshoes or skis – are ideal for families, groups and couples.
The evening's progressive dinner itinerary couldn't be more appealing.  The course starts and ends at Zach's Mercantile & Nordic Center; it's here where you can rent snowshoes or skis, and purchase other necessities.  If you have your own equipment, bring it.  We brought a pair of Atlas 1230 snowshoes and a pair of GV Cat Trail snowshoes – no poles – and wore Icebreaker base layers to tame the evening's frosty sting.
That evening, the Mercantile was bustling with energy and pre-event excitement.  Participants were hurriedly renting equipment and confirming their spots at the dinner.  My wife, Emily, and I were met with smiles and appreciation as we searched for our spot among the trail and segmented feast.  Although a tad late for our scheduled "wave of diners," we were quickly directed to the start of what seemed like a steady flow of snowshoers and skiers; all prepared to run amok within the confines of a groomed pathway.
The temperature began to drop.  We quickly learned that steady exertion would be our friend for the evening.  At the top of the hill the Cabin Creek Stables offered appetizers and our first stop on the trail.
To read this entire article, click here.