Crescent's Gold 12 Snowshoe racers bind to the snowshoer's foot like no other, reflecting ingenuity and creativity that has exploded throughout their product line. Getting a pair of snowshoes to fit feet easily is a difficult task. Driving to a snowshoe event or just a fun time in the woods, the least enjoyable part of the whole day is putting them on. The industry is making advances, big advances in some cases, to making the bindings easier and better. In my cold weather, frozen-finger experience, none is better than Crescent's.
Their binding acts as a 'skeleton' fitting around a running shoe with a very light weight piece (PVC free) acting as a toe hold, perfectly fitting the shoe in the stirrup. No looking down and noticing one shoe is 'in' further than the other. Using what they call a Single Pull Loop (SPL), the twisting and turning to lock a strap over the shoe is eliminated . . . all one does is grasp the loop standing up on the side of the shoe and pull it tight, instantly snugging all of the front straps perfectly.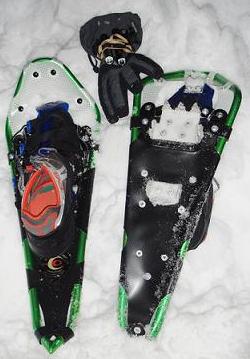 Now, SPL means something else to me: 'Stress & Pressure Left' behind because the ease of sliding a foot in the binding is no hassle, so no stress or pressure in getting them on. Say good-bye to those anxiety briers that start pricking one when pulling little rubber holes to match little nubs. Or, as Crescent calls it, "Put your foot in a better place, and your head is sure to follow."
Also, having a shoe come off on the trail can be a big challenge getting it back on . . . that wonderful snow to run on suddenly finds itself in everything you touch when attempting to reboot a snowshoe. Off comes the gloves, the fingers get cold, frustration and time wasted both grow. The Crescent design is simple: slip the foot back in, one-touch retightening, and off you go. Just to be clear, The Gold 12's never came off when I tested them. And I wasn't gentle with them, either. Besides the miles on trampled trails, there were hikes up the woods, breaking trail, and full speed runs down open terrain (see photos post night-trek).The triple claws used by the company do their job crabbing the trail, particularly climbing when the toe pick works right with the shoe in securing traction on every step. They were solid as a rock but light as a pebble.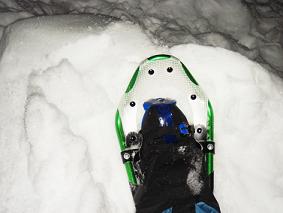 I became a fan of the sour apple green framing, too, finding the look on snow particularly appealing. Catching up with other snow sports, like skiing, snowshoeing needs to get away from 'boring' colors and looks, and I am glad to say that is happening. Crescent is a leader here, too, with other frames in 'bright yellow ' and 'bright red metallic.'
The whole shoe design is not boring, the tear drop design elements are all integrated, matched, much like a piece of art.
A key for racing is weight. The gold 12's fit in the lighter end of the spectrum though they are not the lightest nor do they claim to be. We're talking a couple of ounces per shoe here, which will not matter to the great majority of us, but it is a small difference. Plenty of other racing shoes aren't even close to this elite weight group, which includes names like Atlas Racers, Northern Lites and Dion Snowshoes — where I would place the Crescent Moons. The Crescents would be the pair I would pick if headed out for a 50km trek over non-groomed trails. I would want the absolute confidence that the stress of the terrain would not overcome the bindings or platform, and Crescents offer that. In fact, their motto is "We'll get you there." Because the snowshoe imitates so well the natural movement of one's foot, one can kick up snow from the trailing tail onto one's back and neck, so dress for that.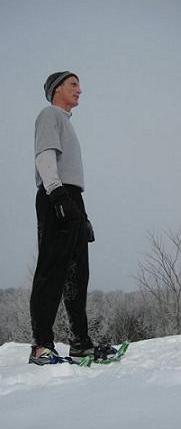 I would encourage readers, even if not in the market for a new pair of anything right now, to visit the company via www.crescentmoonsnowshoes.com . An opening message from Jake Thamm, Co-Founder and President, is refreshing with humor such as when referring to his company's use of wind-powered energy to run their shops makes them "the Ben and Jerry's of the Snowshoe Industry." That gave clues to other humor I found in their literature, waking up the words, such as this explanation on maintenance: "They require very little maintenance, unless you use them to walk across the parking lot or into burning lava fields . . . ."
Definitely not the average corporate marketing mindset. In addition, they make it clear that a visitor is welcome to drop in and visit their shop, even going as far to suggest that, if arriving late Friday afternoon, bring some foamy adult beverages with you.
The saddest day I had with the Crescents was when it came time to allow someone else to have them. You see, the company prefers aiding smaller, local charities rather than other options, like sending them back. The Crescent Moon Snowshoe Company allowed me to donate them to a charity that aids the Amery Wisconsin Library system where they were snapped up immediately. The proceeds from an auction yielded a nice donation — making some deserving librarians very happy. See the photo of a new snowshoer instantly becoming expert with his new Crescent Gold 12s.
Here is one last observation: The Company has developed a line of women specific models called Women's Gold and Silver Models. Check them out for what use you may have, but it appears the Women's Silver 13 would make a good racing model. They are very attractive snowshoes.
Comments or additions: phillipgary@snowshoemag.com
www.iHarmonizing.com