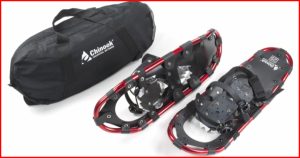 Looking for good snowshoes but running low on cash? Don't sweat it because Chinook has just the thing. This is a perfect opportunity to buy decent snowshoes at a more than affordable price. On top of that, all the essential snowshoe features are included.
Until it's time for some serious upgrade, the Chinook Trekkers are excellent for beginners. Most professionals and experts recommend these snowshoes for those who are about to experience their first snow trekking adventure.
In fact, a lot of those professionals even have these awesome trekker snowshoes as part of their own snow gear.
Materials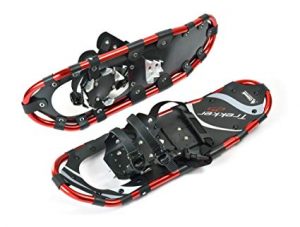 Chinook uses high-quality materials to provide comfort and safety. The frame is made of aluminum tubing that's rather sturdy but still lightweight – the weight is around 4.3 lb, which is quite acceptable.
They feature UV resistant polyethylene, which will make sure that even the deep snow doesn't bother the user. Also, the ergonomic design provides some extra comfort, which makes these snowshoes great for long walks in the snow.
Foot Securing and Crampons
Securing your feet properly is essential if you want to stay safe during snow adventures – if things go bad, you'll have to count on your equipment to live up to the hype.
The Chinook Trekker snowshoes feature a simple ratchet foot securing system. The best example of it can be seen on rollerblades or most winter sports equipment. There are two heel straps and ratchet bindings for extra security, while heavy-duty crampons allow safe steps on the slopes.
The snowshoes feature both foot and heel aluminum crampon sets, which will help you stay sure-footed on your adventures. It also saves a bit on weight but when it comes to security, as having an aluminum heel and foot can significantly improve your posture on the snow. In icy conditions or steep terrain, the crampons are there to make sure the user can cope with whatever may come.
These snowshoes will surely provide good comfort and traction on packed snow. They are perfect for hiking and Nordic running. Those who enjoy majestic landscapes covered in snow will surely enjoy these snowshoes.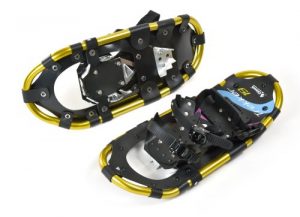 The Sum Up
The Chinook Trekker snowshoes are quite an affordable piece of winter sporting equipment that allows the users to hike for long periods while enjoying full comfort and safety. They come with the additional Velcro pole carriers, mesh ventilation, side handles, and a carry bag additionally fortified with backpack straps.
Strong and lightweight aluminum makes them perfect for comfortable walks on snow. A lot of winter equipment tends to be heavy and somewhat uncomfortable, but Chinook has addressed these issues quite well, without sacrificing durability.
The freeze-resistant polyethylene bindings and decking are pretty flexible even on extremely low temperatures and can be handled easily even with gloves on. These snowshoes were made to last and are absolutely worth the money. You can purchase these snowshoes at Chinook Technical Outdoor and the price varies from $48 to $108.