For nearly two decades, residents of the Lake Tahoe area have celebrated the legend of Snowshoe Thompson. Dubbed the Mailman of the Sierra, John A. "Snowshoe" Thompson carried mail between Placerville, Calif. and Genoa, Nev. for 20 grueling years, twice a month during the winters between 1856 and 1876.
On Saturday, Feb. 24, the Friends of Snowshoe Thompson will hold the 18th annual Snowshoe Thompson Ski and Snowshoe Celebration at Lake Tahoe Golf Course from 9 a.m. – 1 p.m.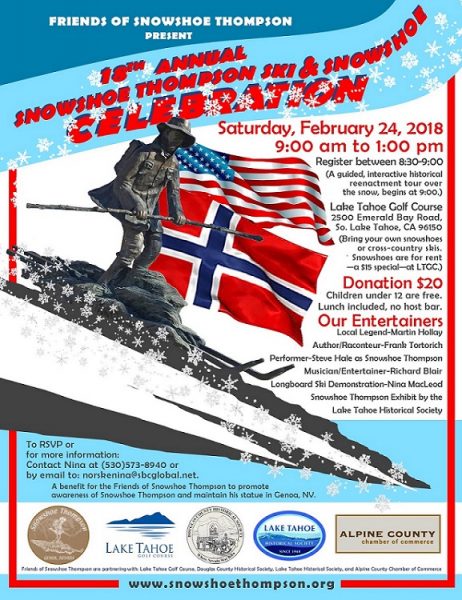 Thompson's mail carrier career began shortly after he responded to an advertisement in the Sacramento Union newspaper: "People Lost to the World; Uncle Sam Needs a Mail Carrier." Thompson would become the only winter mail link across the Sierra for the next two decades, until rail lines were eventually laid through the peaks.
A few years ago, writer Frank Tortorich published a book on the colorful life of Snowshoe Thompson. In his book "John A. 'Snowshoe' Thompson, Pioneer Mail Carrier of the Sierra," Tortorich describes how Thompson acquired the nickname 'Snowshoe. When Thompson first donned his handmade oak skis that weighed 25 pounds and stretched to nearly 10 feet long, folks back then called his skis Norwegian snowshoes, thus the nickname. Thompson was born in Norway and moved to the U.S. when he was 10 years old.
A special program on using long skis (longboard) will be presented by ski instructor Nina MacLeod, a long-time Tahoe resident, avid skier, and fellow organizer of the annual Snowshoe Thompson celebration. MacLeod clarifies that "Snowshoe Thompson did not use longboards, which are between 12 and 16 feet long. That was what the miners used back then to entertain themselves! Thompson's skis were a little more like 8-9 feet in length. I like to include a demonstration of longboards in the celebration just to give visitors a feel for what it's like to be on skis that long."
While MacLeod was born in Oslo, Snowshoe Thompson came from a nearby town of Tinn, which is the Telemark region of Norway. MacLeod found inspiration for starting the Snowshoe Thompson celebration when she made a discovery nearly 20 years ago. "In Norway, after learning of the accomplishments of Thompson in the U.S., they began holding an annual 20-kilometer cross-country ski tour on Palm Sunday in his honor. It's a very popular event with an average of 600-800 participants, spanning 5-80 years old. It's a great event, and I participated twice."
Program highlights
Other activities to highlight the legacy of Snowshoe Thompson include a performance by singer-musician Richard Blair. The local artist keeps the past alive by singing about the past, and his popularity proves it. Author Frank Tortorich will offer a discussion centered on his book "John A. 'Snowshoe' Thompson, Pioneer Mail Carrier of the Sierra." Also, 97-year-old Martin Hollay, a local ski legend, will be on hand to share stories from his 25-year career as a member of Heavenly Mountain Resort's ski patrol. Last winter, he skied 100 days!
Chautauqua performer Steve Hale has been presenting historical figures from the Lake Tahoe region for almost two decades. His performance of John "Snowshoe" Thompson should not be missed. Hale has performed at state parks in northern California, for the Norwegian consulate at the Squaw Valley dedication of a statue of "Snowshoe" Thompson, nonprofit fundraising events, and U.S. Forest Service interpretive programs.
If the 18th annual Snowshoe Thompson Ski and Snowshoe Celebration isn't enough, the Lake Tahoe Historical Society offers more details about the life and times of Snowshoe Thompson. Celebrating its 50th anniversary this year, the Lake Tahoe Historical Society museum includes exhibits on pioneer and farm displays, ice cutting and logging, mail delivery systems by the Pony Express and Snowshoe Thompson, and more.
The family-friendly event is sponsored by the Friends of Snowshoe Thompson, with support from Lake Tahoe Golf Course, Douglas County Historical Society, Lake Tahoe Historical Society, and the Alpine County Chamber of Commerce.
# # #