Here at Tubbs we have redesigned all of our kid's models for the 2010/11 season, giving them easier bindings, better graphics and adding the Snowflake for our youngest snowshoers.
For teens and "tweens" alike, we have the Glacier snowshoe, which is basically a fully-featured adult snowshoe, but cooler, because we know what's really important.   At 21 inches long, the Glacier is ideal for kids 10-15 years old, or up to 150 pounds.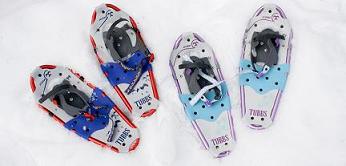 For six to 10 year-olds we have either the Storm, with an aluminum frame construction, or the FLEX Jr. with a molded FLEX Series construction.  Both models feature our new QuickLock binding, which (get ready for this, Moms) kids can actually get in and out of themselves!
And finally for those new to snowshoeing, and, well, to walking all together, we have the itty bitty 14-inch Snowflake.  This snowshoe comes with the most important thing for three to six year-olds: stickers!
With four models spanning kids from three to 15 years old, Tubbs offers the widest variety of kid's snowshoes on the market.
Find the right one for your kids athttp://www.tubbssnowshoes.com/snowshoes/kids.
***The following advertorial was paid for by Tubbs Snowshoes***