Too many visitors to Maine's Acadia National Park drive the loop road along the rocky coast and never stray, but the loop road only covers about a third of the park's 34,000 acres. To see Acadia is to walk, hike, bike and climb, and feel the quiet strength of granite heights, hear the whisper of pines. Visit www.nps.gov/acadia for details.
Below is a selection of trails, but we warned that all hikes involve elevation and a couple are dangerous. Acadia is a mountainous park, with Cadillac Mountain topping out at 1,530 feet. As with any hiking outing, wear sturdy boots, sun block and hat and bring water. A Walking stick is appropriate on some hikes.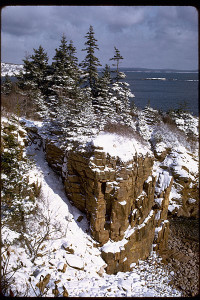 SOUTH RIDGE TRAIL up Cadillac Mountain, highest point on the East Coast at an elevation of 1,530 feet, is a 3.2 mile hike up from Route 3 outside Bar Harbor, one of the longest hikes in the park. This trail can also be accessed from the rear of A loop in Blackwoods Campground. Not for the unconditioned hiker, South Ridge Trail ascends from the forest, above the timberline to panoramic views of the Porcupine Islands.
GORHAM MOUNTAIN HIKE is a great family climb beginning at the back of Gorham Mountain parking lot on the loop road. With a summit of only 525 feet, this is a one-hour round trip hike, but add time to enjoy the view. At the .3 mile point the trail branches into two trails leading to the summit. Take the left fork for a gentler rise.
THE BEEHIVE, at 520 feet, is both arduous and steep, with many hand-holds and foot pegs. There is an alternative way down, and the view of Sand Beach is terrific. The Beehive, being one of the "challenges" in the park, can get crowded by late morning, so start early. Access this path directly off the loop road, just before arriving at Sand Beach. This climb can be dangerous; this writer, while resting on the beach after ascending this one, watched a climber fall to her death the same afternoon.
THE PRECIPICE trail up Champlain Mountain is the premier "challenge," and is closed during the nesting season (spring) for peregrine falcons. This hike up the 1,000 foot east face is classified as a non-technical climb, but requires the use of multiple hand holds and foot pegs and features a steep drop-off. People have died attempting this one too, so don't do it if you have any fear of heights, or are not in condition to make it back down.
GREAT HEAD TRAIL is a two-mile easy round trip from Sand Beach or the Great Head parking lot, which is located off Schooner Head Road on the backside of the beach. You'll enjoy a great view of the beach and lagoon, and the precipitous cliffs of the Beehive. A stone staircase climbs directly off Sand Beach to access this trail. As the first piece of land acquired for Acadia National Park, Great Head is a favorite. This hike takes about an hour and is a good family activity with few boulders to traverse.
JORDAN POND AND THE BUBBLES HIKES in the morning, followed by lunch or tea on the lawn at Jordan Pond House, is a unique experience originating in the late 1890s. 3.3 mile Jordan Pond Shore Trail features many boardwalks crossing wet areas, rocks to sit on at water's edge, and a climb across the rock slide below Jordan Cliffs. Many hikers go part way around Jordan Pond and branch off to climb moderately steep NORTH or SOUTH BUBBLE, 872 and 766 feet elevation respectively, or climb from The Bubbles parking area down the loop road from Jordan Pond House. The erratic, a glacial boulder that ended its ice-age journey on the flank of South Bubble, is still hanging over the valley below.
ACADIA MOUNTAIN TRAIL, (700 feet), offers extraordinary views of Somes Sound, a truel glacial fjord, and Echo Lake and can be accessed off Route 102 a few miles south of Somesville, across from Echo Lake. Beginning in mixed forest, this trail then ascends steeply and wends its way across ledges that present views of the sound below and Parkman and Norumbega Mountains beyond. A subsequent descent across ledges and through forest will bring hikers to Man O'War Brook which tumbles dramatically into the sound below.