I've lived in Calgary, Alberta for the past 12 years and in this time I've taken up enough mountain sports to successfully fill the garage and basement with gear for everything from camping to mountaineering, hiking, and skiing. Add the related activities of rock climbing, backpacking and scrambling along with the various kinds of skiing I've done from downhill to cross-country, and you have a lot of mountain sports I've at least tried; rock climbing was pretty short-lived so I have to add the word "try."
Last summer, I decided that there was room in my life for a few new sports; so I asked my husband to buy me a bike for my birthday so I could keep up on family bike rides and I also decided I wanted to become a water person. While I wouldn't exactly say I'm an impulsive person, I went out and bought a stand up paddleboard within a week of trying the sport for the first time last August. I went on to paddle the Bow River running through Calgary by the end of September and knew I had found my new summer passion.
Now that winter is here and my paddleboard hangs neglected in the garage, I figured it was time to find something equally exciting to do this winter. I wanted to find something new and fresh that would make me itch for the next big dump of snow and a free weekend–something that doesn't always come easily when you are mom to a three-year old.
While I continue to love skiing, the thought that snowshoeing could become a great family sport propelled me to upgrade my old snowshoes that had busted on a backcountry trip last spring. We also got our son his own pair of snowshoes for Christmas and we've been out stomping like dinosaurs a few times now.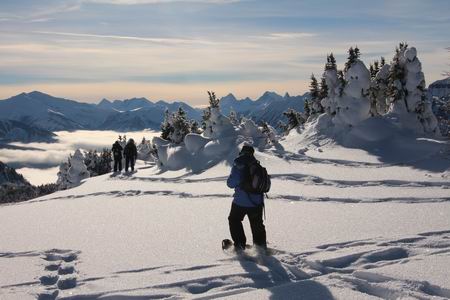 We tested out my new snowshoes in November on a trip to Elbow Lake in the protected area of Kananaskis near Highwood Pass. This lake sees very little winter traffic because of a very short window before the highway closes for the winter. We've made it an annual trip at the end of November because the area gets a lot of early season snow and it's always a great opportunity to get out snowshoeing before Christmas in some actual powder–the only real reason to go snowshoeing in my opinion unless you're racing or trail running. We brought the kids in sleds and had a great time but I knew I still preferred skiing. My new winter passion had not been discovered… yet.
I wasn't about to give up on the dream of snowshoe magic though and knew there was something out there that would make the sport click with me. That secret for me was Sunshine Meadows and a great guided tour with White Mountain Adventures. I'd been following this local Banff tour company on Facebook for a while now and actually took one of their summer shuttle buses up to Sunshine Meadows last August with my son.
Sunshine Meadows is a magical backcountry area in the heart of Banff National Park that borders the popular Sunshine Village Ski and Snowboard Resort on the Continental Divide. There are two ways to access Sunshine Meadows in Summer and one involves a long boring walk up the ski-out, a three-mile paved road gaining 1,640 feet.
The other way is much more pleasant and involves a shuttle bus ride up to Sunshine Village. White Mountain Adventures runs buses from the parking lot of the ski hill up to the top village, accessed by gondola in winter. From the Village, it's a pleasant one-mile hike to Sunshine Meadows. (And easy enough that my three-year old did the hike last summer)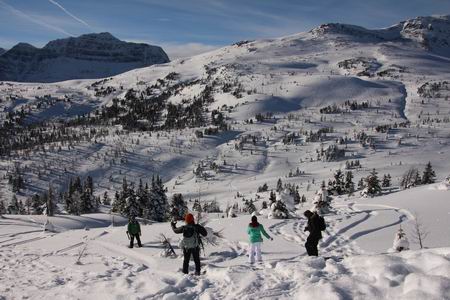 Meanwhile in winter, you have several options for accessing the backcountry paradise of Sunshine Meadows. Again, you can ski or snowshoe up the ski-out (and risk getting knocked out by the downhill traffic on this popular descent route from the Village) or you can ski up the neighboring Healy Creek Trail, over Simpson Pass, and down to Sunshine Meadows. Three words for that one – very long day. (And you'd definitely need skis.)
A more pleasant way to access the meadows is to take the same gondola that ferries skiers up to the Village. The ultimate in awesome is to go with a guided tour and you'll get a chair lift ride thrown in the deal. From the top of the Standish Chair, it's downhill gliding, floating, and running all the way to the winter wonderland of Sunshine Meadows.
Last weekend, I rounded up three awesome girls for a trip up to Sunshine Village for an afternoon guided snowshoe tour. While I was confident I could find the meadows, I wasn't so confident about route-finding through the busy ski hill traffic and really wanted to avoid being knocked down by a beginner coming down from the Strawberry Chair. I was also taking three complete novice snowshoers with me and wasn't so sure I wanted to take responsibility for their safety on our outing, snowshoeing being a fairly new sport for me as well.
We met our tour guide in Banff for a short shuttle bus ride up to the ski hill. Not only did we get priority parking in front of the resort, but we actually got a parking spot. If you've tried to find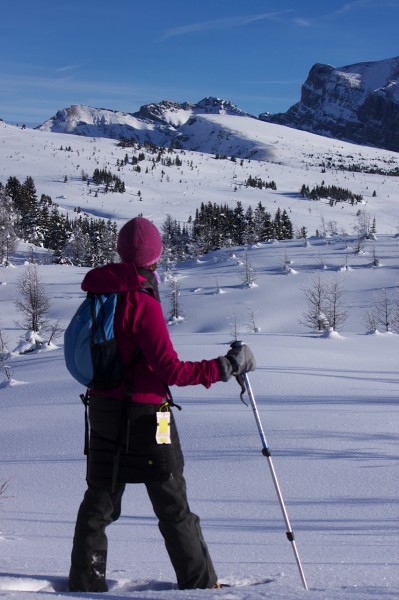 parking at Sunshine Village on a weekend, you know that you have to be there by 9 a.m. We were fortunate to have the president of White Mountain Adventures as our guide extraordinaire of the day. He was full of knowledge, stories, and history on the area and the company's tours. He loaded us up the gondola and led us to the chair lift that would take us high above Sunshine Meadows for our descent into paradise.
We glided and floated our way down to Paradise Valley through some of the most stunning scenery I've ever seen. Far away from the ski resort, we were able to witness a valley that few people ever see in the winter. It was a perfect bluebird day and we looked out at majestic peaks rising above the clouds far below us. I had just as much fun as I've ever had on skis as I ran down hills sliding in the soft snow with each step. It took a bit of courage to learn to run straight down the hills without fear but by the end of the tour we were all laughing and confident in the snowshoes on our feet.
The highlight of the trip was having hot chocolate and cookies on a small island in the middle of picturesque Rock Isle Lake. I've looked out at the island many a time in recent trips to Sunshine Meadows and never dreamed I'd get to stand on it or walk across the lake to reach it.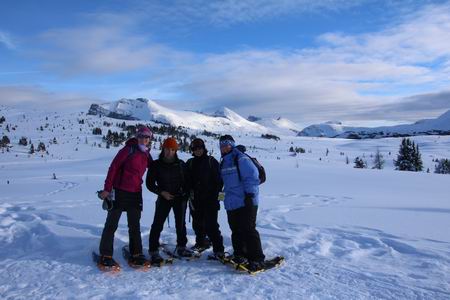 Upon leaving Rock Isle Lake, we climbed gradually and slowly following a gentle pace set by our guide until we reached a sign marking the Continental Divide. Apparently we had been hiking in British Columbia for a portion of our day, which I thought was pretty cool. It didn't take more than 20 minutes or so and the brief up-hill portion of our trip was behind us, and all that remained was a short easy walk on mostly groomed terrain back to the Village. Our guide chose the safest method possible to get us through the resort ski area, and tried to keep us in the trees slightly above where skiers and boarders would be flying past us. We all appreciated this attention to safety and precaution.
We arrived back at the village euphoric from such a beautiful trip, an empowering experience, and a fresh new sport under our belts for 2013. We rode the gondola and shuttle back to Banff,  grabbed coffees to go, and I proceeded to chatter non-stop all the way back to Calgary. (Things excitement will make you do.)  When we got home I was still bouncing and didn't stop moving until I eventually crashed on my bed and realized I was really, really tired.
The next morning arrived way too early and I realized as I got out of bed that somehow amidst all the playing, I'd actually gotten an amazing work-out too!  I hadn't realized that each giant lift of the legs through the powder would do so much for my muscles!  Way to go snowshoeing – A sport that's fun, that you can do with your friends, AND that gives you an amazing work-out you'll feel the next day!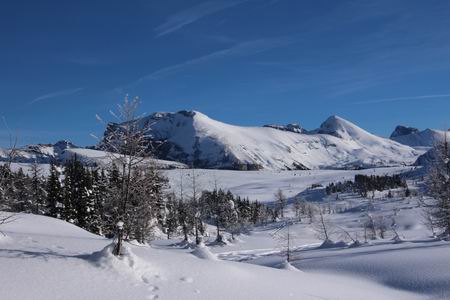 I've been sharing photos from the trip and while I may have only found three friends willing or able to try snowshoeing with me this time, it's pretty certain I'll have a small army of girls jumping to go with me next time!  One of the girls on the tour even wants to go back again this winter with her husband and I'm thinking, why not?  Let's do it again!  I think I could handle a monthly trip to paradise – with my own husband too next time. My son is a bit young to make the trek to Sunshine Meadows in winter but I plan to spend lots of time this winter teaching him to stomp through snow and sharing the joy of a new favourite winter sport with him.
My tour was successful and I am definitely in love with snowshoeing. I want to be outside on my snowshoes right now in fact and I'm looking at free weekends on the calendar, wondering where we can go next. It's a new year and I have a new sport. How about you?  How do you plan to spend your winter this year?  And what will challenge you in 2013?