The company that made Sherpa Snowshoes went out of business years ago, but the shoes themselves are still the workhorses of the backcountry.
Foresters, miners, adventurers – anyone who wants more than a gentle afternoon stroll through the woods – continue to rely on their aging Sherpas when bound for the deepest forests and the most rugged mountains. The shoes see them through any condition, wouldn't malfunction, wouldn't trap them overnight in some godforsaken remote spot. Sherpas aren't pretty, but they get you through, no problem.
"It was the finest snowshoe that's ever been made," said David "Bigfoot" Felkley, one of the world's leading gurus of snowshoeing. As editor of "Snowshoeing: From Novice to Master, 5th Edition," he's also the go-to guy for snowshoe knowledge. Five of Felkley's 20 pairs of snowshoes are Sherpas. "I will never get rid of them. You can't get that kind of snowshoe anymore," he said. Felkley's Sherpas get a lot of use, but never once have they broken.
It's not that there were that many choices in shoes 30 or so years ago. "When I first got Sherpas they were the only snowshoe in town," said Jim Tucker, the recreation and intramural coordinator for Paul Smith's College New York. Tucker, an all-around outdoor sports enthusiast, writer, and sports consultant, was a product manager and design consultant for Sherpa in the early 1990s.
The market is now cluttered with dozens of snowshoe brands with hundreds of varieties to choose from. There's a lot of good stuff out there, veteran snowshoers agree, but nothing like Sherpas.

Sherpa Snowshoes got their start with Bill and Gene Prater, brothers and innovators who developed Sherpas in the early 1970s. They designed a shoe with aluminum tubing on bearpaw frames, and used a nylon and neoprene decking for-lacing. Bindings were attached to a metal hinge rod for better snowshoe control. The pair in 1973 patented a snowshoe binding that provided claws for extra traction. Sherpa Snowshoes largely grew out of this patent.
All this predates the explosion in recreational snowshoeing that reached a crescendo in the 1990s. Sherpas dominated the market until the 1990s, until upstarts like Atlas and Tubbs gained market share.
Sherpa Snowshoes' competitors started making less expensive shoes and aggressively marketing them, according to a 1998 article in the Business Journal, based in Milwaukee. Sherpa was sold a couple of times and the company began to lose its focus, Tucker said. "Tubbs and Atlas had better marketing," he noted.
Also, Felkley said, the new snowshoes appealed to new snowshoers who wanted simple snowshoes that weren't complicated to use. Sherpas aren't hard to manage, but he likened them to old fashioned cars, which reliably ferried people along snowy roads, if the people driving them knew what they were doing. Nowadays, in the age of anti-lock brakes and four on the fly, the car does everything for you. Same with the new snowshoes, he said.
Many of Sherpa's fatal wounds were self-inflicted. Customer service had been legendary through the 1970s and 1980s, but it lagged as the company was sold and resold. Sherpa was once responsive to everybody, Tucker said. But it finally got so bad that Tucker – who consulted for Sherpa and was well known in the company – was treated brusquely at best when he called with questions or problems.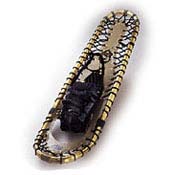 "If they were going to treat me that indifferently, I wondered how they treated Ma and Pa Kettle," Tucker said. "It left a bitter taste in people's mouths."
Felkley likened the company in its final years to a poorly run restaurant. "They can make good food, but if they don't have good management, down the tubes it goes," he said.
Inevitably, Sherpa, the company, disappeared. People are still in the market for Sherpas, of course, and if you get lucky you might score a pair. Sometimes they show up on EBay or Craigslist. In mid-January, five pairs of used Sherpas, in various conditions, were on EBay, with bids ranging from $25 to $75. Three packages of Sherpa bindings, never opened were also up on the auction site, for $5.99 a package.
Other alternatives are out there. IRL Supplies, a British Columbia-based supplier of forestry, mining and survey equipment, is marketing their own brand of snowshoes that company officials say take off from where Sherpa left off. The company had been Sherpa's first Canadian dealer in the 1970s and became their largest Canadian distributor, said Steve Mayoh, sales manager with IRL.
Mayoh's company has since developed the Arctic Trekker line of shoes. Like Sherpas, they are durable, with stainless steel claws and hardware that is less likely to bend than the aluminum material in other snowshoes, he said. About 85 percent of the IRL's snowshoe sales go to industrial clients, such as miners and foresters with the rest going to recreational users, Mayoh said, though there are signs that the number of recreational buyers is beginning to increase.
IRL also repairs Sherpa snowshoes. The company charges $35 an hour for labor and can re-lace a single snowshoe in an hour or less, Mayoh said.
Felkley said Sherpa repair, in the rare event a fix is necessary, can easily become a do-it-yourself job. Sherpas have laces rather than plastic or rivets. If a lace breaks, Felkley said he uses 12″ cable ties, which can be taken out in the backcountry and used to replace a lace. The cable ties, available at a lot of hardware stores and elsewhere, stretches to the appropriate length and stays in place well, said Felkley, who takes some ties along with him on treks, just in case.
You can probably take your chances taking Sherpas to a reputable local outdoor store to see what they can do. At the Ski Rack in Burlington, Vt., a popular stop for winter equipment repairs, Assistant Service Manager David "Whit" Whitaker says he's never seen any Sherpas come in for repair. However, he said if he did, the Ski Rack could at the very least take a look at them, and improvise something.
Felkley is clear-eyed about the demise of Sherpas. He doesn't look at them as the Fall of Civilization. He won't disparage popular brands of snowshoes on the market now. Most major snowshoe companies, including Atlas and Tubbs sell backcountry snowshoes "Tubbs makes shoes with very aggressive claws," Felkley said. Some Atlas snowshoes are some of the toughest around, he added.
But Felkley, like many backcountry enthusiasts, will never give up his love affair with Sherpas.