Winding through ever deepening channels of rugged scenery, the highway north of Bellingham enters an almost arboreous world largely dominated by green firs. State Route 542 takes you to one of Washington State's most visually stunning destinations: the Mt.Baker-Snoqualmie National Forest. It begins on Interstate 5 at exit 255. As the highway meanders eastwards along the North Fork of the Nooksack River, you begin to encounter quaint farms and small holdings and equally quaint townships: one of which is Maple Falls.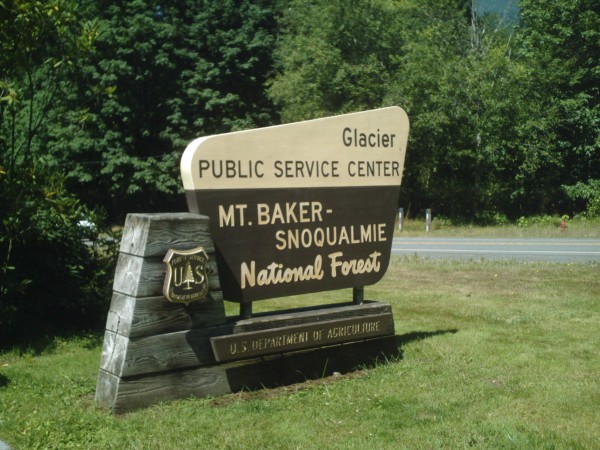 This is an ideal location to take in the already amazing scenery, stretch your legs and search out a small selection of friendly restaurants, such as The Frosty Inn. Here you'll find the service attentive and courteous, the portions huge and the atmosphere restful. Maple Falls may be a small town but don't be misled, you'll be able to find plenty of choice if overnight accommodation is needed. Mt. Baker Lodging Inc. is one example. The company caters for almost all tastes with condos, vacation rental homes, cabins, cottages and chalets available. Check them out at reservations@mtbakerlodging.com.
Further along this long and winding road is Glacier. With its origins in logging and gold mining, the community became more public after the conception of the Mt. Baker Highway in 1923. This is where the Glacier Public Service Centre is based. It is here that you can get current conditions from Forest Service and National Park Staff. They will supply at a cost, a valid Federal Recreation Pass for parking in the area during the summer months.
While taking in the inspiring scenery, the Service Centre is also home to a huge cross-cut section of a 730 year old Douglas Fir which is certainly worth capturing on film.
Once you leave Glacier, the Highway climbs 24 miles to an elevation of 5,100 feet, culminating at Artist Point in Heather Meadows. Although this ultimate destination has the most breathtaking views of Mt. Shuksan, Mt. Baker and their numerous surrounding peaks, the journey upwards is just as stunning. Less than 10 miles east of Glacier, are the Nooksack Falls. This dramatic waterfall tumbles for around 175 feet over equally dramatic outcrops of rock. The Falls are accessed by a fence-lined path that leads to a viewing point. Don't forget your camera, as the sight is truly amazing.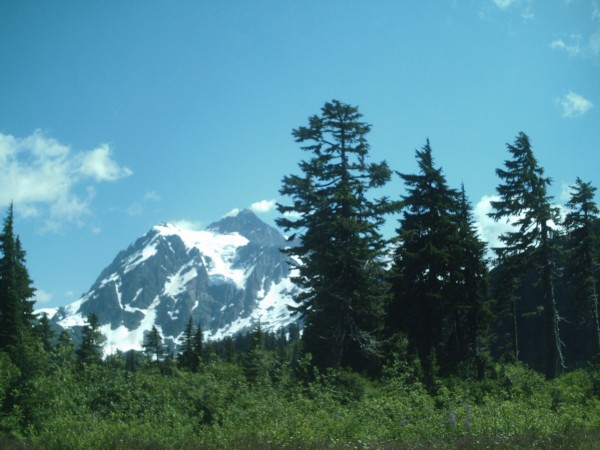 A little further along this scenic byway, on what is the last reasonably flat section of road, is the Silver Fir Campground. Being the closest established camping area to Mt. Baker, its position makes it immensely popular for hikers, backpackers and visitors seeking a few days' break in this peaceful alpine setting. Drinking water, day use picnic areas with tables, a shelter and toilets provide the basic essentials on what is a small and intimate campsite for both tent and trailer with around 29 pitches available. Some of the site's pitches are reserved, while others are provided on a "drop-in" basis. Whether it's for a day or a few days, the campground has relatively easy driving access and is open seasonally from late May to late September.
From here, the road starts a breathtaking climb towards its ultimate terminus. As it rises 3,200 feet in 10 miles, be prepared for sharp switchbacks and sheer drop-offs. The road literally clings to the mountain side, but the views are so worth it. Small waterfalls gently cascade into gullies alongside. Exposed basalt columns are visible as well as tiny alpine lakes. All around, these giant, rocky sentinels of our ultimate quest.
As the ascent continues, the highway passes through Heather Meadows. This spectacular sub-alpine vista sets the scene for what lies ahead. Stop for a picnic-lunch at Austin Pass or check in with staff at the Heather Meadows Visitor Centre for current conditions. The Centre opens 10 a.m. – 4 p.m. during the summer season. Your valid Federal Recreation Pass will be needed for parking in the area in the summer.
Getting closer to the natural flora and fauna of the region, however, can be done without wheels. Networks of trails are abundant with several self-guided opportunities and accessible viewing points. While a hike into the Mt. Baker Wilderness may be top of your "to do" list, remember that Wilderness regulations will always apply. It is necessary to be constantly alert for challenges and risks, as the weather can be unpredictable and terrain very rugged. If visiting in winter particularly, check the district's avalanche forecasts at www.nwac.us or call (206)526-6677.
Finally, at the end of State Route 542, and at an elevation of 5,140 feet, we arrive at Artist Point. It is here that views of both Baker, Shuksan and neighboring peaks come to the fore. This is the ultimate destination for sheer visual impact. The large parking facility, surrounded by thick snow, is able to support both hikers, coaches, as well as tourists and has room for plenty of cars.
The panoramic views of both Shuksan and Baker are stunning. The air is crystal clear. Several trails lead off from the Artist Ridge parking area to enable the tourist to get even closer to these rugged, imposing peaks of the Cascades. This is one destination which you'll find hard to forget. Not least for the peace, tranquility and uniquely memorable views which the National Forest region produces every time you visit. For further information, please visit www.mtbaker.us.