South of Livingston, Montana and north of Yellowstone National Park, sandwiched between the Absaroka and Gallatin mountain ranges sits Paradise Valley. As the name suggests, it's one of the most beautiful places in world.
Shaggy snow-covered peaks are fronted by bison-rump foothills; herds of mule deer, elk, and pronghorn form silhouettes against the rich rolling farmland. The Yellowstone River –the longest undammed river in the U.S.—flows down the middle connecting the park to small Montana towns, and eventually, the Missouri River.
While the valley is often snow-free, the mountains hold deep, fluffy snow well into May and June. Up really high, the snow sometimes stays year round.
With plenty of snowshoeing opportunities, hot springs for soaking, quirky and fantastic restaurants, and not a whole lot of people, the Paradise Valley fits the needs for a day trip or lifelong stay.
Snowshoe Tours
Suce Creek
Description: This trail gets little use given its proximity to Livingston and is a hidden gem. The trail skirts through mixed conifers and follows Suce Creek, then Lost Creek.
Follow the trail about 2.5 miles from the trailhead until reaching a gate and a Wilderness Boundary sign. Enjoy views into the Absarokas and across the Paradise Valley before returning to the trailhead the way you came.
Location: Drive south of Livingston on Highway 89 for three miles. Turn left on East River Road and continue another 2.7 miles. Turn left again, on Suce Creek Rd. Follow the dirt and gravel road 1.5 miles to a Forest Service access sign and turn right. It is 1.5 miles to the trailhead, but you may need to park along the side of the road a little ways up and snowshoe up the road to the trailhead. Because it passes through private property, be sure to stay on the road.
Distance: Five miles round-trip
East Fork Mill Creek
Description: Backcountry skiers use this trail, but it's a bit narrow and up and down for general cross-country skiing, so you'll probably be out here alone. It is however, perfect for snowshoeing. The trail undulates through dense woods and gains about 2,000 feet in the first five miles.
Location: 29 miles south of Livingston. Take Hwy 89 S., turn left on Mill Creek Road, cross the Yellowstone River and East River Road, then drive about 9 miles to #3280, then another 1.5 miles to trailhead.
Distance: Five miles (one way) or as far as you want to go.
George Lake Trail                  
Description: The trail is a little steep as it climbs 2,000 feet to a very small alpine lake. It climbs the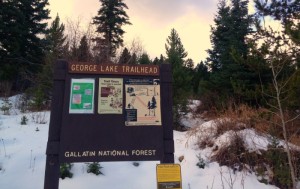 hillside through thick trees with occasional views of Paradise Valley and the Yellowstone River .
Location: 15 miles south of Livingston. Take Hwy 89 S. to East River Road, drive past the tiny town of Pine Creek, then turn left on Luccock Park Road to trailhead.
Distance: 5.5 miles to the lake (one way) or as far as you want to go.
Big Creek
Description: The Big Creek trail follows Big Creek to the Gallatin Crest and a network of trails, but you probably won't get that far. The route has several side trails leading down to Big Creek and others that head up smaller drainages.
Location: 33 miles South of Livingston. Take Hwy 89 S., turn right on Big Creek Road, drive about 5 miles past Mountain Sky Guest Ranch to the end of the road and the trailhead.
Distance: Six miles to Windy Pass (one way) or as far as you want to go.
Bear Creek Trails
Description: There are several trail options here, but the best for snowshoeing is Pine Creek. These trails wind in and out of meadows and forested areas and provide nice views as well as interesting scenery.
From the parking area walk back up to the road and continue in the direction you were driving (left). As you round the first corner look for the wooden Pine Creek Trail sign on the right.
Follow the steep trail up towards Schultz Knob for 0.5 miles before the climb begins to mellow. From here, you can wander around, or turn left and walk down to the Bear Creek Trail at 2.25 miles. Turn left and follow the Bear Creek Trail back to the parking area, return the way you came, or climb back up one of the other trails.
Location: Drive 51 miles south of Livingston on Highway 89 to Gardiner. Just before crossing the Yellowstone Bridge veer left toward Jardine. Follow the red dirt road 5.4 miles to Jardine and then turn right over the bridge in the middle of town. Take Bear Creek Road up 1.7 miles and veer left into the parking area.
Distance: Varies
Hot Springs
Chico Hot Springs Resort & Day Spa
This turn-of-the-century resort snuggled into the Absaroka Mountains features an outdoor swimming pool and an attached, covered soaking pool. Chico Hot Springs resort is known for gourmet food—much of which is grown in the on-site garden and year round greenhouse—great local bands and luxurious spa services.
Eats
The Pine Creek Café plays an important historical, culinary, and musical role in Park County. Well known actors and writers have long used it as a gathering place. In winter, bands play indoors on Saturday nights. Try the trout.
Chico Hot Springs Resort & Day Spa
As long as you are there for the hot pools, duck into the grille, bar, or dining room for a filling meal. Order the orange flambé if you choose the fancier dining room.
River's Edge Bar and Grill
Eat and drink with the locals here. It's a low-key and inexpensive choice. Burgers and pizza are top picks.
Gear
Gear Up! Before you hit the trail, stop in at Timber Trails, Livingston's best outdoor gear shop, for supplies, maps, and some friendly advice.