Brentwood Bay, near Victoria, is home to the immaculate Butchart Gardens. Dating back to the early 1900s, the Gardens began in a disused limestone quarry and have evolved into one of Canada's major tourist sites. Featuring multi-coloured floral displays, themed gardens, statues, and ever-changing fountains, the Gardens are alive year in and year out. A delightful space for the whole family to enjoy in peaceful surroundings. They are a haven for photographers, tourists and horticulturalists.
Waterwheel Square and the Visitor Information Centre is a great place to start. The friendly staff will be more than happy to assist you with information on The Gardens, Victoria and Vancouver Island. It's here that you can buy twelve month passes as well as disposable cameras, film and postage stamps.
The Gardens' Seed and Gift Store is certainly worth a visit. Its opening hours allow plenty of chances to seek out that ideal gift or souvenir with help from the friendly and knowledgable staff. They stock an impressive selection of products by local artisans, as well as clothing, jewellery and, of course, products for the gardener. The Gallery, open spring to autumn, offers unique glass works, statues and metalwork ideal for both home and garden.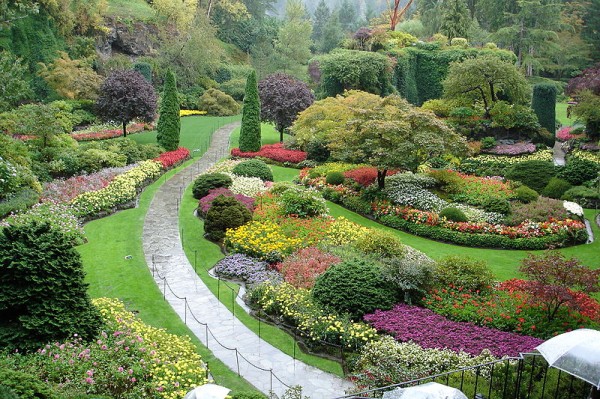 The Rose Carousel in the Children's Pavillion, has an added attraction of being the only carousel on Vancouver Island. Open since December 2009, it features 30 brightly coloured chariots carved in basswood. Each chariot is shaped like horses, zebras, bears, lions and ostriches, and designed to reflect the Gardens' worldwide following. Starting 30 minutes after the Gardens open, rides on the carousel are $2 and tokens can be bought for future visits.
The glass fronted Children's Pavillion is also an ideal venue for birthday parties. With its own 'Event Room', the Pavillion is available daily and will take bookings for up to two hours. Advance reservations are required along with a deposit. Call (250)-652-4422 for details.
To enable everyone to enjoy the spectacle, The Gardens' public areas are accessible by wheelchair. Only motorized or standard are permitted. The exception is The Mound – a viewpoint area within the Sunken Garden. Due to the Gardens' layout and design, it is not possible to accommodate "segways", but the main viewpoint is accessible and the Visitor Information Centre has an assisted washroom facility.
Pets are allowed in the Gardens, but must be kept on a short leash and under control. If you forget your leash, the Visitor Information Centre can supply one along with refuse bags. For infants, there are baby-changing facilities.
During the summer months, the Gardens offer 45-minute eco-friendly electric boat tours around Tod Inlet and Brentwood Bay. These trips are a great way to learn about the Gardens' origins and the region's natural wildlife. Otters and seals are often seen in their natural habitat as well as eagles and herons.
Departing from the dock every half hour, the tours run from 11 a.m. – 4 p.m., for 12 passengers with additional sailings on 'Summer Firework Saturdays'. At $18 for adults, $14 for youths, $11 for children aged 5-12 (all plus tax), the tours are a memorable experience and great value. Special Family Rates for two adults and children aged 5-17 are also available.
In spring, countless tulips, hyacinths and daffodils come into bloom, with the wonderful Rose Garden bursting with colour in the summer. In late summer, the perennial borders begin their stunning displays and watch out for the Japanese maples as they start their autumn show of red, russet and gold.
Since their introduction in 1977, the Gardens' lavish and stunning fireworks every Saturday night have become a major summer event. Why not enjoy a pre-show picnic on the Residence Lawn and then sit back and enjoy the audio-visual splendour. Colorful and dazzling, they will leave you lost for words.
Warm clothing is recommended, and following the displays, make your evening complete with an Aeolian Pipe Organ recital in the loft of the Organ Pavilion. A 30-minute 'live' performance is played on this rare and wonderful old organ following each fireworks display.
During the Christmas season, the Gardens transform into an enchanting and magical wonderland. Spread over 55 acres, Butchart Gardens offers spectacular beauty, no matter the season, with festive lighting and an outdoor ice-skating rink. 'The Magic of Christmas' runs from Dec. 1 until Jan. 6.
For an elegant dining experience, the Dining Room Restaurant is ideal. It offers superb views of Tod Inlet and the Italian and Private Gardens. Its location in the original Butchart family residence means fresh, contemporary, local food served in historic surroundings.
In 2011, the Gardens won the Taste Wine List Award for 'Best Showcase of Island Wines'. It's guaranteed you'll sample some of the best in Gulf Islands and Vancouver Island vintage. These, along with Australian and Spanish selections, are perfect to accompany the excellent cuisine.
Very much based on English traditions, the Dining Room serves afternoon tea during the spring and summer seasons, with High Tea served from October through the winter. Lunch and dinner are served seasonally with innovative locally produced dishes. For social events large and small, or a romantic dinner for two, call (250)-652-8222 for reservations.
With more than one million bedding plants in around 700 varieties, and close to one million visitors annually, the Butchart Gardens firmly remains a family business with gracious traditions. From its humble beginnings in a sunken garden, the enterprise has grown to become a premier West Coast attraction with an international reputation for its glorious year round displays. Why not plan your visit to this National Historic Site and enjoy all it has to offer at www.butchartgardens.com.