Park City's 7000 acres of preserved lands serve as the blueprint for 350 miles of trails to be enjoyed by all. Some come to race it, like this annual event, or enjoy a winter's stroll; some arrive for the famed Sundance Film Festival following next.
More than 70 km of groomed paths plus snow gracing the Wasatch Mountains make winter fun for those living and visiting Park City, Utah. A combo of affiliations including the Park City Municipal Corporation, Snyderville Basin Recreation, the Mountain Trails Foundation and area hospitality created this structure at their mile-and-a-quarter elevation.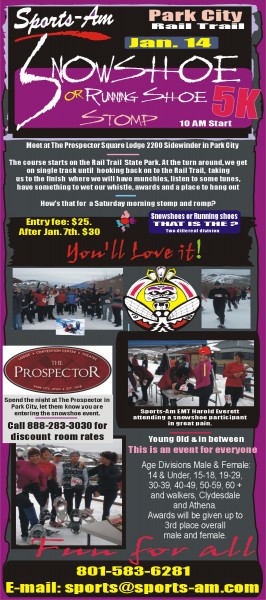 Every year for the past 15, the Rail Trail raced on one of the state's top-five snowshoe routes has provided a snowshoe and winter run competition. For 2012, the race elevated to an even higher plane, becoming the Utah State Snowshoe Championship.
In a state of renown crisp-powder snow, someone failed to remind the mountains to share a little with their lower elevated kin. So, the inaugural Utah State Snowshoe Championship is with an asterisk indicating in the vein of baseball's "Shoeless Joe Jackson,"a snowshoeless race; not because of any blisters on the feet that gave Jackson his name, but rather because wearing snowshoes on dirt can certainly do that.
Long-time runner, 38-year-old Shane Van Cott won the overall championship with his nifty 24:32 pace for the 5 km layout, one that starts in the Rail Trail State Park, goes to a turn-around, snakes back a ways on single-track, then finishes back on the Rail Trail. Alan Jarrett took silver a little more than a minute later, while Jerry Jones crossed at 28:30.
Angelina Pace won the hotly contested women's race with a 32:10, putting to good use her finish at 2011's Buffalo Run 25 km distance, pushed across the line by Teresa Baker's 32:11 while Chase Hubbard was right there with a 32:12. Megan Galati also finished in the 32-minute clock.
Only one Clydesdale entrant, Eric Oscarson, who showed the more svelte athletes how to do it with a 30:10 finish, good for sixth overall.
This event features a Walkers Class with Shane Szarek passing some runners in his 36:31 finish. In the Women's group, Jennifer Udy edged Jeana Kuczmanski by 20 seconds in her 38:50 win.
Afterwards everyone enjoyed music and eats from Einstein Bagels and Kashi while receiving their awards. The Salt Lake Running Company and The Sports Guide are sponsors, too.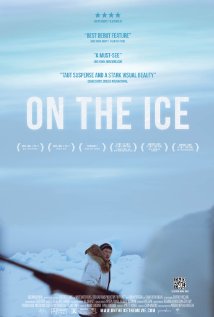 The Rail Trail contiguous trail system, acclaimed nationally and hosting national-level mountain bike races along with the world-famous mid-mountain marathon, provides recreation for the foot travel, biking and equestrian fun. Most of the surface consists of gravel, groomed dirt, and occasional patches of pavement or concrete. Salt Lake City visitors can find their way here in under an hour and claim some serious mountain trail time in the Wasatch Range.
The Sundance Film Festival follows—the Sundance Institute organized in 1981—spinning into full steam January 19, lasting 11 days. I checked recent entries for the snowshoe crowd and did not find scenes featuring our favorite foot-appliance. However, in a season of unnatural warmth, most USSSA race directors would want some of the cold in the 2011 Grand Jury Prize-nominated On The Ice featuring an element lacking in this edition of the Rail Trail: snow. Filmed in Barrow, Alaska, this harrowing tale would find plenty.
Film festival attendees are urged to "Take a break from sitting in a theatre, and strap on your skis or snowboard (or snowshoes, by the way) to discover Utah's world-renowned snow." One day after the race, snow is now falling.
Full race results: USSSA http://www.snowshoeracing.com/results2012.htm
Race website: http://www.sports-am.com/
Write phillipgary@snowshoemag.com