Abruzzo.  Not the first destination that springs to mind when planning your winter holiday, but what a little gem is being missed.  At around 50 miles east of Rome, Abruzzo is a mountainous region of central Italy that boasts the highest peaks of the Apennines and a vast wilderness that stretches on and on across its three national parks.
We first discovered the region a couple of years ago when we spent two months travelling through Italy in our old VW Camper.  A year later we'd bought a house in Serramonacesca with a small plot of land in the foothills of the wildest of the three National Parks, the Majella.
Right now, we're getting ready to launch our holiday site for independent travellers and adventurers (Kokopelli Camping), but in the meantime we're having an absolute ball discovering the Majella in the winter.
That Abruzzo incredulously sneaks below the tourist radar means that what you find here is not a particularly wealthy region, but a region all the more richer because of it.  Medieval hill top towns have remained little changed for centuries, old traditions and family values are still the guiding force, its people are warm and welcoming and the food is exquisite in its simplicity.  And it snows here.
What are superb mountain biking, hiking and running trails in the summer become transformed by the winds that whip in across the Adriatic sea from the Balkans.  From late December until April the three National Parks are morphed into a landscape comparable to some of the Alpine pistes, and often with more snow.  But without the prices.
There are 21 ski areas in Abruzzo with a total of 368km of pistes, all at altitudes of around 1500m – 2000m, all easily reachable by car from Rome in a day and around 50% cheaper than most of the Italian Alpine resorts.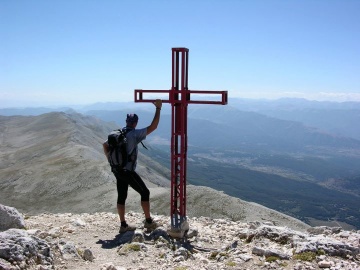 Abruzzo's premiere ski resort, Roccaraso, is one of five historic towns that surround the Cinquemiglia, a five mile long plain that sits at 1,200m high and can be found just beyond  the southern end of the Majella with a top station of 2,000m.  There are none of the dramatic peaks, gullies and gorges of the Alps, but you will find wide runs winding their way through wooded hillsides, as well as vast expanses of undulating white just calling for off-piste exploration.  The ski area itself boasts more than 100km of downhill pistes: 11 black, 27 red and 27 blue, there are two cable cars and 29 lifts.
In the middle of the Majella you have the ski resorts of Campo di Giove and Passo San Leonardo, but at the other, northern, end of the Majella, and just a short 20 minute drive up the hill from us at Kokopelli, (40 minutes from the airport in Pescara) is Passo Lanciano, famous for its panoramic views that stretch all the way to the Adriatic sea.  Somewhat smaller than Roccaraso, the skiing here winds its way up through beech woods from 1,306m at the ski basin in Passo Lanciano to 1,995m on the Majelletta.
Perfect for beginners, there are two ski schools, one green run, seven blue and eight red.
Snowboarders are well catered for too with a well equipped snow park, Panorama Park, that's growing all the time.
Where Passo Lanciano and the Majella really wins, however, is with its cross-country skiing and fantastic opportunities for snowshoeing.
With 74,095 hectares (183,088 acres) of wilderness, and some of the highest peaks and the most rugged terrain of the Apennines, the Majella is screaming out to be explored in the winter as much as in the summer.
The highest summit is atop Mt Amaro (2,793m) and the National Park itself provides a home to an abundance of wildlife including wolves, bear, wild boar and many difference species of birds of prey.  What's not to like?
For now, we're having to be patient and satisfy ourselves with offering a spring/summer/autumn escape but, who knows, maybe next winter we'll take a lead from our close friends and allies at Space Between, who offer snowshoeing and winter walking holidays in The Mercantour National Park, and we may just follow suit.