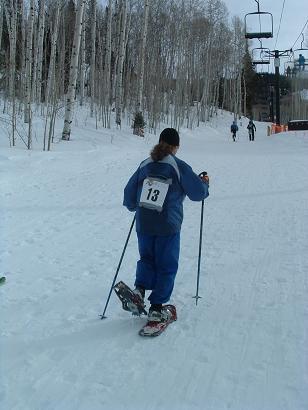 As in past seasons, the United States Snowshoe Association (USSSA) goes through an arduous planning process for its regional qualifying snowshoe race series and its championship event.  The 2011/2012 season is no exception.  In fact, it's a preseason of positive developments for the USSSA and its snowshoe racing team.  The USSSA is adding new sponsorships, new events, and is adding a race registration solution for event participants.
To start, the USSSA has partnered with PreRace.com to provide membership management, online event registration, and marketing services in preparation for the 2012 Dion USSSA National Snowshoe Championships, regional qualifiers and state snowshoe racing championships.
"In order for snowshoe racing to become an official Olympic sport, it requires major sponsorship and media involvement," said Mark Elmore, sports director for the USSSA.  "This partnership is just another step in that direction. PreRace.com joins several new sponsors that are supporting the USSSA and the 2012 Dion National Snowshoe Championships that will be held in Frisco, Colo."
The USSSA expects that the partnership will help facilitate new growth through PreRace.com's membership management system, and it will help increase exposure to the thousands of old and new athletes that participate in the sport.
"As a sport, the potential of snowshoe racing is limitless," said PreRace.com Founder Jorge Espinoza. "In general, snowshoeing is great for winter cross training.  It's ideal for runners, cyclists and triathletes. We're very excited about this partnership and the exposure it will gain for the sport."
In addition, the USSSA announced that Brooks-Range Mountaineering will be serving as the primary sponsor of the 2011 U.S. National Snowshoe Team.  Thor-Lo Socks will also be serving as the USSSA's official "Protective Sockwear Provider" and Rudy Project will be serving as the official "Eyewear Provider" for the 11/12 season.  Of course, Dion Snowshoes will continue to be the title sponsor for the 2012 USSSA National Championships, which will be in Frisco, Colo., Feb. 24-26. 2012.
Other USSSA sponsors for the 11/12 season include: Neos Overshoes, Atlas Snow-Shoe Co., Hammer Nutrition Products, Vasque Shoes, Onion River Sports/Snowshoes Direct, Mizuno, TSL Snowshoes (USA), Baldas Snowshoes, Easton Mountain Products, Redfeather Snowshoes, GV Snowshoes, Havlick Snowshoes, Iverson Snowshoes, and Crescent Moon Snowshoes.
Many of the USSSA athletes are expected to compete all across the United States as well as abroad in numerous major international snowshoe race events.  The 2012 La Ciaspolada Snowshoe Race in northern Italy and the inaugural 2012 Teva Winter Games in Colorado will be the teams' primary focus events. Past national team members have competed in Italy, Austria, Japan and Canada.
The U.S. National Snowshoe Team members include:
Junior Boys National Team:
Mitchell Kasyon of Colorado Springs, CO
Ben Palladino of Paul Smiths, NY
Paul Seliger of Marathon, WI
Junior Girls National Team:
Samantha Lewis of Boulder, CO
Carolyn Stocker of Westfield, MA
Michayla Heil of Medford, WI
Senior Men's National Team:
Eric Hartmark of Duluth, MN
Scott Gall of Cedar Falls, IA
Michael Reneau of Corvallis, OR
Jeffrey Beck of Rochester, NY
Greg Hexum of Esko, MN
Senior Women's National Team: 
Brandy Erholtz of Evergreen, CO
Amber Ferreira of Concord, NH
Erin Ward of St. Paul, MN
Cheryl Paulson of Nederland, CO
Laurie Lambert of Austin, TX
The USSSA has also added several new regional qualifying events, including races in Ohio, North Carolina, New Jersey, Wisconsin, and more.  To review the entire USSSA snowshoe racing schedule, visithttp://www.snowshoeracing.com/events.htm.  For the most complete snowshoeing event calendar on the Internet – races, demonstrations, festivals, and more – visithttps://www.snowshoemag.com/events.cfm.