A constant on the trails is finding legend Al Holtz from the Twin Cities, Minnesota; perhaps better said is "seeing" Holtz with his unique bottle strapping system, hat program, and occasionally, a lumberjack beard (top photo, working toward Massanutten finish). One can never question his determination and drive, along with the other finishers of this annual test. Always friendly, always ready with advice, he is the engineer of trail running, providing a detailed analysis of his complete caloric intake, and anything else that can be measured, perhaps should be, or in some cases, perhaps not at all. His reports are terrific reads. He is allowing us to publish his recent assault on the Massanutten.  You better read it — you just might be mentioned. Like John Taylor. And Susan Donnelly.
I left home for Massanutten Tuesday, May 10, 2011 at about 11:30 a.m. I arrived at Sherwood's house (my wife's brother) in Woodbridge, VA about 2:30 p.m. Wednesday. I picked up (Twin Cities ultra runner) John Taylor (see photo below in high grassy section of Massanutten, his second finish here) Friday about 2:30 p.m. at Dulles Airport and arrived at the race site (Caroline Furnace Lutheran Camp) about 4:30 p.m. The pre-race talk had begun at 4:00 p.m. and had just ended.
Some people were getting stuck in the mud coming and going to and from the race parking lot in an open grassy field. My Subaru with all-wheel drive had no problems with the mud. I received a nice glass award printed with my five prior Massanutten finish times, albeit a few minutes after when I would have received formal recognition during the talk. I ate the evening meal (spaghetti, marinara sauce, mashed potatoes, fruit salad, bread roll and cake) at 5:00 p.m. at the race site inside a large tent. I went a half-mile to the bathhouse to change into my running clothes while John pitched his tent at the parking area. I drove back to the parking lot and slept in my car.
The race started in a fog at 4:00 a.m. Saturday at about 60°F. The first three miles or so were a climb on a mixed surface road — some asphalt and some gravel. Then came the first major trail climb and nasty rocks. It was dark for much of this eight-plus mile section. In prior years, the race started at 5:00 a.m., so times were somewhat slower for early portions of the race this year due to longer morning darkness. My time to 11.7 miles this year was 15 minutes slower than last year because of the dark. By the time night arrived, I had made up this time as darkness was equally delayed.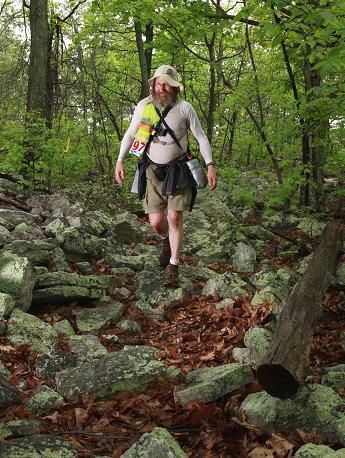 The rocks were wet due to some rain the day before and the fog that morning. I fell on my right knee on some wet rocks and got rather bloody during the morning darkness. I had various people at many following aid stations wanting to wash my leg, but I did not bother. I was told I should get the "best blood" award. Later in the race, my right knee hurt. Don't know if that was from the fall or some kind of unassociated joint problem.
I wore lightweight flexible shoes with an aggressive grip (INOV8 – X talon). They helped to prevent blisters and they conformed to the surface well, but I could feel the sharp rocks through them and by 60 miles, my feet felt internally very sore and it was negatively affecting my pace. I was also swearing aloud at the rocks (a new insight on Al. Ed). At 86.9 miles, I changed into a stiff thicker-soled shoe (Vasque Velocity). The rock impacts felt better, but over the next ten miles I had developed a blister on the little toe of each foot due to a bit of foot sliding on the steep sections due to the heavier, stiff shoes.
A humorous side note is that more than one other runner commented on what a good walker I was. These comments came earlier in the race when I thought I was running.
The last 20 miles during the rocky climbs and descents, I highly questioned whether I could or wanted to finish. Still I was able to pick up my pace a bit on the remaining road sections, including the last three-plus mile downhill road section to within a half-mile of the finish, which then included a gravel climb and a non-rocky — for a change — trail downhill. I finished in 33:36:47, almost an hour faster than last year due to having picked up my speed the last 15 miles on the road sections, as my time otherwise was within ten minutes of my time last year at all aid stations.
John Taylor finished about one-and-a-half hours ahead of me in an excellent 31:56:24. I was 102nd out of 132 finishers, 195 starters, and 203 registrants. I passed 27 runners after the first 11.7 miles and three runners passed me after this point. Only 16 of the 195 starters were behind me at 11.7 miles. This indicates that as usual a lot of runners went out too fast at the start as lots of people faster than me at 11.7 miles failed to finish. My time for the last 6.3 miles was faster than 27 people who finished ahead of me while seven people who finished behind me ran this section faster than me.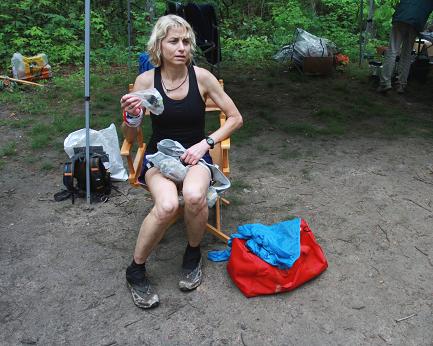 This year Gary Knipling (14 completions — the most of anyone at Massanutten — age 67) had some issues, and he finished 46 minutes behind me. He was ahead of me and I passed him when he spent a lot of time sitting at 53.6 miles (Habron Gap aid station). He later passed me looking strong, but apparently had another lengthy rest stop. Last year he beat me by 3.5 hours after I beat him by about an hour the previous three years. Before the start this year I had grilled him regarding what had made him so fast last year, and he either would not say or he really did not know.
This year I consumed (guessing quantity) about 7000 calories of my maltodextrin-soy protein-cinnamon-SCap-water blend. I only took water from the aid stations. Some aid stations I only had a bottle of this blend. At one aid station, they could not find it. Apparently it got put into someone else's drop bag as most people use bags for all materials.
I only used a bag this year when I had something besides my gel at an aid station. I was concerned at the time I would run out of gel before the next drop-bag aid station, but it worked out okay. At this race I swigged from my gel bottle and washed it down with water every ten minutes. Usually I follow a 15-minute schedule.
I used a strong handheld LED light the first 2 hours of the race and both a similar handheld and a headlight later during the night. For some reason I had some road rash in the groin and butt area in spite of having rubbed lots of bag balm into those areas the night before the start. I heard others suffered similarly. The rash was probably due to a combination of the rain, temperature and humidity.
I carried a jacket around my waist from the start and carried a pair of loose pants during the night. At about 4:00 a.m. I wore the jacket and never needed the long pants. My stomach and bowels behaved nicely the entire race (Good to know. Ed). It rained lightly some of the night and then rather hard during awards, including almost blowing over the small tent covering the returned drop bags. John and I held the tent or it would have blown over. My hands got a little puffy by three hours into the race, and they were very puffy by 15 hours and throughout the rest of the race. Most of the swelling had subsided by five hours after the race when I experienced a lot of finger cramping in both hands, which made eating somewhat difficult at the time.
After the race all finishers learned the belt buckles would be mailed this year as somehow the manufacturer lost the data for making the buckles and so only a few remaining buckles from previous years were available. They were given to first time finishers. A female course record (22:30:43) was set by Eva Pastalkova (last photo). Sue Johnston in 22:38 held the record previously. Karl Meltzer won his third Massanutten in 18:18:28. Sue Donnelly (see above at aid station working to No. 10 finish, second photo from top) and Bob Anderson finished their tenth Massanutten and received gold belt buckles for that accomplishment.
I don't know if I will have the ability to finish this race another four times or not. I can only try. I've finished it six consecutive years so far, each time thinking I wouldn't (A good lesson for all to remember. Ed). After the award announcements, I showered and drove John to the airport and headed back to Sherwood's house Sunday evening feeling rather tired, stiff and sore. Sherwood has some arthritis but on Monday he was walking faster than me. On Tuesday we toured the Air and Space Museum near Dulles (a very nice side trip if you are in the area and have time to see it), and by then we were both moving about the same speed. I left his house 9:30 a.m. Wednesday morning and arrived home Thursday morning at 7:30 a.m. My right knee is a bit tender yet to the touch, but feels better. I should be ready for the Med-City Marathon the last Sunday in May (the 29th). I've run all of them so far. Then I will be attempting the Big Horn 100 on June 17.
Massanutten Results and Info: http://www.vhtrc.org/mmt/2011/index.htm
Photos Courtesy: Aaron Schwartzbard. Aaron is a noted triathlete, distance runner, software developer, and importantly for this article, an experienced photographer. His years of photographing major events and participating as an athlete in others show in his work. He is uniquely able to capture non-standard moments and images in an event. Two of my selections reflect that. One can search as I did photos of this trail 100 by using bib numbers, which are available from the Massanutten pages. Enter the bib and up pops the photos associated with that person. Oh, sure, I get it!—that's his software developer self coming through. We express our appreciation to him for allowing us to share these images with you. See them all plus many other events at: http://aaronpics.com/
Write phillipgary@snowshoemag.com
See Phillip's book, HARMONIZING: Keys to Living in the Keys of Life
http://amzn.to/hLfjP9