"Whew! I'm exhausted!" exclaimed Mark Elmore, Sports Director for the United States Snowshoe Association (USSSA) at the conclusion of the March 6-8, 2009 National Snowshoe Championships . . . and well he should be with a terrifically successful event, the association's ninth, concluded with some of the deepest snow conditions yet and terrific competition all the way through the brackets.
"The lure of snowshoe racing on Mount Hood in Oregon, the second most hiked mountain in the world, drew racers from all parts of the United States, some of the finest winter endurance athletes America has to offer," added Mark. The stars of the show were snow and its mate, deep snow. "It snowed and snowed, adding to the estimated nine foot deep base at the Sno Park and made a demanding race course grueling."
The big news was at the top of the leader board: The entire five member 2008 National Senior Men's Team is replaced with all new members with this year's top five finishers; of the National Women's Team, only Sonja Wieck, Greenwood Village, Colorado, will return from the '08 version! Wow!
Further on the National Teams, Charlie Wertheim set a new record, men's or women's, by making the team this year, earning the most spots on the National Team roster over the years: With his 2009 triumph,  a third place overall finish, Charlie now stands by himself with five team memberships adding to his four consecutive years of 2002-2005. That's five National Snowshoe Team memberships he has earned in nine years! He broke a tie with four time team member and multiple year women's champion, Nikki Kimball, who won the Women's Division of the 2009 Montana State Snowshoe Championship USSSA Qualifier, but couldn't compete at this year's Nationals. There was not a formally named National team in 2001 though Nikki won the women's event (run only that year as a 5km) as she did each of the other three National Championships she raced. So I elected to include the 2001 race in this calculation. Note that in 2002 the women's race joined the 10km format of the men's.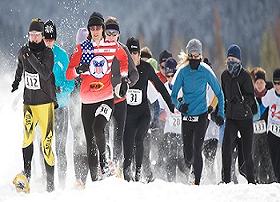 Back to Charlie: he brings new meaning to the word "Master" Snowshoer . . . four of his National Team memberships have come while in his 40's, this one at the age of 47. But get this — he is not the oldest team member for 2009 — that honor goes to Robert Bolton of Hill City, South Dakota, located smack dab in the middle of the Black Hills who qualified at 49 years old and in the process becomes that state's first National Snowshoe Team member. The men's National team average age is 38.8, the first time ever this close to the Master's level.
The youngest team member at age 23 is D. J. Snyder, Idaho Falls, giving Idaho its first USSSA National Team representative.
The Women's National Team also shows a strong cross section of age classes for 2009. Although the average 34.4 is a few years below that of the men's team, Cheryl Paulson, Nederland, Colorado, is the senior leader of the women's team at age 45, a terrific accomplishment. Christy Runde, of Brush Prairie, Washington, gave the Women's Team its second forty year old member. Casey Shea, Colorado Springs, Colorado is the youngest, Sonja Wieck, as earlier noted is the only returning 2008 National Snowshoe Team member of either gender to earn a spot on this year's edition, and Brandy Erholtz, winning the 2009 Women's Class Overall National Championship and leading the Women's National Snowshoe Team, lives in Bailey, Colorado. This means four of the Women's National team are from the Centennial State and exhibit the best of its motto, "Nothing without Providence," particularly as it pertains to snowshoe racing, perseverance and preparation.
The Women's Championship Race
Brandy Erholtz, in only her third snowshoe race ever, broke out as a star in her first USSSA National Championship. "I took the lead soon after the gun went off and was able to maintain it for the entire race. It was quite a nice surprise." Brandy has plenty of experience on trails, though, as she told me, "The past year has been pretty great as I had break through season on the mountains and trails. However,(since I'm new to snowshoeing) I didn't really know what to expect in the race. I had gotten lost in my first two races of the season, so I was thankful the course was well-marked and I was able to find my way!"
She further explained, "Snowshoeing has been a blast this season. A great way to stay competitve in the winter with minimal stress to the body. I grew up in Minnesota and can't believe I just started snowshoeing now! Better late than never. I definitely plan on returning to try and defend my title (as the USSSA Women's Senior National Champion)."
The deep snow conditions presented many challenges for all racers, as overall silver medalist, Sonja Wieck, describes:
"I took four (yes, four!) falls in a several minute time span.  Boom, face plant. Duh. Well, that happens all the time to me, especially when I am running fast. I get back up, and 30 seconds later I eat it again. This time my shirt is around my neck and I get up fast, start running, and start pulling down my shirt, but not before I eat it again. This time with an exposed belly! I get up from that one, pull my shirt down and continue on. Another minute goes by and boom, I go down again. I was flustered and had to tell myself to "calm down", "pull in your core", "lift your knees", "and don't do that again". I regain my balance and slow down a little and as I'm going up this little hill I see (Casey and Christy) on my tail. Uh-Oh, these falls have allowed them to close the gap. I'm not ready for a showdown, but I know it's going to happen. I wasn't lifting my knees high enough, yet I was trying to finish strong."
She maintained her second place position just barely by leading an ever present Casey Shea over the finish by two seconds; Christy Runde crossed a handful of seconds later, and Cheryl Paulson wrapped up the last National Team Member spot one minute later.
Sonja said the course and "race was a total blast. Brandy led from the get go and pulled away substantially in the first 5 minutes of the race (to win by six and a half minutes). I didn't know her from previous races, but do race with many other Atlas sponsored competitors and know they tend to be accomplished in their chosen sports. I went out in second, knowing that the race course conditions made it difficult to pass. I wanted to get out in a good position. (Casey Shea and Christy Runde) were on my tail the entire race.  I am strong on the downhill and ran those fast and thus opened up a gap. But on the uphill portion of the second loop they caught back up. I thought (I would be) passed on the uphill but didn't. Again on the downhill I opened a gap and then started the mayhem (of falls)! I took a look behind me close to the finish and noticed (Casey and Christy) were hot on my tail! A strong finish was necessary to keep my second place spot, but yes, it was close!" (photo of women's start, from L, Brandy, Sonja, Laurie from bib numbers).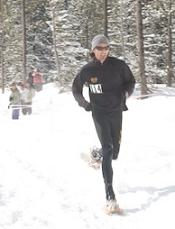 Brandy Erholtz won with a substantial margin over the Women's field with a finish at 51:58. She qualified for the Nationals at the Swift Skedaddle USSSA Race, Silverthorne, Colorado, winning their women's class.
Casey Shea and Cheryl Paulson finished one, two at Breckendridge, Colorado's Gold Run USSSA Qualifier; Christy Runde won the women's race at the White River Qualifier, Oregon, with Myra Klettke, Lake Owego, Oregon, finishing second. Myra just missed making the Women's Team by about a half a minute and finished sixth.
The Men's Championship Race
The 2009 USSSA National Men's Champion, Peter Fain of Truckee, California, was the only racer to finish under 45 minutes with his 44:30, and gives credit for his win to the deep snow of the day(see photo, finishing). He explained, "It felt good to win but I believe the conditions were suited for my training style which gave me an unexpected advantage. If the course had more groomers and was firmer, I don't think I could have won." Peter qualified for the Nationals at California's Auburn Snowshoe Challenge where the layout seemed a "bit longer. John Stauffer (Race Director and BORAD member) knows how to make a good, tough course."
The key move of the race came in the second half of the second loop, as Peter explains, "I took off from the start and led into the second lap. Kelly Mortenson passed me on the climb and right before the downhill he let me pass." 31 seconds separated the two at the finish.
An accomplished Ultra Trail competitor, having set the course record for the Tahoe Rim 50km, Peter heartily supports the benefits and physical rewards of snowshoeing. "I'm glad to see the support in Oregon is so great for the sport of snowshoeing. I've been part of Atlas since 1998/99 Season, and I think it is the best sport . . . for the winter. I wish that the sport would take off more in Tahoe. There are so many runners in this area yet they Nordic ski or go to the gym or who knows what. They don't know what they're missing. I was just speaking with a friend of mine, Mark McManus, who ran in Nationals. It was his second time in snowshoes and he told me he is sold on the sport." Mark won the first snowshoe race he entered, the Jazz Trax Qualifier, on borrowed snowshoes. He won gold at the Nationals for the 35-39 class over strong competition like Sylvester Coons, Reno, Nevada, with the silver, and Rich Bolt, multi-year National Team Member out of Portland, Oregon, taking the bronze medal.
Looking back on the race course, Peter said it was "A lot of fun. 100% single track is unusual but it worked for me."
Kelly Mortenson, silver medalist, had a similar condition known to us who don't live at altitude . . . finding air to breathe. As he said, " I thought the race was at a great location on Mt Hood. I just wish I was not in Oxygen debt that bad so I could look up and enjoy seeing some of the mountains in the surrounding area. The race was 2 5k loops and I was content on following Peter for the 1st loop. I was tucked in nice on the first uphill section but I am not the greatest down hill runner and Peter pulled away some when we started coming back down. At the start of the 2nd loop Peter had maybe a 10 second gap on me but I closed fairly fast. Once I caught Peter I took a look back and knew it was a two person race as third and fourth were a ways back. I knew at that point I had to go because of my lack of down hill ability and took the lead and kept it to the top and had a small gap on Peter but he made it up quite fast and pulled away on the down hill to the finish."
Commenting on the course, Kelly noted, "I liked the course and loved the area it was in but it did not suit my abilities the best. I am a pretty good up hill runner so that was good for me but the down hills were horrible. I was not breathing all that hard but Peter was just pulling away from me like I was standing still. A rolling course would have suited me a bit better and also one a bit lower in altitude as I am from Minnesota so not many long ups or downs to train on like Mt Hood. The venue of Mt Hood was an awesome experience and surrounding mountains were great."
Mary Ross Mortenson, responsible for introducing Kelly to the sport of snowshoeing with a Christmas gift of Atlas Runs a couple of years back, won her own silver medal in the age bracket class that included Patty Sturdevant's gold and JoAnn Ellero, Reno, Nevada, taking bronze. Kelly related that his first USSSA Qualifier with the new snowshoes was the Tartan Terrific, St. Paul, Minnesota, in 2007. That race day still remains in the minds of all who participated and volunteered (Jim McDonell, "Mr. Braveheart", was race director) as the temperatures were double digit below zero and the winds howled . . . a real test of snowshoeing endurance.
Jim Graupner described the course to me this way, "White River Snow Park 'on the flanks of Mt. Hood' was a magnificent choice for the 2009 USSSA Nationals, despite the call for traction tires en route to the Park or the collapse of the warming tent under the weight of yet another night of heavy snow.  None of this interfered with the efficient management of the races or results.
The fact that shoers had to surmount about ten feet of snow to get up to the 10 km starting line attested to the sheer mass of snow with which racers and spectators, alike, had to contend.  The course met all expectations for a challenging Nationals Championship; basically the design was comprised of two 5 km loops, each consisting of about half of unforgiving climb and (the remainder) of exhilarating, meandering single-tracked plunge through rain-forest-sized Sitka spruce.  The restless weather system at that altitude continued unresolved, alternating between penetrating sunshine and dense snowfall, so that occasionally the long line of snowshoe climbers virtually disappeared into the whiteness, reappearing briefly at mid-point and as they struggled to the finish."
Jim further noted, "The decision to have the Women's National Championship Race precede the Men's probably turned out to favor the men because the women effectively packed down the trail for them –"trail" singular because jumping out to blaze one's own track was an imprudent energy-sapper.  Apparently, the sodden snow didn't affect the (thirty two) elite men (and four elite women) who blasted to the finish under one hour, six of whom posted sub-47 minute times.  Granted, it's difficult to compare times from different venues; still, Peter Fain (44:30) and Kelly Mortenson (45:01) finishing One and Two, were both faster than  2008 National's stand-out Josiah Middaugh (45:55); Third and Fourth Placed Charlie Wertheim (46:11) and DJ Snyder (46:34) easily supplanted Jeffrey Beck's Second Place (47:17) at Snowbasin.  Brandy Erholtz' 51:58 out paced Keri Nelson's 57:05 at Snowbasin."
Peter Fain, Truckee, California, won by 31 seconds over returning 2007 National Team Member Kelly Mortenson out of St. Paul, Minnesota.  Kelly had finished third at the 2007 Twin Cities National Race. He competed at the Snowshoe Shuffle Qualifier held in February in the Twin Cities which also included D. J. Snyder making yet another event, his third qualifier of the year! D. J. also was in the Montana State Snowshoe Championships Qualifier, which he won, and finished second at the Grand Teton Snowshoe Race in his home state.
Charlie Wertheim won third place by less than a half a minute over D. J., and Robert Bolton nailed down fifth. Dave Dunahm, Ward Hill Massachusetts just missed the top five by six tiny seconds.
Junior National Snowshoe Teams:
Michayla Heil, Medford, Wisconsin, is now a three time Junior Girls National Team member and the 2009 National Junior Girls Champion.
Her brother, Josiah Heil, makes the Junior Boys Team for the first time. The 2009 National Junior Boys Champion and new addition to the Junior Boys Team is Nathaniel Burrell, taki
ng the gold back to his home state of Alaska.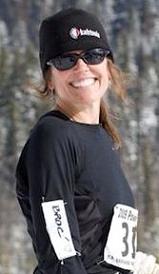 Up and Comer Award:
Keep an eye on Nathaniel Burrell, 16 years old, who tied for first place in Alaska's "Finnish Line Snowshoe Series" against seasoned race veterans and also found a way to make the trip 'to the lower 48′ for the 2009 National Championships.
Thank You, Canada!
Canadians were the sole International entrants for 2009 with Robert Lang, Surrey, British Columbia, finishing with the gold in 56:00 and David Agar, Orleans, Ontario, with his silver medal at 1:14.
Women's Most Senior:
In the women's class, this honor was taken by Chary Griffin, Cazenovia, New York, who won silver in the 60-65 class, one of many medals she has captured over the years. She was edged out of the gold by a younger — by one year –Georgia Nothdurft, of Eyota, Minnesota.
Men's Most Senior:
In the men's class, Richard Busa out of Marlboro, Massachusetts, took his fifth gold medal, and at age 80 this year, the first snowshoer to race for the USSSA in that age category.  John Pelton, West Rupert, Vermont, was the lone gold entrant in the 70-74 category, just tipping into that bracket for the first time this year, taking his sixth gold medal plus one third place finish.  That's seven Nationals he has raced and medaled out of nine events ever held by the USSSA.
Snowshoe Magazine Person of the Year 2009:  Jim Graupner (see honor at this link https://www.snowshoemag.com/view_content.cfm?content_id=498)
was presented with this year's award during the post race ceremonies. Mark Elmore, presenter, said, "Jim was amazed, honored and a little incredulous that he was selected as the Snowshoe Magazine Person of the Year. He thought Cindy Brochman should have received the honor. I didn't get a chance to remind him that she was so honored in 2007 at the Nationals in Minnesota where she was the Event Director. He was very pleased." (see photo, Jim Graupner receiving award from Mark Elmore)
Laurie Lambert:
Quite a few snowshoers honored Cindy Brochman by wearing her name on their race outfits. Laurie, 7th woman overall, sent her wishes to Cindy as shown in the photo (see photo with 'Broc' on her sleeve)
Most National Championships Raced:
Mark Elmore also recognized Chary Griffin (see above) and Mark Rickman of Pueblo Colorado for the fact that out of the nine United States National Snowshoe Championships that have been conducted, they have each competed in eight of those.  "I presented each of them a pair of beautiful, handmade wooden Iversons Snowshoes," he said.
Best Finishing Pack – Men's Class:
Once Wayne Cottrell, Pittsburg, California, crossed at 59:39, and the clock ticked to 60 minutes, seven racers finished before the 61st minute started. Gregory Luna, State College, Pennsylvania, finished at 1:00:12, then five seconds later, Jay Curry, Lynn, Massachusetts, crossed; next, a virtual tie with Robert Dion of Dion Snowshoes fame, Readsboro, Vermont, at 1:00:20 and Judd Johnston, Marquette, Michigan in the same second. Right on their backs was Jim 'BraveHeart' McDonell, Woodbury, Minnesota, at 1:00:21, being pushed by Steven Heil, Medford, Wisconsin edging Johnathan Beck, Portland, Oregon, by one second.
Best Finishing Pack – Women's Class:
Once Myra Klettke finished her sixth place overall (gold medaling in the 45-49 class) and Laurie Lambert crossed at 1:03:41 for seventh place (and the silver in the 45-49 class), there was a minute and a half gap before a terrific race to the line ensued. Patty Sturdevant, Tigard, Oregon, finished at 1:05:15, capturing the 40-44 class gold, with Lynann Lorentz, Apalachin, New York, just behind her by two clicks, winning the 30-34 class gold, and Burke Duncan, Portland Oregon, hit the line at 1:05:18, taking the 25-29 class gold.
In both men's and women's fields there were many other examples of excitingly tight, close racing which is very typical of these National Championship Events.
Citizens 5km Snowshoe Walk/Run:
16 snowshoers participated in the Citizens 5km. This event, an annual tradition, is helpful to introducing snowshoeing and snowshoe racing to new participants. Many travelled long distances to participate.
Kids Kilo Event:
Watch out, Brandy Erholtz! Two young girls, Emma Stephens and Regan Volk, also won medals in their fun event, and are sure to be a factor in the Junior and Senior classes over the years if they stay at it.
Finishing Numbers:
36 Women finished the race, 69 Men. Jacqueline Nunes, Castle Rock, Colorado,  concluded the Women's field in 1:53 while the afore mentioned 80 year old Richard Busa closed out the men's race a little after two hours.
Best Quote:
"I'll return if my bank account lets me," responds Peter Fain when asked about defending his 2009 Men's National Championship title at the tenth USSSA National Snowshoe Races in 2010.
Simply Great:
Jim Graupner closed by saying, "All this excitement eclipsed snowshoers like me who can attest to enjoying the more pedestrian pace (than the elite), the thrill of stumbling head first into the snow, moments to savor the surrounding scenic beauty, and periodically a jump into pristine, un-trampled slow-traffic shoulders.  It was simply great."
Number of States Represented:
This year's race had one more state represented than 2008. Preliminary counts show that South Carolina was not represented in 2009 as they were in 2008, but Alaska and South Dakota picked up the slack, a good sign. Why? As Mark Elmore concluded, "The ninth edition of the United States PowerSox National Snowshoe Championships is in the books! Given the state of the Nations' economy, the fact everyone is tightening their grip on discretionary spending, I don't think anyone really knew what to expect of this years' Nationals. But come they did, from twenty different U.S. States, including Texas, Florida, South Dakota, Pennsylvania, Alaska and Canada!  The stage was set for epic battles over the 5km and 10km Championship course and the 5km Junior Championship and Citizen's Course laid out in the White River West Sno Park."
How Much Snow?
Mark Elmore reported, "The USSSA arrived on site on Thursday March 5th and it snowed on and off, mostly 'on', until we left on Tuesday March 10th. The new snow, added to the estimated nine foot deep base at the Sno Park, made a demanding race course grueling. An additional one and a half feet of new snow fell Saturday night alone, collapsing the 30′ by 60′ three sided heated tent that the X Dog Events crew had set up Saturday. But the athletes were up to the challenge and many praised the courses as tests of true snowshoeing skills. By the end of the weekend, the only thing missing was . . . a glimpse of Mount Hood. We know it was right there! But, it was shrouded in clouds all weekend long.  As any armchair mountaineer will tell you, no one truly 'conquers' the mountains, you merely learn to 'survive' them. The nearly 150 hardy snowshoe athletes, of all ages, ambitions and abilities that participated in the Ninth Annual National Championships certainly got their moneys worth!"
The 2010 Tenth Anniversary National Snowshoe Championships, already shaping up as a special year, will be held in the first half of March. The exact date and location will be announced later in the year after all bids are in and are considered. Watch for further information at Snowshoe Magazine and the USSSA.
Additional results and pictures: USSSA www.snowshoeracing.com
Contact Phillip@ultrasuperior.com
Visit www.ultrasuperior.com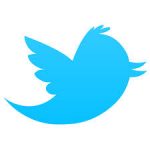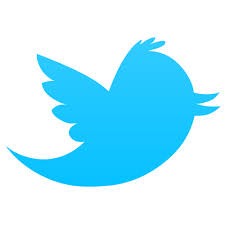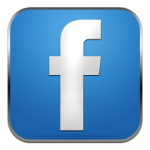 PHOTOGRAPHY CREDIT: ERIC WILLIS —
Thank you!