It is a perfect romantic setting. The day spent in the great outdoors, the fireplace flickering, meals eaten by candlelight, a snowy panorama stretching in the moonlight and a sleigh outside the restaurant. It's romantic and perfect for Valentine's Day or any day.
It is and can be found at winter destination resorts across North America, according to the experts who regularly update XCSkiResorts.com, the country's most extensive cross country ski and snowshoe destination website. Add in the thrill of exploring together down snowy trails, and a snowshoe vacation becomes the perfect getaway with your sweetheart, Valentine's Day or not.
These resorts offer the perfect combination of dreamlike atmosphere and picture-perfect views together with beautiful lodging, cozy dining, and picturesque trails where couples can enjoy the winter outdoors together.
The XCSkiResorts.com Top 10 features favorite romantic resorts across North America listed in alphabetical order.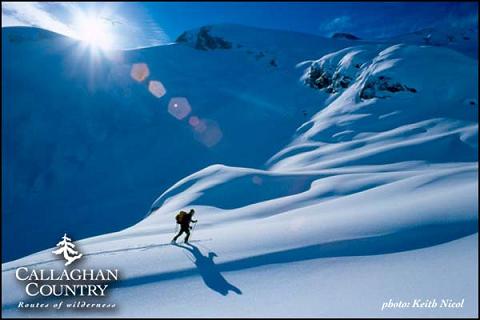 Callaghan Country at Whistler, British Columbia, is a secluded lodge where up to eight couples can enjoy 8,000 acres of wilderness with 36 feet of guaranteed snow without high altitude problems. No roads, no signs, no power lines. Just pure high-alpine terrain.
Fairmont Chateau Lake Louise, in Alberta, is a graceful timbered resort in a fairytale setting – surrounded by snowy peaks, nestled beside its own mountain lake, with a panorama of the Victoria Glacier. Hundreds of kilometers of trails lead right from the door of the Chateau.
Garland Resort in Lewiston, Michigan, is an AAA Four-Diamond resort oozing with rustic elegance in the heart of the Midwest, where 65 kilometers of trails combined with gourmet meals to create a winter wonderland sure to melt any snowshoer's heart.
Lone Mountain Ranch at Big Sky, Montana, visit nearby magical Yellowstone National Park or check out 75 kilometers of prepared trails. Lovers can stay in their own private log cabin. The main lodge serves great cuisine, has massage services and an impeccable staff.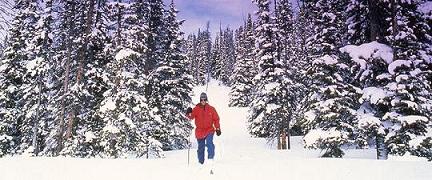 Mohonk Mountain House in New Paltz, New York, is a Victorian castle set spectacularly on Lake Mohonk only a one-hour drive from the city. Fifty kilometers of trails, skis and snowshoes are included in the stay. An enticing couples massage and partner massage instruction will add to a couple's pleasure long after the vacation.
Mt. Washington Hotel at Bretton Woods, in New Hampshire, is a step back in time to ornate elegance. The impeccable service, period rooms, dining accompanied by strings and unsurpassed views in New England makes this difficult to surpass for the perfect romantic weekend.
Mountain Top Inn in Chittenden, Vermont, is buried in the Green Mountains. Dream in rough hewn timber beds. Enjoy gourmet meals where your crystal glistens in the firelight. Snowshoe or ski on the 60-kilometer trail network (40-k groomed) right from the door.
Royal Gorge in Soda Springs, California, has the largest trail network in the U.S. The majestic Sierra Nevadas surround the remote 1920s Rainbow Lodge. This is ideal for romance with a massive stone fireplace and fine French cuisine.
Sun Mountain Lodge in Winthrop, Washington, has a 360-degree view of the Cascades. Choose a view room or lakeside cabin. Snowshoe or ski on 160 kilometers of trails. Enjoy the extensive wine cellar, gourmet meals and full-service spa (try the Double Decadence spa treatment).

Vista Verde Ranch in Steamboat Springs, Colorado, is surrounded by the Rocky Mountains. In their own words they are "kick-back-'n-relax, taste-tantalizing, mouth-watering kind of place." Couples can get away from the everyday grind and enjoy groomed trails, backcountry, plus horseback riding.
XCSkiResorts.com is the most comprehensive website focused on winter destination resorts in North America.
Photos courtesy of CallaghanCountry.com (1), LoneMountainRanch.com (2), and VistaVerde.com (3).