My wife Liz and I were looking for a location for a quick, early season snowshoeing trip in early December of 2004. Having visited the Enchanted Forest Cross-Country Ski and Snowshoe Area for two days last year, we decided to return for a slightly longer stay this time. Enchanted Forest is located at the southern end of the Sangre de Cristo Mountains in north central New Mexico. It is just off Highway 38, about four miles east of Red River.
From our home in Denton, Texas, we could drive to the area in less 12 hours. In our younger days, that would have been a one-day trip. Now that we're retired, we thought, "What's the hurry?" We spent the night in Clayton, N.M. Spreading the trip over two days also helped in getting acclimated to the thinner air at 9,600 feet, the base elevation of Enchanted Forest. Since we would be snowshoeing in less than three hours, the next morning we put on our snowshoeing attire before leaving Clayton.
Enchanted Forest is a friendly, laid-back family-run operation. Opened in 1985 by owners John and Judy Miller, it was built in the Carson National Forest under a special use permit issued by the U.S. Forest Service. The small but comfortable warming hut itself is owned by the Millers, but could not be built on a permanent foundation since they don't own the land. Only cross-country skiers used the facility initially, and, while skiers still are the most frequent users, snowshoeing has now been added and continues to grow in popularity. Approximately 800 skiers visited Enchanted Forest that first season. That number has now grown to approximately 7,000 with a goal of reaching 10,000.
The center is managed by the affable Geoff Goins, son-in-law of the Millers. In addition to running the day lodge and grooming the trails, Goins is also a certified cross-country ski instructor. I was able to sit down with him and discuss the center in general and snowshoeing in particular.
Enchanted Forest has 33 km of cross-country ski trails, which have tracks set for classical style skiers and wide lanes for skating style skiers. Snowshoers are allowed to use the skating lanes on the trails as long as they do not trample the classical tracks. The trails lead to some spectacular viewpoints. We were most impressed the view of Wheeler Peak, the highest point in New Mexico. It made the uphill trek well worth the effort.
While some snowshoers are content to stay on the wide ski trails, another adventure awaits those willing to try the 15 km of dedicated snowshoe trails. These narrow trails meander through the fir and pine trees of the beautiful Carson National Forest. Some of these trails are steeper than others, but both of us, in our sixties, were able to handle most of them, with stops for water and snacks.
Including the dedicated snowshoeing trails shows that snowshoeing is more than an afterthought at Enchanted Forest. When they first started renting snowshoes in the mid-90s, Goins said that they only had four or five pairs. Now over 30 pairs are available to rent, and many snowshoers bring their own. The rentals are all high quality Tubbs snowshoes. They are definitely a notch or two above rentals at most nordic centers.
When I asked Goins what he thought accounts for the increasing popularity of snowshoeing, he replied that people just love being in the snow and that snowshoeing provides and easy and affordable way to do this. He says that snowshoers are typically one of two types: Those who enjoy hiking and exploring the outdoors in a tranquil winter setting and those afflicted with a disease that strikes every winter. The disease is called TFOS – Terminal Fear of Sliding. Goins says that when he gives cross-country ski lessons, some students have an uncontrollable fear of the sliding involved. In some cases, he is able to tactfully suggest that they might enjoy snowshoeing more and they often take to it like a duck to water.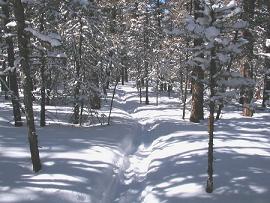 Prices at Enchanted Forest are an added incentive to visit the center. Adult trail passes are $10 per day, or $8 per day for three or more days. For seniors 60-69, the cost is $8 and $6, respectively. "Super Seniors" (70+) and kids under six are free. Teens ages 13-17 pay the same as seniors and kids ages 7-12 pay $3 per day or $2.50 per day for three or more days. You can hardly go to a movie any more for these prices.
Snowshoe or cross-country ski rentals are $12 per day or $9 per half-day. The price drops to $9 per day for three or more days. While we have yet to try cross-country skiing, that is on our agenda for the next trip. For $35, Enchanted Forest offers an instruction package that includes a group lesson, trail pass, and ski and boot rentals. That's about half of what a daily lift ticket costs at some downhill ski areas. Goins recommends beginning with the classical style of skiing and progressing to the skating style if you so desire. Snowshoeing instruction mainly involves learning how to put on the snowshoes and walking with your feet slightly further apart.
In terms of special events, Geoff conducts snowshoe headlamp tours several nights during the season, and Judy conducts ladies' snowshoe tours each Thursday afternoon. Prices for these events can be obtained by calling or writing Enchanted Forest. In addition, there are several other events held throughout the season that are described on the Enchanted Forest Web site: http://www.enchantedforestxc.com.
The day lodge is modest and unpretentious. It has, however, been recently expanded and provides a warm and comfortable place to get a respite from the cold. In terms of food, offerings include basic microwavable sandwiches and soups. Skiers and snowshoers can bring their own lunch and snacks. Tables and comfortable sofas are provided. Some items of clothing and ski/snowshoe accessories are also available. We found the lodge to be a pleasant place to gather for a hot drink and good conversation.
One word of caution for those traveling to Enchanted Forest: Unless you have a four-wheel drive vehicle, you will need to park in the overflow parking area right off Highway 38. Then you must walk up a fairly steep but short hill to the center. It takes about 10 minutes and was a good way to warm up for the snowshoeing. Most people interested in cross-country skiing or snowshoeing would not be deterred by this minor inconvenience.
No lodging is available at the Enchanted Forest, but there are a variety of motels and lodges available in Red River for reasonable rates. Skiers who use the downhill ski slopes in Red River and summer tourists make use of the many rooms. Some even have simple kitchens. Red River also has a number of good restaurants, as well as a fairly well-stocked grocery store. A search of Red River, N.M., on the Internet will point you to lodging options.
I highly recommend Enchanted Forest for an enjoyable snowshoeing experience. It's very family-oriented and also senior-friendly. You will probably be greeted by a member of the Miller family. They will help to get you outfitted and provide you with a trail map of the area. John Miller even helped us to identify some of the many animal tracks in the snow when we met him skiing on the trails. We were pleased to find a nice place with good snow not too far from our home.
For more information about facilities and events at Enchanted Forest as well as current snow and weather information, visit their Web site at http://www.enchantedforestxc.com or give them a call at 800-966-9381.