I chuckle when I receive an e-mail from a student that addresses me as "Professor Joque." I have to admit, I never heard of a professor of snowshoeing before. But since I teach occasional snowshoeing courses as an adjunct adventure educator at a university, I do appreciate the respect my students give me as an instructor of the very popular and healthy sport of snowshoeing.
I teach a one-credit college course in snowshoeing at the University of Wisconsin Stevens Point through our School of Health, Exercise Science and Athletics. The course is titled "Wellness 221 – Snowshoeing." One of two courses I have taught is an eight-week course. The other is a weekend course (Friday through Sunday), taught at a 1,400-acre university extension property called "Treehaven." Both classes cover the same material. The weekend class is condensed, but has the same number of contact hours as the eight-week course.
Wellness 221 is described as: "Snowshoeing Techniques and Application – a course designed for those who are interested in learning about snowshoeing as a popular form of recreation; its development through history; basic snowshoeing skills; the multiple facets relative to snowshoeing; appreciation of safe and healthy outdoor values; and doing snowshoe hiking and recreational games."
The number of students in each course is determined by the number of snowshoes I have available. For the Treehaven course, I have 25 pairs of snowshoes; thus, I have 25 students in the class. Treehaven is equipped with MSR Denali snowshoes. On campus, we use Northern Lites and Redfeather, both Wisconsin-made snowshoes.
Who teaches snowshoeing and where?
With the increase in popularity of recreational snowshoeing over the past two decades came an increase in the teaching of snowshoeing. Snowshoeing is taught in many grade schools, middle schools, high schools and colleges along our northern states as either part of a physical education program, a standalone course, or as a competitive sport. It's also taught at nature centers, school forest facilities, recreation programs, public parks and outdoor leadership schools.
By exploring the Internet, I found that many ski resorts, lodges, inns and retail stores also provide formal and informal snowshoe instructions to patrons and customers.
The instructors vary widely in background from state certified physical education instructors to park rangers and winter sports enthusiasts. There appears to be no standard for instructors across the myriad of settings the sport is being taught.
The United States Snowshoe Association had a "Senior Snowshoe Instructor" rating in the past. I completed the requirements for that certification several years ago and hold the title. They had plans to create a "Master Snowshoe Instructor" rating, but that had not been put in place. I am not familiar with any other formal snowshoe instructor or certification programs in the U.S.
However, some outdoor leadership schools incorporate snowshoe instructor training as part of their curriculum. And In public schools, depending on the state, teacher certification will determine who is qualified to teach physical education courses. Snowshoeing may or may not be part of their teaching responsibility depending on the school.
Student Learning Outcomes
I recall back in the early 1970s when going through my methods courses as an undergraduate student of teaching, that we were drilled in writing learning objectives in our lesson plans. Today in higher education, our faculty members are trained in creating measurable student learning outcomes for their courses so that they can assess whether or not students are learning what it is they want them to learn. The terminology may have changed slightly, but the concept appears to be the same. These concepts can apply to teaching snowshoeing.
The Webster's Collegiate Dictionary defines "pedagogy" as, "the science or profession of teaching; the theory or the teaching of how to teach." Although I do not see a snowshoeing class as a highly academic course, I do see it as a course that deserves quality instruction in order to teach snowshoe enthusiasts skills, knowledge and values about snowshoeing and all that is essentially associated with the sport. Therefore, I have some suggestions on how to teach snowshoeing.
My first suggestion in creating a snowshoeing course or curriculum is to identify what it is students are to learn. In taking a look at the one-credit Wellness 221 course, the following are my general learning outcomes.
At the conclusion of this course, the student will:
Demonstrate that they have acquired knowledge about snowshoeing, snowshoes, appropriate winter clothing, snowshoeing accessories and winter safety
Demonstrate basic snowshoeing techniques
Define environmentally sound and healthy outdoor values relative to snowshoeing
Gain aerobic conditioning through snowshoeing
In measuring these objectives, I include ample activities, games and hikes for assessing aerobic conditioning of students. I use a skills rating scale I developed for the course to assess skills learned. I require a reflection paper that identifies student experiences and values. For example, one of my students in her paper stated, "I did not expect to learn all that I did about snowshoeing, proper clothing, nature preservation, being outdoors and orienteering. I learned so many beneficial and practical skills that will be useful for future adventures and trips."

Creating a snowshoeing curriculum: course design
I found a unique snowshoeing curriculum designed for kids in grades kindergarten through fifth grade by Dr. G. Linda Rikard of George Mason University at Fairfax, Va. This comprehensive curriculum with sample lesson plans can be found at the Winter Feels Good website: www.winterfeelsgood.com.
Other children's winter activity organizations have also created snowshoe courses and curriculums, such as Winterkids (www.winterkids.org) where they have developed physical education lessons for snowshoeing along with other winter sports. And SnowSchool (www.snowschool.org) has designed lesson plans for exploring the outdoors during winter on snowshoes.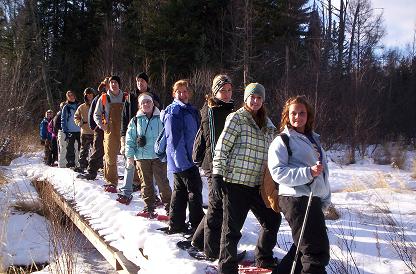 The following is an outline of lessons for the Wellness 221, eight-week college course I created. Although not stated here, each lesson has a set of objectives, methods to meet the objectives, and outcome measures that identify what the student will be able to do in order to demonstrate the outcome was achieved.
Lesson 1:
Introduction to snowshoeing (many uses for snowshoes)
Journal writing for snowshoers
Wilderness appreciation, ethics, and Leave No Trace concepts
Lesson 2:
History of snowshoeing
Styles and designs of snowshoes
Sizing and fitting snowshoes
Application: trail hike
Lesson 3:
Conditioning and health benefits
Weather conditions, winter safety, winter survival
Introduction to snowshoeing techniques
Application: stretching and techniques applied on trail
Lesson 4:
Continue snowshoeing techniques
Application: snowshoeing on hills and varying terrain
Lesson 5:
Purchasing snowshoes (considerations, brands and costs)
Clothing, accessories, and using poles
Application: snowshoeing on and off trail; night hiking
Lesson 6:
Compass and map reading
Application: snowshoe orienteering challenge
Lesson 7:
Recommended reading, websites and resources; snowshoe trails and events
Snowshoe racing and games
Application: playing competitive snowshoeing games
Lesson 8:
Application: fieldtrip snowshoe hike
Winter cookout for class
In addition to the above lesson outline, my students read about snowshoeing. For the eight-week course, I require reading from "Snowshoeing: A Trailside Guide" by Larry Olmsted. I also provide students with a list of other recommended books by various snowshoeing authors. In both the eight-week class and weekend class, I have students read and report on at least one article from either a Midwest magazine called "Silent Sports," or from our online "Snowshoe Magazine."
I recommend snowshoe instructors create a course plan, write-up an outline or syllabus for students, identify learning objectives or learning outcomes, and assess the outcomes in order to enrich future instruction and alter course design. Snowshoe instructors who are not trained in teaching can easily adopt these skills so that snowshoeing becomes a valuable learning experience for kids, teens and adults.
Make teaching snowshoeing a memorable and enjoyable experience for the learner.
Photo 1: Sled racing games is part of a fun snowshoeing course
Photo 2: A snowshoe class of college students out for a trail hike
Photo 2: A game of "moon ball" gets college students actively involved on snowshoes