What do log homes and wooden snowshoes have in common? A whole lot, as it turns out.
Bob and Linda Graves founded the successful Upper Michigan-based Grand Island Log Home Company in 2001 utilizing a proprietary building process of log 'panels'; This is a fresh construction method that dramatically reduces construction time and cost.
The business peaks every season leaving the ambitious couple wondering how to utilize the facilities already available in the winter. As if by destiny the Iverson Snowshoe business was available. The Graves stepped in and acquired it in October of 2007, bringing new vision and vitality to a solid brand of traditional wood snowshoes.
A half century of snowshoe manufacturing has now been restored and energized in the quaint town of Shingleton, Michigan, some 60 miles East of Marquette, and a couple of hundred miles North of Green Bay Wisconsin, in deep snow country. It is perhaps only fitting that the strong white ash log, basic in the construction of these high quality snowshoes, is crafted in a town named after a key building component.
Betty Adams, a kind of Chief-of-Everything at Iversons, said, "It is so gratifying to have people bringing in their Iverson Snowshoes after having them in their family for 30, 40 years, and having so much love for them. They're really happy that the company is coming back with new energy!"
TRADITIONS ALIVE
The same processes used since Iversons was founded in the 1960's, originally derived from teachings handed down by Native Americans, continue to be used to build snowshoes, one by one, to this day.  White ash logs are cut to a size called sticks, the basic foundation of the snowshoe.  The sticks are cooked in a steamer which allows them to be bent and molded to the proper shape required for the style of snowshoe being made.
The traditional kiln, wood fired, can handle hundreds of snowshoe frames simultaneously. It takes about ten hours to dry the white ash to its lasting snowshoe form yet the work has just begun. Next is stringing the laces.
The snowshoer has a choice of materials for lacing – either the durable new age neoprene or the decking of folklore and tradition, rawhide laces. Both have their advantages.  The neoprene is a low maintenance option that is lighter, excelling in wet snow by keeping its form and rejecting the water. "Foresters who spend all day in the woods, trekking over open streams and warm snow, appreciate neoprene's advantages in repelling the water weight," observes Betty.
The rawhide is more forgiving, can stretch with the foot, and suggests the tradition of times gone by with its beauty and history. "If you really want to snowshoe in the classic way, this is your choice."
Done by hand, skill is apparent "We currently have two rawhide lacers," Betty notes, "and four neoprene lacers." Julie Holmes has been rawhide lacing for nearly two decades and now has help with her daughter, Kenda.
Rawhide lacing is a very wet and messy job, but Julie doesn't mind it at all. "I love my job and wouldn't want to do anything else; I take a lot of pride in my work."
The next finishing step, a distinction of the Iversons snowshoe, is the application of a lacquer mixed with a secret addictive. This formula not only protects and glamorizes the ash, but also inhibits snow from clinging to the wood, lowering 'unsprung' weight. If you have ever come in from a snowshoe trek or race and found pounds of snow and ice attached, you will understand the importance of this finisher.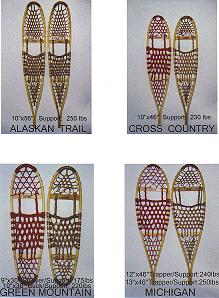 ON CHOOSING CHOICES
Iversons does not subscribe to the policy that one size fits all, and one style fits each need. Instead, the company has ten different categories of snowshoes from which to choose, an amazing variety for an independent snowshoe company (see top photo).
Deep snow enthusiasts will want to consider Iversons Modified Bear Paw with its wide base and stable tracking available in three different models. The pointed tail design helps shake off snow to keep weight from gathering.
A recreational snowshoer wants to be able to strap 'em on and go, completely confident in performance. Consider the Green Mountain available in two different lengths, featuring rounded ash fore and aft, a classic look comfortable on many terrains. This is one of the most popular models offered.
Cross Country, the Iversons brand for making way in deep drifts and less wooded areas, is one of their longest at nearly four feet and trails a long tail.
For the ultimate length models, this one gets most of the attention by snowshoers.
A modification to the Cross Country, wider still with a choice of 12 or 13 inch decking, is named after the home state of Michigan. This additional ash contacting the snow really packs down a nice trail.
I have friends in the wilds of Alaska who regale me with their winter treks on snowshoes over long distances and hours, if not days, away from civilization.  The Alaskan Trail or its mate, the Custom Alaskan, with lengths up to five feet (!), will give you the confidence and support required to launch into the wilds, enjoying very deep snow.
Giving respect to Native Americans whose natural processes are used to create their snowshoes, the company features the Ojibwa model sporting a unique historic mold. This design, also available as a super long, is specific for the user desiring to make time slicing through brushy areas filled with virgin accumulations.  Like the Custom Alaskan, the Custom Ojibwa can comfortably handle 300 total pounds of snowshoer and gear necessary for winter camping . . . or survival.
For the person who has skills in crafts and wants the joy of completing their own snowshoe, the Iversons Snowshoe Kits fits the bill. The frames are preconstructed and finished. The neoprene lacing is provided along with the all important lacing instructions.
The Snowmate, the smallest snowshoe made by Iversons, is specifically designed for the youth and young teenage market. With the traditional rounded front and pointed tail trailing, this model can find many years of use in a growing family.
RACING WOODEN SNOWSHOES
Surprising in an age of minimalist weight and sometimes flimsy support in the frame of a metals-based racing snowshoe, the wooden snowshoe has real world practicality as a shoe of choice in the world of the United States Snowshoe Association races and other snowshoe competitions. Mark Elmore, Sports Director of the United States Snowshoe Association, commented, "The idea of participating in a sport that has largely remained unchanged for nearly 150 years really appeals to me. Races, with competitors wearing snowshoes, have a very colorful history, and the wooden snowshoe has been the Porsche of the sport right from the beginning."
A more recent example was 2008's USSSA National Championship qualifier held at Rib Lake, Wisconsin. The snow, warm and soft that day, was particularly suitable for a device with more stable flotation. In that race many found the footing challenging as ankles turned on what seemed like every step. The day was perfect for wooden snowshoes.
Top Female finisher this day, nationally ranked Sarah Gall, racing her sponsor's modern snowshoes, and Jay Punke, finishing third in the 40-49 class while wearing his mountain sized wooden snowshoes, matched strides. Great side-by-side racing ensued (see photo above) when at the finish Jay crossed first by one tick of the clock, maybe helped with the tip of his longer snowshoe. "Well, wooden snowshoes like Iverson still mean performance!" explains Mark. It was a big eye opener for many regarding the advantages of traditional wooden snowshoes in certain competition environments.
Bob Graves says, "We are working on a new model, a racing size wooden snowshoe, for the groomed trails typical of USSSA races as well as crampons that will attach to any style or size of traditional wooden snowshoes."
The Perkinstown Snowshoe Races in Wisconsin, known as 'The Perky' in a reference to the famous Birkie XC race further north, has a featured wooden snowshoe race, an endurance contest, that would test many of the lithesome athletes seen at snowshoe races. Perkinstown attracts hundreds of snowshoers in several distances and has perhaps the largest all-women's field for a race in the country.
The Men's Mountaineer Race, a six mile competition while carrying a 15 pound backpack, requires entrants to use a wooden snowshoe with minimum dimensions of 10" by 46", an exact match for the Iversons Cross Country.  Dale Baumann, Race Director, explains, "This is a very hilly, demanding, mostly single track course laid out on a fresh trail the night before the race. Definitely hardcore, it separates the men from the boys." For 2008, the overall winner of the Six Mile Mountaineer was Jay Punke, finishing under an hour with almost a 50 minute lead over second place.
Mark Elmore tells me he began his snowshoe racing career in 1989 throughout New England and Southeastern Canada on a pair of wooden Iversons. "I placed well in a number of races, winning a few. The Iversons were light yet very durable. I still have them – I couldn't bear to part with them. They are beautifully built." (see photo below of Beekmantown, NY Championship "Eagles" racing team, all with wood snowshoes)
The incredible durability of Iverson snowshoes is unsurpassed. In an age where popular mass market brands may wear out after a few years of heavy use, these wooden models can last a lifetime when given proper care. Betty adds, "We have had none back because of manufacturing." Backed by a five year warranty, Iverson is very proud of their tradition of customer service.
The most popular method to buy these snowshoes is utilizing a traditional method . . . a phone call to 906.452.6370 will answer all questions. New this season is online ordering available at the company web address: www.iversonssnowshoes.com.
It only takes a few days to get exactly what you want, fully assembled, ready to strap on right out of the box, delivered to your favorite snow drift. Retail locations include Gander Mountain Stores, select hardware and sporting good stores, and specialty shops like the Duluth Pack Store, Duluth, Minnesota.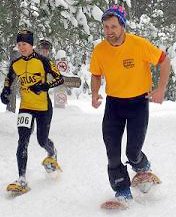 A SNOWSHOE HOUSE?
What to buy a snowshoer who has everything? Or how does one decorate the cabin in classic style? Snowshoe furniture and accessories, that is the answer. Iversons has a whole host of offerings at the website including stained glass snowshoes (see snowshoe lamp photo example) where you provide a favorite image or use one of their special pictures like loons, lighthouses, or elk; Snowshoe clocks, again with your selected picture; Consider snowshoe wall hangers where a light or hummingbird feeder is attached.
Where do you put all of those printed downloads from Snowshoe Magazine and the United States Snowshoe Association, all of those training schedules and race event details? Everything winter related? In the snowshoe magazine rack, where else! Only by Iversons . . . .
For the happy snowshoe couple, a post-trek favorite: The Iverson snowshoe loveseat. Think about relaxing after a snowshoe hike . . .  under the winter's starry sky while out on the porch with an outdoor fire in the pit providing crackling warmth, enjoying the drifted beauty of fresh white snow.
Total one-stop shopping!  Buy a house from Grand Island Log Home Company and decorate from with Iversons snowshoe furniture; yes, they also have lots of choices without a snowshoe theme.
Out in the garage attached to your Grand Island Log Home, park your Porsche of snowshoes, the Iversons, next to your new Porsche SUV . . . the one you just bought with all of those savings.