In February 2009, Eileen Wysocki attempted what seemed like the impossible: Setting the record for the most vertical feet snowshoed in a 24-hour period.  There wasn't a previous record in the books, but Eileen set the bar high…really high.
Eileen participated in the 24 Hours of Sunlight race at the Sunlight Mountain Resort in Colorado.  She set the record at 47.6 miles snowshoed and approximately 25,534 feet in a 24-hour period.  (Click here for the original article.)  Eileen also celebrated her inclusion as a Guinness World Records holder – and the certificate to prove it.  In addition, May 29 is now known as "Eileen Wysocki Day" in the town of New Castle, Colo.
Snowshoe Magazine's coverage of the 24 Hours of Sunlight event focused on Eileen's accomplishment.  Although the event no longer exists in its original form, it invited people to compete in a variety of snow sports: skiing, snowboarding, and/or snowshoeing.
Competitors – as a team or solo – hiked up the mountain.  They then came down the mountain to finish a lap.  This was all repeated over and over again…all within a 24-hour time period.  It's a hardcore combination test of endurance, strength, determination, and will.  Although most choose to compete in the race with a team, many choose to take on the task alone.
Q&A with Eileen:
Snowshoe Magazine: When did you receive notification from Guinness about your record?
Eileen Wysocki: I believe I received my certificate in early December.  It was partially my fault that it took so long because it took some time to gather all the "evidence," write a cover letter and submit it to Guinness.
SM: What was it like after the race?
EW: I was surprised by my co-workers who hung a huge banner in our lobby at Holy Cross Energy (based in Glenwood Springs, Colo.).  So many people congratulated me, even people I didn't even know who recognized me from the newspaper.  There was definitely a lot of fanfare and I wasn't expecting that at all.  Physically, I was tired, but I did make it to work on Monday.  I wasn't very sore, surprisingly.  I took a few days off and then went back to my usual workout regimen.  Emotionally, I was ecstatic.  I was very psyched to have accomplished my goal and to get one more lap than I did during the previous year's race.
SM: Once you broke the record, how did you cope with Guinness and their process?
EW: I had their list of requirements and had been in written contact with their representatives.  So, I knew what they needed from me as far as documentation.  It would have been much simpler to hire an adjudicator who could verify the record.  But that would have been very expensive, so I opted to collect as much proof as I could and send it to them.  Their process is extensive but fair and reasonable.
SM: Did you have your doubts about the Guinness recognition?
EW: My biggest fear was that they would want more documentation about the racecourse.  It had been officially measured by Sunlight's staff and had been used to qualify other athletes for world record status, so I was fairly confident that they would accept the measurements.  Also, they require a certain amount of video, and they want to see the beginning, middle, and end of the event and some points in between.  I was hoping I had enough nighttime video.  The hours right before dawn were not filmed (because my videographers were sleeping).
SM: Is there a place to see your record in written form?  Possibly in the Book of World Records?
EW: I don't have a copy of the book yet.  Not all records make it into the book.  Some can only be accessed online.  And I'm not quite sure when the 2009 book went into print.  I guess I am not entirely certain about that.  But, I do have my official certificate from Guinness.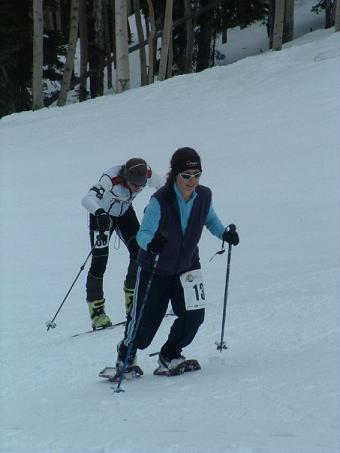 SM: You mentioned that the Town of New Castle announced a day dedicated to you.  Can you provide the details?
EW: The Town of New Castle named my birthday, May 29 as "Eileen Wysocki Day" and read an official proclamation at a Council meeting, and presented me with a certificate.  It was in honor of my volunteerism in the community and my world record accomplishment.
SM: Now that the Sunlight race has changed and no longer a 24-hour event, do you plan to compete elsewhere?
EW: I'm not sure.  I would be interested in another 24-hour race if it were somewhat local, like in Colorado, Utah or Wyoming.  But I probably wouldn't travel too far to compete in an event like this again.
SM: You suffered an injury this year.  What happened?  Did that prevent you from pursuing an event?  Describe some of the frustration there.
EW: I took a short break after the Colorado River Valley Charity Race Series, a group of local 5K to 5-mile running races that I usually compete in each year.  The last race was in October and I took about a week off from running after that.  Then when I started running again, my hip was bothering me.  I thought I could run through the pain, but it kept getting worse.  It was diagnosed as hip flexor tendonitis.  I went to physical therapy for about two months and then slowly started working out again.  I went almost six months without really running.  I lost a lot of muscle, gained some weight, and was really out of shape because I had to virtually stop working out altogether for a while.  It has been a tough road back so far because just when I was getting back into it I got bronchitis, which lasted for another three weeks.  I'm better now and I've been running again with no pain.  My times are slow, but at least I'm shedding some pounds and gaining back some muscle.  It was disappointing that I couldn't compete in the 12-hour race at Sunlight, but it allowed me to have more time with my family and have a more relaxing winter.
SM: Now that you've set a standard for snowshoeing, would you consider competing in the United States Snowshoe Association series?  Of course, these are not endurance races but more about speed and agility.  Is that the next step in the process?
EW: I'm not very fast, especially compared to some of the other female snowshoers out there.  The local snowshoe races are enough to make me realize that I am not cut out for that level of competition.  No, I will probably continue to compete in the local races just for fun and to keep me focused.  I tend to work harder in my daily workouts when I have an event coming up.
SM: What happens if somebody breaks your record?  Would you consider breaking it again?
EW: Maybe, but I would only attempt it if I felt like I was really fit and strong, and had enough time to train properly.
SM: Who inspires you the most?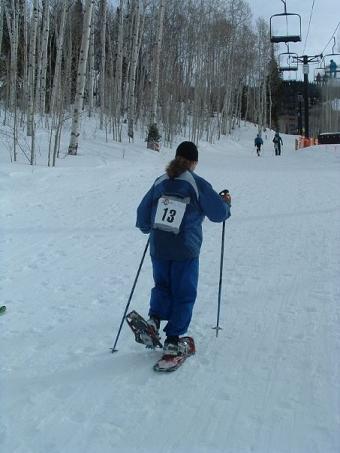 EW: That's a tough one.  There are so many athletes who I look up to and who continually inspire me.  So many people have come back from injury and illnesses and have accomplished amazing feats.  I guess I'm particularly inspired by the people who are considerably older than I am: Who I see at all the local races, out on the bike paths and even working on trail building projects with me.  Some of these guys fly past me in every race.  They always smile and cheer me on.  I hope I can stay active and keep snowshoeing and running for a long, long time.
SM: Do you have any special "thanks" to offer to supporters, family members, etc.?
EW: My family was very supportive and encouraging throughout my training and during the event.  [They] put up with many nights without me as I would often train by climbing Sunlight after work.  And every time we went skiing, they would wait patiently for me at the end of the day while a got a climb or two in.  They were both there for the majority of the event, helping find changes of clothes, making hot tea, getting me food, and duct-taping my shoes for me.  My sister and her husband also deserve big thanks for their constant support of me over the years, and for being so brave and strong as they both battled cancer together.  They also took care of my mom, who passed away a few months after the 24 Hours race due to a long illness.
SM: You are certainly an inspiration to others.  What advice can you provide to those who wish to compete and set records at your level?
EW: Just go for it.  You never know what you can do until you try.  Make sure you're as fit as possible going into the event, stay hydrated, and listen to your body.  Be prepared mentally, and try to relax and try to enjoy your surroundings.  Break down an endurance event into "chunks" of time so you're not overwhelmed at the start.
To subscribe to Snowshoe Magazine's free e-mail
newsletter: https://www.snowshoemag.com/subscribe.cfm.