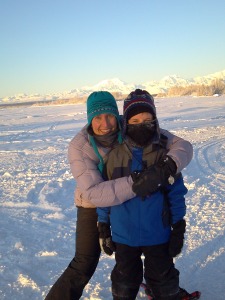 December air sparkled as only a winter morning could provide as I struggled to secure straps on my snowshoes at a trailhead in Talkeetna, Alaska. At nearly 10 a.m., the sun was just beginning to crest behind rolling hills, but its warmth was nearly nonexistent on this weekend before Christmas. Temperatures hovered below the zero mark, and while my many-layered, well-bundled body had seemed downright boiling at the time of departure a mere five minutes before, my face tingled with numbness. It was time to get moving.
The village of Talkeetna is situated along the banks of not one, but three rivers: Talkeetna, Susitna, and Chulitna. During the summer months, hordes of visitors arrive from Anchorage or Fairbanks via tour buses, Alaska Railroad trains, and private vehicles to explore this quaint, quirky town that serves as a gateway to recreation in Denali State and National Parks. Between May and September, Talkeetna bustles and bristles with all the energy one would expect for a tourist attraction, with activities operating well into the famous "midnight sun" hours.
Come winter, though, Talkeetna slows down to a manageable hum. Gone is much of the auto traffic, now replaced by snow machines, Nordic skiers, and snowshoers. The population drops to about 600 hardy souls who inhabit cabins for recreation or homesteads that have remained in a family for years, ever since the supply line between Anchorage and Fairbanks was developed in the late 1800s. The atmosphere is decidedly rugged, friendly, and in the case of snowshoe enthusiasts, wide open for fun.
For snowshoers, especially those new to the sport, Talkeetna represents the best in both views and access, thanks in part to cold temperatures that average around 12F in the middle of winter. With shallow riverbeds criss-crossing each other for miles, and little vegetation to get in the way, a snowshoe adventure near Talkeetna means hours of powdery fun close to lodging, food, and several wood stoves by which to thaw out.
Many locals, and a fair number of visitors choose to venture across these frozen rivers with mighty Mount McKinley providing eye-popping views on a clear winter day. Talkeetna residents punch a trail through the ever-thickening snow each winter to connect with residents and recreational cabin owners near tiny Trapper Creek, a small roadside community 30 miles away by road, but a mere six or seven miles by snow machine, skis, or dogsled. Known locally as the East-West Express trail, snowshoers have the advantage of a ready-made navigational tool as they travel parallel to the route and across the river toward birch forests on the other side.
Even touring the town is possible on snowshoes, thanks to a loop trail that leads from Talkeetna Riverfront Park, just northwest of the Talkeetna Roadhouse. A self-guided snowshoe takes visitors near old homesteads, the air field (still in use, today), and along the banks of the Susitna River. Watch for moose browsing the willows alongside the trail, and the occasional ermine burrowing around in a riverbank. Follow the trail the other direction toward the Alaska Railroad tracks, and Mount McKinley pops into view, filling a camera viewfinder with pinkish hues during sunrise and sunset. At night, many snowshoers try their luck with Aurora Borealis hikes along the river, hoping to spot wild, twisting lights in the northern sky.
A popular choice for lodging lies within the historic Talkeetna Roadhouse, built in 1917 to provide hot meals and overnight accommodations for overland transport teams. Now a hotspot for true hospitality, the Roadhouse serves up hearty meals, baked goods, and a healthy dose of Alaska charm, especially over the holidays. Many a long winter weekend has found us cozying up to the family-style tables, sharing mulled wine or hot cider, and listening to stories from other snowbound travelers who come from around the world. The Roadhouse also has snowshoes available for loan, one more way the owners welcome out-of-town visitors.
Talkeetna proves again and again its value as a wintertime destination for outdoor recreation. Between the hot toddies, stunning views, and simple, unfettered access for those just beginning to dip their boots in the joy of snowshoeing, this is a side trip to remember trip during an Alaska winter vacation.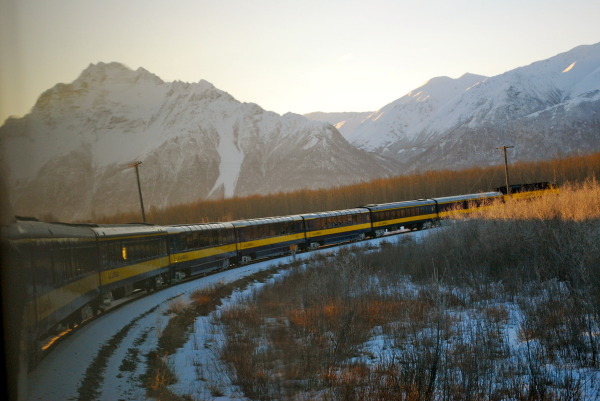 If you go: The Alaska Railroad's Aurora Winter Train offers Saturday departures from Anchorage to Talkeetna, with a Sunday afternoon pick-up, perfect for a quick visit.
Driving takes at least 2.5 hours from Anchorage, and at least four hours from Fairbanks. Plan for slick, snowy roads and no services, so bring emergency supplies, a phone charger, and extra food and water. Check Alaska's Department of Transportation road conditions (511) website prior to departure.
The Talkeetna Chamber of Commerce publishes a comprehensive listing of events, activities, and lodging/dining options for winter visitors, including trail conditions and directions to the post popular spots for snowshoeing or Nordic skiing.
Erin Kirkland is an Alaska freelance multi-media journalist and publisher of AKontheGO.com, Alaska's only family travel resource. She is also author of the guidebook Alaska On the Go: Exploring the 49th state with children. Erin and her family live in Anchorage.