It will be months before the trails are covered with enough winter frosting to keep a New England snowshoe enthusiast happy. Yet, we want to stay in shape, and we want to keep enjoying the outdoors, even if it doesn't include a three-foot layer of powder.
One solution? Trail running. After all, there are some similarities between trail running and snowshoeing: You're off the beaten path, you have to contend with branches, obstacles, brooks, rocks and weather. And while on the running trail, you might just stumble upon a great spot for a winter snowshoe jaunt which you can return to in the winter.
Beginning right now, and extending through October, is probably the best time to hit the trails in Vermont and other places in the northern United States.  In most years, by late summer, the woods have dried out after months of spring and summer sunshine. By now, August, mosquitoes, deer flies and other insects are only a vaguely annoying presence – compared to earlier in the summer, when the bugs can turn a peaceful forest into a stinging, itching torture chamber.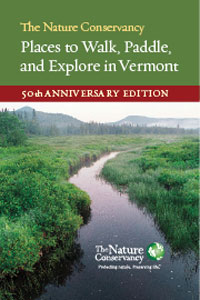 Running on trails through the woods doesn't just keep you in good cardiovascular shape. You have to concentrate, to keep from tripping on rocks, roots and other forest debris. Such training will serve you well months from now, as you avoid the sticks, branches and stones hidden in the snow on your snowshoe trails.
Ben Rose, Executive Director of the Green Mountain Club, which administers the Long Trail in Vermont, said trail running is great for cross training. He cautions you have to be careful. A quick run down a steep hill, or an inattentive slip on a wet spot can mean disaster. Once, Rose said, he decided to go on a brief trail run close to Killington Mountain, near Rutland, Vermont. He slipped. "It was a loud crack," he said. The crack was a bone breaking in his left leg.
"You have to make every step a direct step. You can't really afford to mess up," Rose said.
In Vermont, there are plenty of options for trail runs. Some people just find any of the old logging trails that crisscross the state. And there's plenty of other, more established trails.
Vermont's Long Trail is celebrating its 50th anniversary this summer. It's a footpath that runs the length of Vermont, from Massachusetts to the Canadian border. Most people hike along it, of course, as it meanders up and down Green Mountain peaks, but you can pick it up most anywhere. You can pick and choose easy or difficult sections of the trail, and any distance you choose. Go to the Green Mountain Club for ideas and trail maps.
The Nature Conservancy's Vermont chapter is also celebrating its 50 anniversary. The group has protected 183,000 acres of Vermont from development. Most of the land is open to the public and many parcels have hiking trails, perfect for running. The trails range from easy to difficult.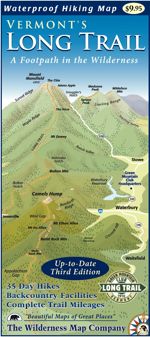 The Conservancy has just released a guidebook with details and locations of its holdings in Vermont. Send $5.95 to the Conservancy to cover shipping and handling, and the book is yours.
A newer Vermont attraction for hikers and runners is the Catamount Trail, which, like the Long Trail, runs north to south the length of Vermont. Mainly a cross-country ski trail in the winter, it serves as a great running path in the woods.
To test your level of trail fitness, the Catamount Family Outdoor Center, (unrelated to the Catamount Trail Association) features weekly races along its trails that wind through forests and fields in Vermont's Champlain Valley. The center holds races throughout the summer and early autumn.
For people who want to avoid the challenge of roots, rocks and other obstacles, the Missisquoi Valley Rail Trail runs 26.4 miles between St. Albans and Richford, in far northwestern Vermont. So yes, a one-way trip on the trail is about the same as a marathon, and takes you through varying terrain and scenery, with views of expansive dairy farms, sugarbushes and the Green Mountains.
For those afraid of tripping on roots, rocks and other obstacles, the Missisquo Trail is for you. It's a former railroad line. The ties have been torn up and replaced by a smooth gravel surface.