You may be familiar with Dion-NeviTREK Snowshoes and their array of snowshoe designs. After all, many snowshoe racers will undoubtingly recognize the characteristic orange and white Dions moving through the snow. But did you know that you can create your own customized snowshoe or choose from technical snowshoe models?
In 2019, the passionate owners of Dion and NeviTrek teamed up to provide the best of both brands. So, whether you're a casual recreational snowshoer or a dedicated racing enthusiast, they have the snowshoe for you. Plus, all of their snowshoes are made in the U.S. in the small town of Pownal in southern Vermont.
Here we review some frequently asked questions about Dion-NeviTREK Snowshoes so you can get out on the snow with the pair of snowshoes that best match you and your adventures. For a particular topic, use the categories below.
Snowshoe Frames
Bindings
Cleats and Traction
Logistics
This article was sponsored by Dion-NeviTREK Snowshoes. Additionally, some of the links in this article may contain affiliate links. When you purchase using these links, part of the proceeds go to Snowshoe Mag. Additionally, as Amazon Associates, we earn from qualifying purchases. Please see our disclosure for more details.
Snowshoe Frames
What is the difference between the snowshoe frames available?
Several snowshoe frames are available, each with recommended uses and optimal weights.
You may notice that the 120 and 121, in particular, have similar recommended uses. However, the 120 has thinner decking and a thinner hinge, making it the lighter snowshoe of the two. Thus, the 120 is ideal for racing, while the 121 is better if you're primarily running on various trail conditions and sometimes hiking on packed trails.
To choose your snowshoe size (particularly for heavy loads), consider the conditions in which you'll be snowshoeing and the load you'll be carrying, which includes body weight plus gear. The optimal load is for the frame only.
Read More: Dion 164 Snowshoe Review: Great Backcountry Snowshoes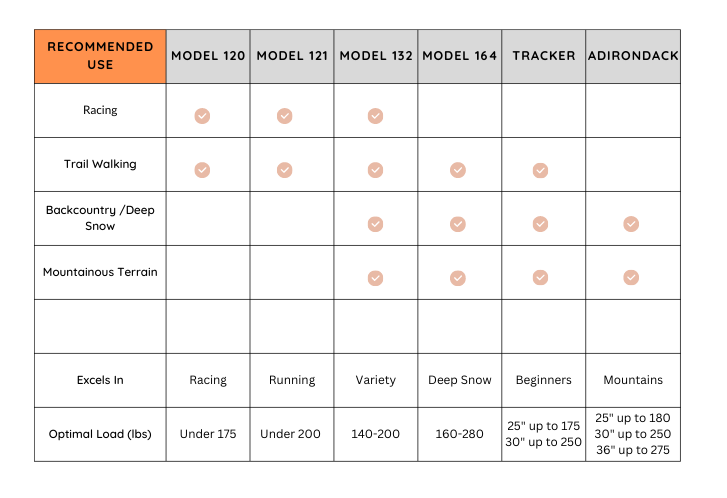 How can you customize your snowshoe?
For any of Dion's models (Model 120, Model 121, Model 132, or Model 164), you can select which cleat and binding matches your needs. You can mix and match these components with whatever combination you choose.
What is Dion-NeviTREK's most popular customization?
The most popular snowshoe combination is Model 121 with the Quick Fit Binding and Ice Cleat. This combination provides a lightweight, durable, and quick-to-get-on-and-off package that is good for many users and snow conditions.
Do snowshoes already come assembled?
Yes, snowshoes come fully assembled and ready to go.
Can I switch to using a  hiking frame with my racing snowshoes, or do I need to buy entirely new snowshoes?
You can switch out the frames (or cleats and bindings) for different uses. For example, if you already have a pair of Dion- NeviTREK running snowshoes but also want to have snowshoes for hiking in deeper snow, you can purchase JUST a hiking frame and use your current cleat and binding for hiking too. You can swap out the frame quickly and easily in less than a minute by turning the two cleat screws 1/4 turn counterclockwise.
 Read More: Definitive Guide: How To Choose Snowshoes for Your Needs
Bindings
How many types of bindings are available?
There are three different bindings to choose from that will fit model 164, model 132, and model 121. The model 120 comes with two finding options.
For those starting out, the Easy Fit may be the best match, while the Secure Fit may be best for more occasional extreme use. Finally, the Quick Fit has a similar performance as the Secure Fit, is for frequent use, and includes a strap kit with different sizes of straps that you can change to match your foot size (preventing excess strap).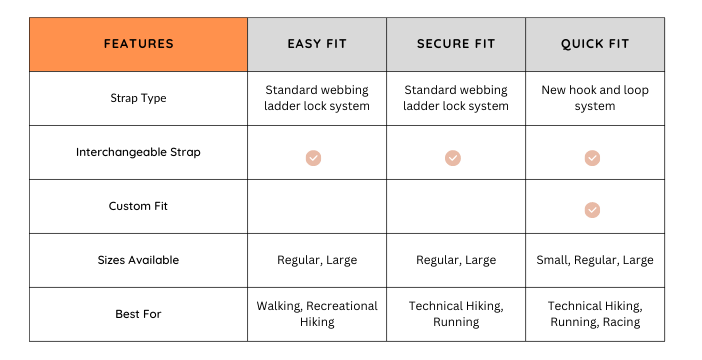 What sizes of bindings are available?
All three types of bindings (Easy Fit, Secure Fit, and Quick Fit) are available in the following sizes:
Regular: fits running shoes up to size 12 men's, 14 women's, or 11.5 UK
Large: fits running shoes up to size 14 men's, 12 UK, and most boots
The Quick Fit binding is also available in a small size for narrow shoes (shoe sizes smaller than 7 women's).
 Read More: The Systems That Bind: An Overview of Snowshoe Bindings
Are there bindings that will fit a large shoe size?
Yes, bindings for the Tracker and Adirondack can be customized to fit large boot sizes (larger than a size 14 men's).
Are there bindings available for wooden snowshoes?
Yes, Dion-NeviTREK offers bindings for wooden snowshoes. Contact them to order.
Read More: Traditional Wooden Snowshoes: Shapes, Designs, and Names
Are bindings sold as pairs or individually?
Bindings are sold in pairs unless a single one is specifically requested. If you only need one binding, contact Dion-NeviTREK, and they can take your order over the phone as a special order.
The strap on my Quick Fit binding keeps coming loose. How do I fix this issue?
Each snowshoe binding comes with a strap kit. The strap kit contains different sizes of Velcro straps that you can change out to customize the fit to your shoe or boot. If the strap kit does not include straps small enough for your foot or you can't find your strap kit, don't hesitate to contact Dion Nevi-TREK, and they will send you smaller straps.
To ensure a proper/snug fit with Quick Fit Bindings, both pieces of the velcro type fasteners need to make full contact with the opposite connecting end of the strap. If the strap doesn't reach to make full contact or if there is too much strap, then replace the strap with a larger or smaller size strap from the extra straps provided.
The strap on my Easy Fit or Secure Fit binding keeps coming loose. How do I fix this issue?
To help keep the straps in place, it's recommended not to use the heel strap to get in and out of the binding. Instead, a suggestion is to set it to the correct size and tape it. Then, tighten/loosen the front straps to get in and out.
Can I use Dion-NeviTREK bindings on other brands of snowshoes?
Depending on the model, you can use Dion- NeviTREK bindings on other snowshoe brands. However, they cannot guarantee the results.
Can I swap out my bindings for a new pair?
If you contact Dion-NeviTREK, they can swap the bindings for the cost difference. They can send the replacement, which you can switch over and send back the ones you have.
Cleats and Traction
What is the difference between the ice cleat and the deep cleat?
The standard cleats are lightweight and resist snow/ice buildup as they are coated with Teflon.
Deep cleats have a longer cleat length and are better for deeper snow. They also are helpful for lightweight runners who may need more traction. Finally, deep cleats are Teflon coated to resist snow/ice buildup.
The ice cleats are super durable and versatile. If you are living in a variety of conditions, this is the cleat for you, especially if you are potentially in poor/icy conditions.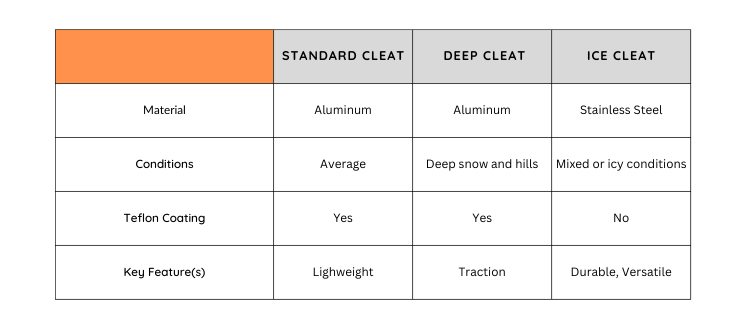 My old snowshoes create snowballs after walking/running through wet snow. Will Dion Nevi-TREK snowshoes do the same thing?
Cleats or crampons can ball up in certain snow conditions, primarily in wet snow or water crossings. Since the standard cleat and deep cleat are Teflon coated, it helps resist snow/ice buildup. Applying wax to cleats can help reduce additional snow build-up in some conditions.
My cleat broke or is worn out. Can I get a replacement?
If you have a broken cleat, send Dion-NeviTREK a photo so they can evaluate the break. It may be covered under warranty. Email the photo to info[at]dionsnowshoes. com.
If worn, you can order new front cleats/crampons to replace the worn ones. It is easy to remove the old ones and put the new ones back on. If you need a heel cleat replaced, contact them so that you can send the frames back for them for a replacement.
Logistics
What is Dion-NeviTREK's return policy?
If, for any reason, you are not completely satisfied with your purchase, contact Dion-NeviTREK to let them know. They will consider snowshoes as a return if returned within 30 days, and they were not used. Original order shipping is not refunded unless it is a warranty issue.
What is the Dion-NeviTREK warranty?
All snowshoes come with a Lifetime Warranty against defects in material or workmanship. They will repair or replace any part(s) found to be defective. Please contact them for information on the quickest way of obtaining repair or replacement.
Can you purchase these snowshoes in person?
Usually, you can stop to buy snowshoes in person. But during the busiest times (December- January), they may not have everything in stock the day you come. If you want to stop in to check things out and choose what you want, they can ship them when they are ready. The typical hours for customers are 9 am to 3 pm. It's recommended to call first if you are coming from a long distance.
Are these snowshoes sold in Canada?
Yes, you can purchase these snowshoes at Spafford Health and Adventure in Ontario.
What is the turn-around time from order to shipping for pre-assembled snowshoes?
Ordinarily, Dion-NeviTREK ships stock items within 48 hours.
What makes Dion-NeviTREK Snowshoes different than other brands?
Modular: You can choose the frame, cleat, and binding for your specific snowshoe needs. If any component wears out over time, you can replace that component, not the entire snowshoe.
Lightweight and Efficient: These snowshoes are lightweight and narrow, with an ergonomic taper and a smooth, efficient hinge (think super-shoe plate concept) that returns energy to your stride. All this allows you to run much quicker and more efficiently with less wasted energy than other snowshoes.
Durable: These snowshoes are thoroughly tested in the toughest conditions to ensure you get the best quality and most durable snowshoes available.
Gives Back: Dion-NeviTREK Snowshoes gives back to the snowshoe and snowshoe running communities by supporting and partnering with countless athletes of all ability levels, races, and charities.
What other questions do you have about Dion Nevi-TREK Snowshoes? Please let us know in the comments below.
 Read Next: Snowshoeing Footwear: Tips for Choosing Your Boot