"Why are you going to Newfoundland in the winter" was the most common question I got asked as I was prepping to take a trip to the edge of Canada this winter. Instead of answering "because it's awesome", which I didn't actually know if that was true or not, I simply replied with a "why not".
The truth is, Newfoundland has been on my list for a long time. Longer than I would like to admit. And since I am Canadian, I am a bit ashamed to say I haven't been. Especially considering I have spent large amounts of time on the East Coast. It was my last province to visit in Canada, one I had high hopes for and frankly I wasn't even planning to visit in the winter.
All that changed when I started catching a glimpse of winter photos from Newfoundland. There were miles of vast white snowy hills, an ocean that looked deserted and half frozen and winter sports galore. It was then I decided winter in Newfoundland had to be done.
With a bag packed of winter gear including plenty of warm clothes and layers, a weather forecast of winter storms and -25 degree temperatures and a flight booked, it was off I went to the western side of the island. I chose to visit Western Newfoundland because I had heard great things about the area. The endless skidoo trails, the unique snowshoe opportunities, the friendly people and the stunning landscape. And some of the best skiing east of the Rockies. I even managed to time my visit with Snow West, the annual celebration of winter in Western Newfoundland.
Getting to Western Newfoundland in the winter is easy and tricky all at the same time. Weather conditions often impact flights but the airlines that service Deer Lake Regional Airport are the most accommodating and with multiple flights per day, you can ensure you will get there safely and as quickly as possible. Deer Lake itself is a commuter town, boasting about 5,000 people and not a whole lot to do. After arriving at Deer lake, I grabbed my rental car and headed west to Corner Brook, population about ten times the size of Deer Lake. Corner Brook is a gateway to winter sports, including one of the most popular winter sports in the area, Skidooing, also known as snowmobiling or sledding. Corner Brook is also home to the exceptional Glynmill Inn, a Tudor style hotel that was home for the night. After Sinking into my luxurious bed, I dreamt of the activities to come in the next few days including skidooing, skiing, snowshoeing and even winter zip lining.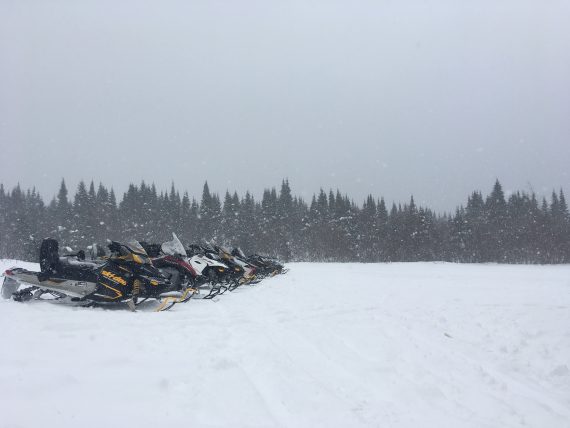 Waking up to fresh powder and a chilly -27, I headed out to Rugged Edge, an outdoor store and rental company that deals in all sorts of winter activities. As a part of the Snow West festival, Rugged Edge teamed up with Chef Roberto Vergalito to offer a trail ride and boil up, complete with italian meatball sandwiches trailside. Considering I love both snow sports and food, this was the perfect combination for me. Fully outfitted in all of the gear, prepped on how to drive my snowmobile and most importantly introduced to the chef himself, we took off to the trails. About 30 local riders joined us for an epic ride down the wide groomed trails. We rode through open fields, through towering trees and headed toward Lewis Hills, a stunning backcountry playground for snowmobile enthusiasts.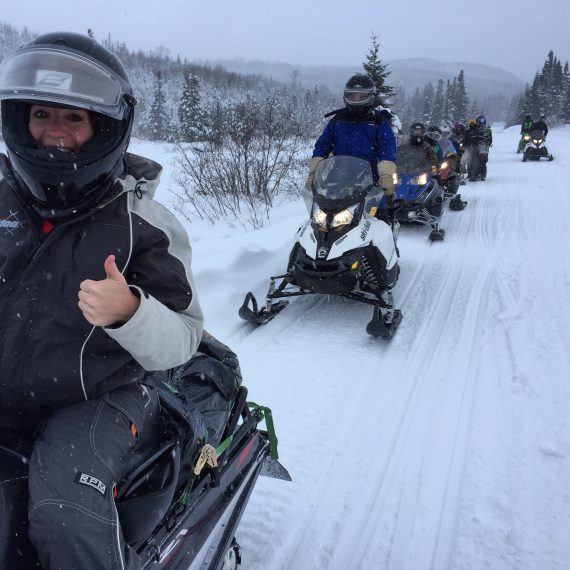 About an hour later we arrived at the Shiver Shack, a structure complete with a wood stove in which we warmed our hands and indulged in some incredible sandwiches. It's here I can mention that on the way to this shack we got stopped by the fish and wildlife officers, checking to make sure we had our trail stickers. Not only did all of the group have their trail permits but these fine gentleman even posed for a photo.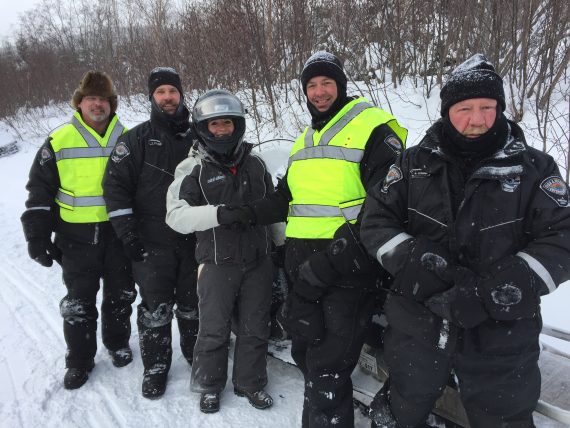 Not wanting to slow my active winter getaway down, I checked out of the city of Corner Brook and headed to Steady Brook, a town that boasts some of the best alpine skiing east of the Rockies. Marble Mountain is home to many awesome ski and snowboard runs, a terrain park, snowmobile rentals, snowshoe trails, an impressive waterfall and plenty of snow. As well, they boast numerous activities and events throughout the winter season. Did I mention this is where I planned on bundling up and experiencing the thrill of winter zip lining.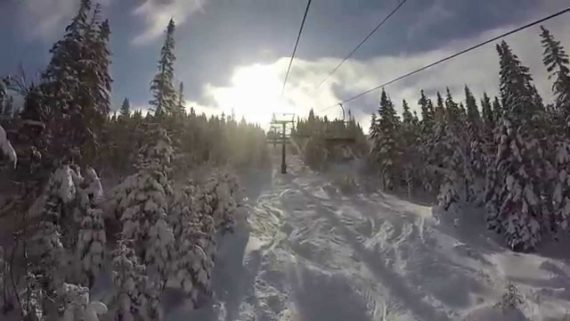 Normally a summer sport, Marble Mountain has made it its mission to bring something new and exciting to the winter sports community. Located above Marble Mountain Gorge and Steady Brook Falls, there are a total of nine zip lines to whiz down. I gear up, snowpants, warm jacket, hat, mitts and even some ski goggles as this temperature is falling rapidly. Frankly, I am a little concerned I am going to be cold. The boys at Marble Zip know how to take care of their customers though and made sure that the seven of us on the zip tour are bundled up, both with warm gear and safety gear. Harness and helmets secured we made our way to the zip lines, first via a van and then on the back of a few skidoos.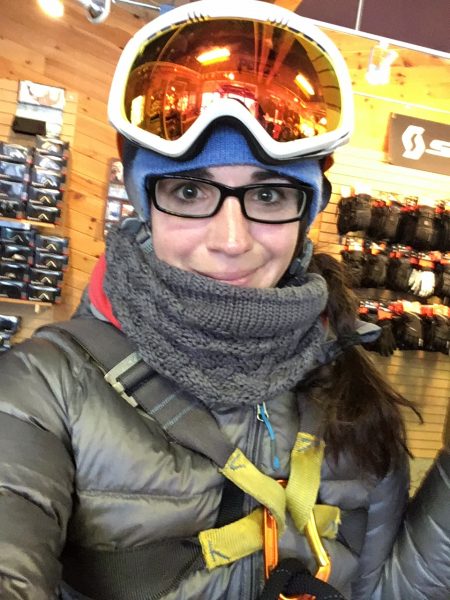 We start off with a couple of short zip lines, encouraged to let go of the ropes and really feel like we are flying. It works. I let go, spread my arms out and truly feel as though I am flying though the air. The next couple lines are the highest, over 200 feet from the ground and as I whiz down the line, taking in the frozen falls, I realize that only us, the people brave enough to zip line in the winter get access to this incredible scenery. Before I know it, we are on the last line and I haven't noticed the cold at all. Perhaps it was the adrenaline, perhaps I was just having too much fun, but one thing I knew for certain was this won't be the last time I zip line in the winter.
I headed across the street to check in to my room at the Marble Inn Resort, otherwise known as my new favourite resort. What makes this place so incredible is first and foremost the people. From the front desk staff to the restaurant staff to the owner, I felt incredibly welcome. The rooms were pristine and welcoming, warm and comfortable as well as featuring welcome touches such as a full size coffee maker, kettle and microwave. The added bonuses are plenty, a Heated Salt Water Swimming Pool, Detoxifying Mineral Bath, Labradorite Steam Bath, Dry Cedar Sauna and a River View Cedar Barrel Sauna. Need I say more?
The next day I was beyond excited to go snowshoeing, after all its literally my favorite winter sport. Luckily I was able to hire a guide right from the Marble Inn Resort, an added bonus. Seeing as I wanted to step off the beaten path, I figured a guide was my best option. I met Nico in the lobby, loaded my gear into his epic camper van and off we went, driving about an hour west to the Bay of Islands. After learning more about my snowshoe expectations, Nico decided to take me to Cedar Cove trail, located near Bottle Cove, a popular hiking destination.
As we strapped on our snowshoes at the trailhead I began to question what views we might really get, considering the wind was whipping so fast we couldn't hear one another and the snow was falling, and you couldn't see much more than a foot or two in front of you. As we made our way winding through the forest, breaking through the snow as no one had stepped onto this trail in a while, the clouds began to break. A sliver of sun made its way through the clouds before quickly retreating back. A couple of kilometers later we came to the view of a lifetime. If you haven't seen the ocean in the winter, in a cold climate, you haven't lived. As least that's what I thought to myself looking out into the cove. The waves were breaking onto the rocks, freezing immediately and creating incredible ice sculptures. The driftwood that lined the beach was frozen over, creating shapes and colors I have never ever witnessed. Birds braved the cold to fly over the water, the only sounds were of the waves and the snow stopped falling, creating a magical moment.

Back in the van, we sipped hot tea and ate a picnic lunch, sheltered from the whipping winds and I reflected on the scene that I had been unable to capture on my camera, but was forever engrained in my mind. You see, there are plenty of places to snowshoe in Western Newfoundland, backcountry or groomed trails but those that are less often seeked out are those that are the most memorable. A huge thanks to Nico for taking me to this unbelievable landscape.
A couple of wine and food events put on by Snow West and the Marble Inn Resort, a few dips in the pool and steam bath and my trip to Newfoundland was over. It flew by too fast and I caught the last plane out of Deer Lake before they cancelled all the other ones for the day due to weather. I met unbelievable people, saw incredible landscapes and knocked off more winter sports in one weekend then all year so far. Western Newfoundland, you are truly a gem in this world. Forever in my mind, I will return, both in summer and winter.
Book your own trip to experience Newfoundland in winter!