Despite the best-laid plans, life sometimes has a way of throwing a monkey wrench into things, causing everything to go awry, and forcing you take make a U-turn. And when that happens, sometimes you've simply got to make do – as the saying goes, if life hands you lemons, make lemon-aide. This mantra can be applied to snowshoeing.
There's no point sitting around indoors bemoaning the cruel, fickle finger of fate – so you don't have access to the world-class snowshoe destination that you had planned on visiting, or even designated snowshoe trails close at hand. With a little time and research, you're bound to find somewhere within your circle of travel that is capable of providing you with a snowshoe fix.
Winnipeg, the capital of Manitoba, is located at the geographic center of Canada (from east to west). Snow usually covers the ground from mid-November through April. Fortunately for the snowshoe enthusiast, there are a number of parks and green spaces located close at hand (Winnipeg boasts over 850 parks) capable of supplying a great day of snowshoeing.
Just outside of the city's perimeter highway, a number of parks boast excellent snowshoeing opportunities. This is but a small sample of locations that I've visited in the past month that fit the bill.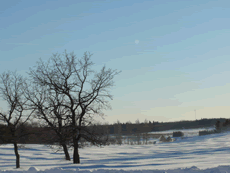 Beaudry Provincial Heritage Park – Located 14 km (roughly 8.5 miles) west of Winnipeg on Provincial Road 241 (Roblin Boulevard if you are traveling from Winnipeg), Beaudry Provincial Park offers 1200 hectares (almost 3,000 acres) of prime forest wilderness to explore. Despite being a popular location for cross-country skiers (don't they just seem to gobble up the prime trails?), Beaudry has much to offer the snowshoe enthusiast, the crown jewel being the frozen Assiniboine River. After freeze up, the snow-covered river, ignored by skiers, is a snowshoer's dream – the snow is deep and unmarked, aside from the deer and fox trails that criss-cross the river before heading up the steep river banks. You can follow the river for miles marveling at the beauty of the river-bottom forest without encountering anything other than the tap-tap-tap of a pileated woodpecker hard at work.
Birds Hill Provincial Park – A short drive north of Winnipeg (24 km) on PTH 59 will bring you to Birds Hill Provincial Park. Created in 1967 to celebrate Canada's 100th birthday, Birds Hill is one of the few locations in Manitoba that offers designated trails for snowshoeing (none of that having to rush to the trails after a snowfall to beat the trail groomers for cross-country skiers, not that any of us would do that). Of the four trails for snowshoeing, the longest is the 3.5 km Cedar Bog Trail located just inside the west entrance to the park. The trail passes through a number of terrains including aspen-oak parkland, grasslands, and a stand of cedar (rare in this neck of the woods). You can also explore the open-spaces and unmarked trails that criss-cross the park's predominantly aspen and oak forest. Winter visitors to Birds Hill are sure to be welcomed by a chorus of birdsong by over-wintering chickadees. While traveling the trails, keep your eyes peeled for white-tailed deer that winter in the park (Birds Hill boasts one of the highest concentrations in the province).
La Barriere Park – Located a short drive south of Winnipeg on Waverly Street (6 km), La Barriere Park is the ideal spot for the snowshoer on a tight schedule. Whether you've got a day or an hour, you're bound to find something to fill your snowshoe needs. With 323 acres covering a mix of terrains that includes rolling riverbanks, mixed forest and wide-open plains, La Barriere is snow walker's dream. On a personal note, La Barriere was by far the most snowshoe friendly park that I've visited this winter – I actually encountered other snowshoers (it was nice not having to break trail on my own). As you traverse La Barriere's trails, winding your way through Aspen, Burr Oak and Manitoba Maple, keep your eyes open for white-tailed deer that frequent the Banks of the La Salle River (I personally counted a dozen on a recent trip), and great horned owls that perch silently in the trees above.
Within the city limits, Winnipeg also offers a number of prime snowshoeing locations. I've listed three, but there are numerous others just waiting to be discovered.
Fort Whyte Centre – A short drive from the city center, is the 600-acre urban nature preserve (complete with it's own herd of Bison), Fort Whyte Centre. Located on McCreary Rd in the southwest corner of Winnipeg, Fort Whyte boasts a diverse landscape of forest, grasslands, wetlands and lakes. With seven kms of trails (not groomed for skiing), and numerous small lakes and open spaces, Fort Whyte provides ample opportunity to get your snowshoeing fix. What's more, they offer guided snowshoe hikes, a Saturday morning snowshoe club and snowshoe games suited to snowshoers of all experience levels (great for families with young children). Fort Whyte also offers a school field trip program that includes an introduction to the basics of snowshoeing for primary aged students (snowshoes are provided). Facilities on site includes visitor and interpretive centers complete with a restaurant and gift store. The admission fee of $5.00 per adult ($4.00 per senior, and $3 for students and children over 3) is well worth it. For more information, check out their Web site: http://www.fortwhyte.org.
Churchill Drive – Churchill Drive follows the east bank of the Red River as it winds its way north through the south central part of the city. A public green space exists here that allows for joggers and cyclists in the summer, and is an ideal destination for urban snowshoers in winter. There is no need to follow the multi-use trail (the trail does see plenty of foot traffic and dog walkers, I've even seen a dogsled use the trail), there is plenty of room to head off and explore the green space on your own. You can also scramble down the riverbank and follow the river, but be careful, the snowdrifts over the edge can be misleading, and a steep drop awaits the unwary. This is a personal favorite location of mine as it is a three-minute walk from home that allows me to escape outdoors with my 'shoes whenever the mood hits.
Assiniboine Park – Assiniboine Park, covering an area of 160 hectares between the south bank of the Assiniboine River and Corydon Avenue, is a tourists dream, boasting a zoo, conservatory, athletic fields, miniature train, a myriad of gardens and conservatory complete with restaurant and art gallery. Winnipeg's oldest park is also a fantastic place to spend a winter's day snowshoeing. Twisting and turning along the forested south bank of the Assiniboine River is a maze of bike trails known locally as the 'monkey trails'. The trails are transformed in winter beneath a heavy carpet of snow to a snowshoer's dream, with steep slopes and winding paths to explore. You could visit the trails daily for an entire season and never walk the same route twice.
The point is, rather than sitting inside and moping about, get your 'shoes and head out whenever you can. You never know what you'll find out there until you give it a chance. And if you should ever find yourself in Winnipeg in winter I highly recommend giving these sites a go.