A dream sock for trailblazers; did you ever think finding utopia underfoot might be possible?
Wear the new fantasy for feet—Hidden Peak Outdoor Trail Blazers—offering recreation comfort for the footers of life: those who travel trails and seek adventure while performance hiking, running, or snowshoeing.
These high functioning socks provide magical satisfaction for that wonder of peoplekind: your feet. We must remember, feet are people, too, or so it seems. When happy they can go seemingly forever. Make them mad, and no two-year-old's tantrum will match the pain one will endure.
Feet not only offer the keys to getting you where you want to go, but they provide a significant component for life by giving balance; keeping you upright when you stumble over that unseen root. Going the wrong way in your daily career journey? Turnaround with your feet, go a different way. Found Joy? Then celebrate with her by dancing . . . With your tippy toes attached to, well, you know.
What I discovered by putting my Hidden Peak Outdoor Trail Blazers to the test falls in the category of a New Sensation, as INXS sings: "Don't let your pain take over you. Hey, now I'm gonna take a new sensation," bringing one's feet alive not just existing as dull appendages at the bottom of legs. The breakthrough fits in the realm of finding new passions, a fresh flood of possibilities.
Hidden Peak Outdoor Trail Blazers in Action
Jeff Kildahl, Ph.D., transforms from a dedicated wellness and performance consultant, writer and author to emerge from the creative phone booth as the 700-Mile Man.  Monthly, in a very successful drive to raise funds for a specific charity, he treks trails for a philanthropic purpose. That mileage ranks as an outlier, creating a monster-tester for the Hidden Peak Outdoor™ performance socks. Hang on as he files this report:
Cranking 700-plus miles per month for charity is an arduous endeavor in which pain inevitably invokes its sinister presence. Hidden Peak Outdoor™ performance socks provide the requisite comfort to prolong the privilege of repetitive, self-imposed difficulty to benefit others.
In order to thrive in adverse conditions, endurance athletes know their repertoire of apparel and accessories must outlast one's perseverance. The beauty of Hidden Peak Outdoor™ performance socks allows us to explore with abandon our possibilities amid the grandeur and rigors of Mother Earth's playground.
Creative pursuits on the trails cannot be inhibited by linear thinking or subpar tools of the trade. Our instinctive flow cannot be restricted by our fixation on socks that suck a few hours or miles into our endurance endeavor.
Hidden Peak Outdoor™ performance socks scores as one of an array of brands boasting authentic technological blends per style and activity whether watching "Monday Night Snowshoe Racing" or facing your demons on a solo Badwater 135 crossing in the desert heat.
 I tested the Men's Crew XL size. Check this list of style offerings.
Knee High;
Low Cut;
Calf;
Quarter;
Tab
Hidden Peak Outdoor™ performance socks fared exceptionally well while prudently traversing scree in 80-degree, windy conditions. Despite sweating profusely the socks failed to shift when lightning-quick varying foot positions were necessary to escape the precipice of disaster.
Equally impressive was its performance during a 53-mile run that encountered a 50-degree temperature swing, torrential rain, snow, mud, sand, and multiple stream crossings.
Hidden Peak Outdoor™ performance socks maintained superior fit and elasticity in diverse conditions. Its ability to provide frictionless comfort thwarted chafing, blisters, hot spots, callouses, and so forth is unequivocal.
The key difference in the superiority of this performance sock is its ability to remain fitted where it was intended before you laced your shoes. I did not encounter any slippage or movement despite the described conditions and temperature fluctuations.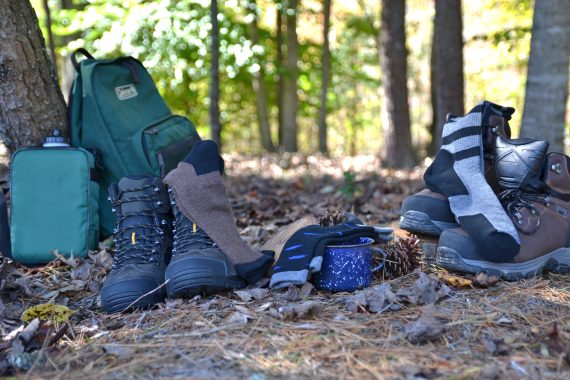 All of this means, our durability on trail increases.
Another discovery, Hidden Peak socks love legs as they tightly hug one's calves the entire wear. These crews (I wear Men's Crew XL) don't just cover the ankles and that's it. They generously stretch up to about halfway to the knee. No creeping down the calf either during use, no matter the number of gyrations I perform scampering down a steep path, stepping up over boulders, or hoisting heavyweight. The sock's premium polyester cotton blend along with a splash of spandex does that with the assistance of a non-binding comfort top.
Speaking from life-long experience with large feet, the reinforced toes along with the built-in arch support provide the frame I need to travel distance, all without pain.
But here is the real bonus:
These are not thick, smelly woollies but appear, when compared with other brands, rather thin. Yet they travel as if packed deep with exotic dampening. Hidden Peak calls that feature "Zone cushioning for shock absorbing comfort." I call it old-fashion feel good.
Women's sizes are not yet available for this particular sock unless one can adopt a men's size. A choice perhaps working better for some users includes TCS Performance Athletic Anti-Fatigue Crews for both women and men. This variety enhances compression with white or black color choices. Additionally, check the TCS Quarter-Performance selection with Arikool—a unique feature percolating from a savvy knitting technique. What they discovered provides "one-way moisture transport by locking moisture out and away," keeping your grateful feet dry and comfortable. Based on hydrophobic fibers that wick moisture, then hydrophilic cotton draws moisture Up Up and Away  from the foot like "my beautiful balloon," just as The 5th Dimension's psychedelic rock song imagines.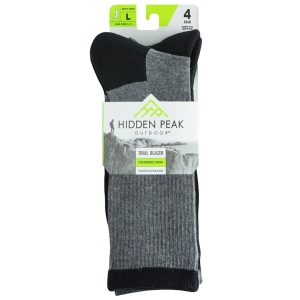 About the Manufacturer
That mastery comes from the think-tank research Comfort Sock performs before ever stitching their hosiery. They seek out innovative yarns, fibers, and structure that they can manipulate for the joy of our feet. Then, determining blends, welts, heel gores and toe seams all play a role. They say, "We eat, breathe and sleep Socks." For those who eat, breathe and sleep the outdoors, that's comforting to know.
Hidden Peak is a rapidly growing brand that you just may be discovering. Interloop North America  (ILNA) represents Interloop Ltd., "one of the world's leading sock manufacturers" with more than a quarter-billion dollars in revenue produced from 4,000 knitting machines, 46,704 ring-spinning spindles—I counted them—and 15,000 employees.  ILNA headquarters in downtown Winston Salem, North Carolina, works "to be an agent of positive change for the stakeholders and community by pursuing an ethical and sustainable business."
Their values show in a motto titled "I-Care," an acronym based on acting with integrity, nurturing a caring culture, accepting responsibility and accountability, respecting the environment and its people while achieving excellence through the highest standards.
Feet appreciate that attitude. So should we.
Contact Jeff Kildahl 
Contact Phillip Gary Smith