After putting Ergodyne's ProFlex through its paces-moving and lifting 50 tons of material over a few weeks-you have to ask: Do I really care about the well-being of my dainty hands? To keep them happy, the answer better be: you betcha!
I write about alternatives to fitness training in HARMONIZING: Keys to Living in the Song of Life. Fitness is more than just the physical side of things, which is of vital importance let's stipulate that from the get-go. Strength and fitness expands one's mental capacity to handle life's loads, too, those potentially crippling challenges that find their way into a little thing called living.
It was no different for our ancestors, it's just they had different challenges.
Surviving, for example, was very much top of mind as being eaten by a 'bar or crushed by a falling tree remained a real possibility. It's not that those things won't happen today, in fact they do, but the new 'bar often comes in a little envelope through the mail, beginning something like this: "This is an agency of the government. How much you got? Send it. Don't expect no thanks, either."
So whether crushed by a tree or its byproduct, an envelope, one has a better shot of surviving the envelope at least physically though the mental strain can be a crushing strain on everything you hold dear. You train for the strains by snowshoeing, trail running, entering endurance events like triathlons, 100-mile treks through timed courses (most common question, "Don't you sleep?"), and by breathing fresh air scented with the fragrance of Mother Nature.
You can also train by your work, too, whether full-time as an occupation, admirable by the way, or as an alternative to paying for weight lifting in a foo-foo gym while getting paid to do so. I chose the latter.
Learning through trial and Slavic error, one's pinkies can quickly become ketchupy fragments of their original selves if using dime-store gloves or the ones found in your van down by the river. Finally I understood–like most things it was as a hammer to the head–why Ergodyne created ProFlex Hand Protection. These wonders of the free world allow you not only to hold what you grasp but also greatly improve the likelihood of simultaneously keeping your hand attached.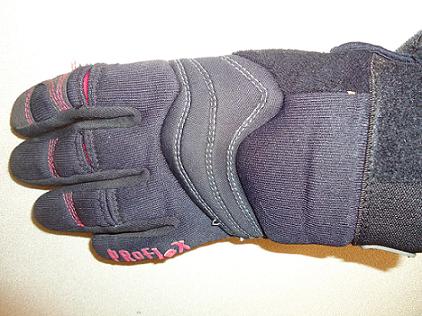 ProFlex Gloves are your hands best friends; you're just along for the ride.
Check out the top photo of my now very well used model 821 Ergodyne ProFlex mediums. Note the finger's knuckles and bends are accounted for in each protective slot of the glove. The bend is naturally built-in at the first knuckle, and stitched in at the second. In other words, the glove is built to match the way your fingers work by utilizing a four-way-give spandex material. Where else do you get that?
The index finger, called into work as the leader of the gang-of-five, is given extra protection with a thicker coat covering the vulnerable last inch. The glove is constructed so the glove fits your hand, not the other way around, so I'd recommend a size that is firm on your hand.
A safety pad rings the knuckles on the palm, protecting with stitching and materials, while a pad is added for the safety for top of the palm; when something falls on them, and it will happen, you just pick it up and put it in its place while remembering to bless your ProFlex designers for literally saving your skin and bones.
Your hand is constructed of 27 bones. Hurt one of them, they're all going to hurt you right back.
A generous swab zone that Ergodyne politely calls a brow wipe is stitched into the thumb stretching back to the wrist proving invaluable in heat (sweat) or cold (nasal drip anyone?). Then a wearer tightens the glove in place with a cool Velcro wrap topped by a logo-tab embedded in the strap. Get this: There is a stub stretching back on the wrist that you can pull to cinch the glove fist-tight before locking in the Velcro.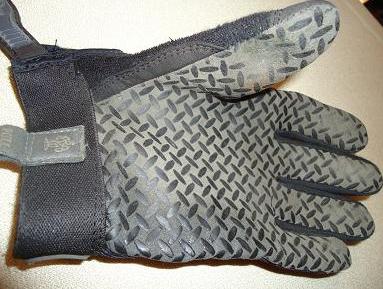 One gets the impression Ergodyne knows the world of handling like, well . . . the back of their hand.
In the second photo, note the only wear on the diamond plate design on the palm side through this intense test is toward the major finger points of the knuckle, index, and middle fingers, not affecting the glove's effectiveness at all. The whole palm's design is covered with these diamond plates like honey on bread. As Ergodyne likes to say, "Our stuff doesn't shrink back when the workday forecast calls for heavy metal thunder" or later when you light up your ears with Saxon's version of Heavy Metal Thunder in their album or game Media Vision's Heavy Metal Thunder video.
What about extreme cold? Use the Temp Series; my favorite is the waterproof dorsal protectors with their lime covering snazzing it up. You want visibility for highways or trail ways, then think about Hi-Vis Waterproofs. Extreme challenges like firefighting should use the Fire-Rescue gloves. For a job site, a suggestion is the cut-resistant Kevlar-lined 710CRs. For max safety from a vibrating machine or falling on a razor sharp Rocky Mountain jagged rock, then the vibrating series is your Queen of Hearts best bet. That should just about cover any need you have in order to "Be Tenacious," Ergodyne's resounding message.
Protecting hands can save your life. Just ask the Hare Krishna who was killed by Alex Baldwin's Fred Frenger breaking the out-reached fingers in the violent "Miami Blues." When the job at hand is trails or daily trials, smiles or files, drifting or lifting, ProFlex can save a lot of pain and suffering while making the whole process a lot more fun.

For more images and information:
http://www.ergodyne.com/products/pages/default.aspx?PCA=25&PRD=166
write phillipgary@snowshoemag.com
For info on HARMONIZING: Keys to Living in the Song of Life click www.ultrasuperior.com